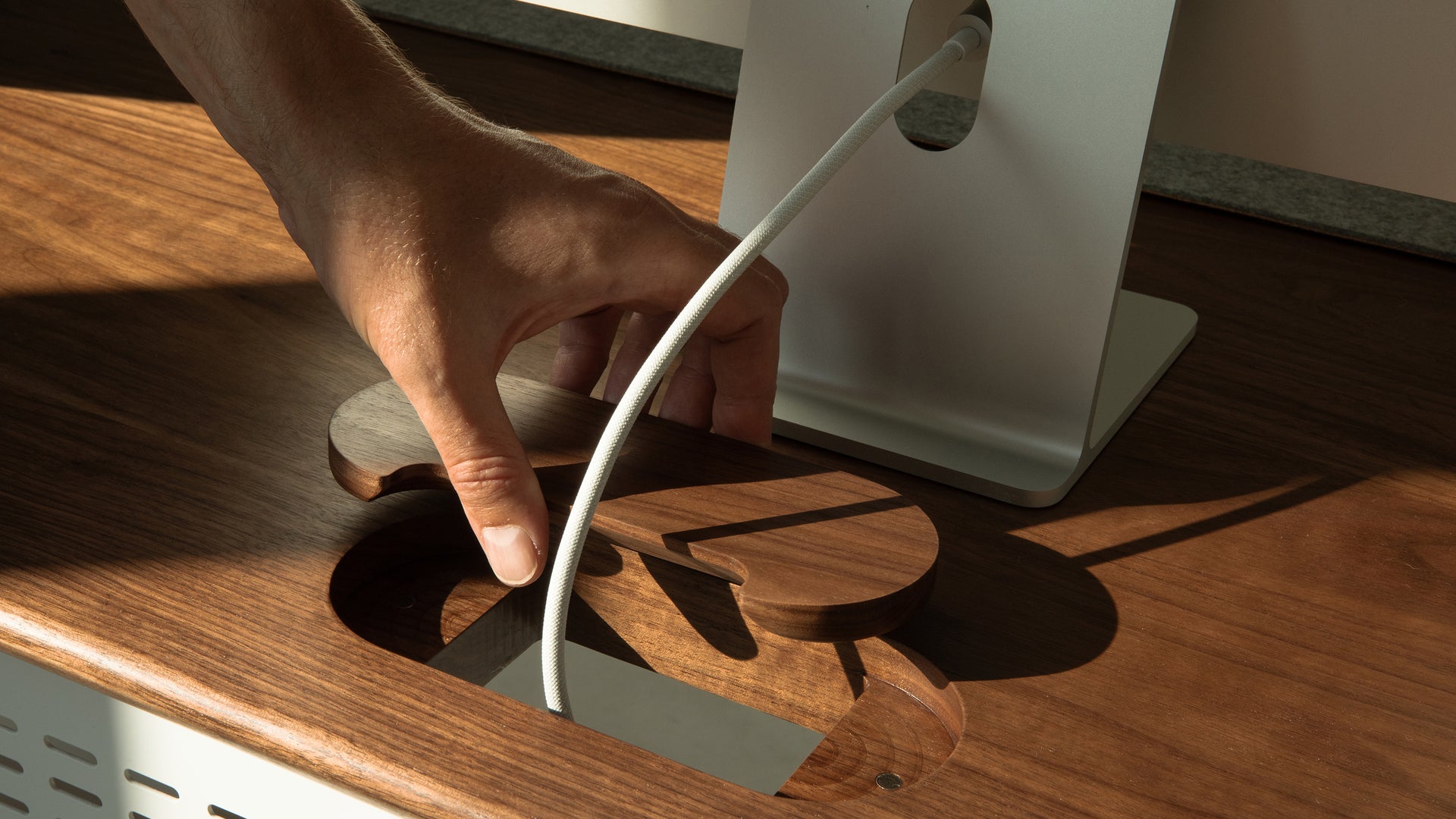 Configurator 2.0 – new and improved
Personalized products and services are becoming more and more commonplace – according to a 2022 report by Salesforce, 73% of customers want brands to understand their unique wants and needs, while 56% expects for their offers to be personalized. Oakywood's configurator is a fantastic tool to make that happen, one we continue to refine and update. Thanks to our newly introduced options, our clients can design their desks to be even more functional and comfortable.
What's new with our configurator?
As we have already mentioned, our 3D configurator keeps getting more functional. The most recent addition we made was introducing the option to add cable grommets to both the Standing Desk and Classic Desk. You can place up to 3 grommets on one tabletop, choose their shapes (circular or elongated), as well as their distance from the back and side edges of the desk.
Such a solution can significantly improve the way you organize cables in your workspace in the most aesthetically pleasing way possible. Pair the discreet grommet with an underdesk organizer to store the neatly tucked away cords so they're no longer a visual distraction ruining the ambiance of your office. The grommets are made from the same material as the desk and are level to the tabletop to perfectly blend into the background. We also fitted them with magnets to make them even more comfortable to use.
At Oakywood, we're always striving to enhance the user experience, and our new 3D desk configurator function with grommet add-ons is testament to that commitment. Grommets not only contribute a cleaner, more organized workspace, they also help maintain the sleek aesthetic of our desks. Crafted from the same premium materials as our tabletops, the grommets blend in seamlessly, ensuring a consistent wooden look. Additionally, the magnetic connection feature adds another touch of convenience, making it effortless to manage cables and cords.
Founder & CEO
Comfort and ergonomics: products made to measure
Introducing the configurator is a part of our development strategy which includes striving towards achieving full customisation of our offer. We wanted to improve the user experience of shopping for, as well as using our products so we created a tool to help you design the details of your desk, desk shelf or desk mat in an intuitive and straightforward way.
Tailoring products to your own, unique needs is one of the building blocks of ergonomics – universally sized, mass produced accessories and furniture make creating a well-fitted workspace for each unique person a real struggle. A properly customized desk that has been made to measure, is not only comfortable, but also immensely helpful in maintaining correct posture and good health. This, in turn, contributes to an increase in productivity, quality of work, and life satisfaction.
Personalisation – a step towards responsible shopping
Personalisation is of great significance in terms of sustainable development and making responsible shopping decisions. A product that has been tailored to the individual needs of a single person holds much more value than a mass produced item as it perfectly fits their unique expectations and conditions. On the other hand, such products might be harder to resell – after all, we're all different and so are our needs.
This prompts us to reconsider our purchase (whether we truly need it, whether it fits our expectations, and whether its quality is satisfactory) multiple times before making the final call – paying a premium price for the piece means we want it to be a long-lasting and worthy investment. That's how personalisation can be seen as a step towards sustainable development and greater concern for the planet. Instead of replacing accessories and furniture after a few years of use, more and more customers favor quality, durability, and timelessness. There is still hope that the destructive reign of overconsumption is coming to an end.