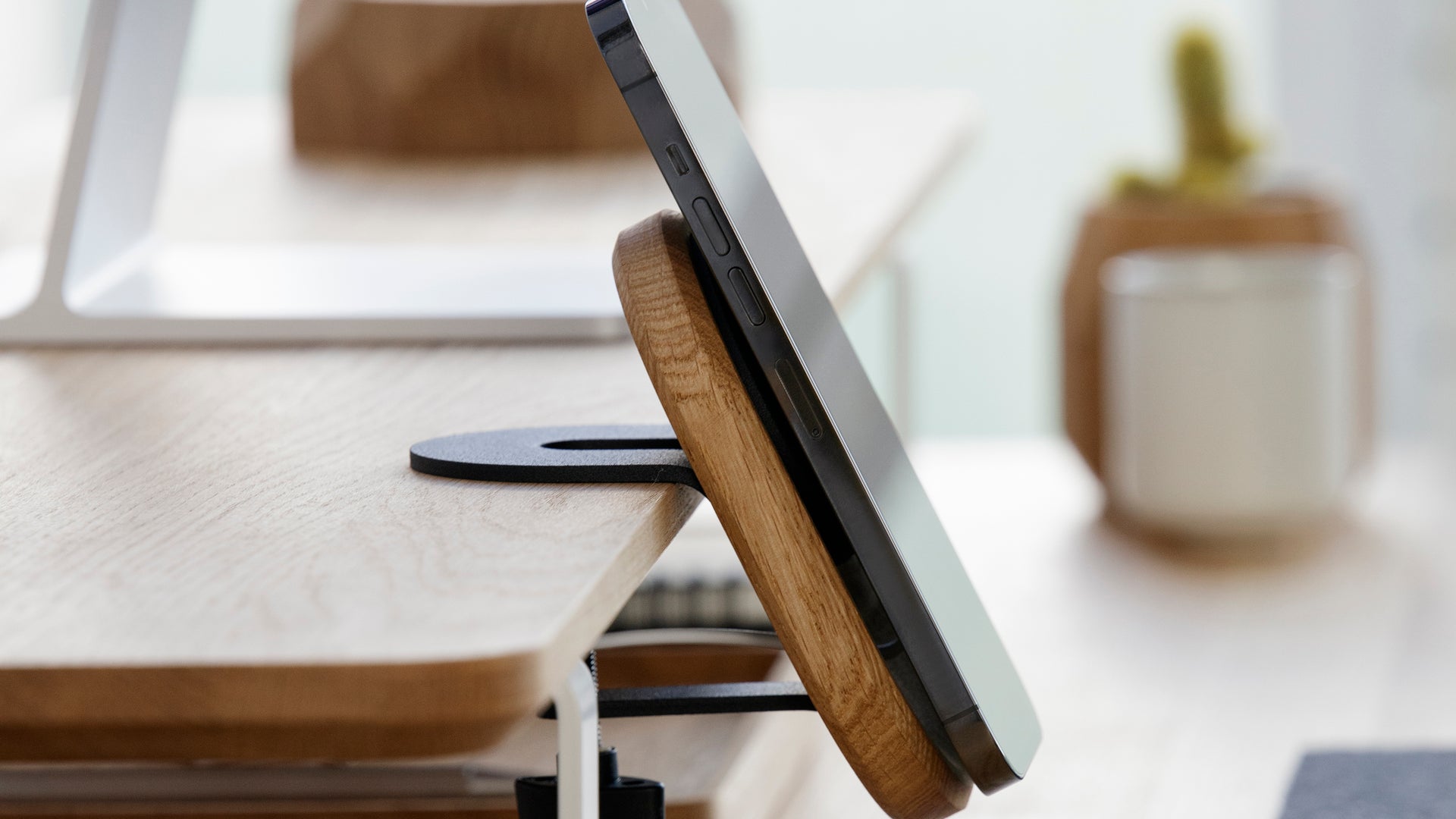 A gift for dad? He has everything!
Choosing a gift for someone who 'has everything' and 'doesn't need anything' is no small feat, especially if you want to give something both useful and stylish. Better not leave getting a Father's Day present for the last moment – you need to strategize. But fear not! For Oakywood is here to help! The dads in our team have a few recommendations for accessories they find useful as busy parents.
Foolproof desk organizers
Handy accessories, especially the elegant designs made using real wood, are always a good idea for a gift. We recommend the OakyBlocks – get the whole set or individual pieces and connect them at will. They are the perfect solution for those looking for quick and simple ways of organizing their desk: the set includes all you need to tame the office chaos. Small items you want to keep on hand can find a permanent spot on the smaller or bigger tray, with pens and pencils waiting in a neat line to be used, while your smartphone rests on its wireless charger or comfy dock – a great way of keeping it from getting buried in a pile of papers and notes.
Traditional chargers are old news
Smartphone docks and wireless chargers are another category of accessories with a huge gifting potential. A Dual Dock, Combo Dock, or Triple Dock are fantastic choices for those using a few devices each day (for example a smartphone or iPhone, an Apple Watch, and AirPods). To further elevate charging comfort, consider inductive chargers like Slim, Geometric, or Dual Slim. Once you try wireless charging, we guarantee you won't want to go back to the fiddly, tangly mess of cords.
Something special for Apple fans
For fathers (or fathers-in-law you might wish to impress) who like their Apple products, check out our MagSafe collection. A classic piece from the range is the MagSafe iPhone Stand – a multifunctional iPhone stand with a magnetic holder for the original Apple charger. Alternatively, see our Desk Shelf Mount (which can be attached not only to our Desk Shelf but also, for example, a regular bookshelf) and Wall Mount (placed on walls or any flat, vertical surface). The Magnetic Charging Apple Watch Stand is a perfect option for dads who can wear their Apple smartwatch all day long.
What do the Oakywood dads recommend?
Combining a demanding career with responsible fatherhood is a challenge our Oakydads are well acquainted with. What do their home offices look like and which Oakywood accessories do they love using?
Fatherhood forced me to prioritize and maximize productivity. I need to feel like I am always working at my peak efficiency in order to finish my workday fully satisfied and ready to dedicate my time to my children. These are my holy grails: 
 
Standing Desk – an absolute gamechanger in terms of productivity; changing positions from sitting to standing, and back to sitting, together with the Pomodoro technique, help me remain concentrated on my assignments all day. 
 
Laptop Dock – an indispensable part of my standing desk setup as it allows me to use the clamshell mode on my MacBook with an external screen. It helps me keep a healthy, ergonomic posture and expands my workspace. 
 
Felt & Cork Desk Mat and Desk Shelf – these two products have allowed me to structure my desk space and introduce a new organizational level – it makes it super comfortable and pleasurable to sit behind the desk. They all make the space into my very own 'productivity temple'.
CEO & Founder
Mateusz's setup:
Oakywood:
 
Devices:
MacBook Pro M1 Pro,
Apple Studio Display,
Apple Keyboard,
Apple Magic Trackpad,
Logitech MX Vertical Mouse.
Sometimes my home office has a visitor – my daughter sits next to me and begins to 'draw'. The Desk Shelf turned out to be a very useful solution: it helps me keep the work stuff away from her little hands and gives her more space at my desk. We can both use the surface and I don't have to worry about something ending up on the floor. 
 
I also own our classic Laptop Stand – it comes in handy when I want to 'run away' from the office to the kitchen or some other part of the house. My daughter uses it more creatively – as an easel, breakfast table, or even a chair – you name it ; ). 
 
I sometimes empty my OakyBlocks modules and let my daughter discover the laws of physics while having fun. 
 
My favorite 'family' product is the Dual Slim Charging Pad – it has space for mum's phone and dad's phone. Our daughter already knows how to use it.
Performance Marketing Specialist
Tymoteusz's setup: 
 
Oakywood:
 
Devices:
As you can see, a perfect gift for your dad does exist and is not as elusive as it may have seemed. Moreover, you can now get your dad a card and some flowers with the savings from our 15% off Desk Organization products offer – our Father's Day sale is live! We hope you find our recommendations useful and make your dad (or yourself) very happy.