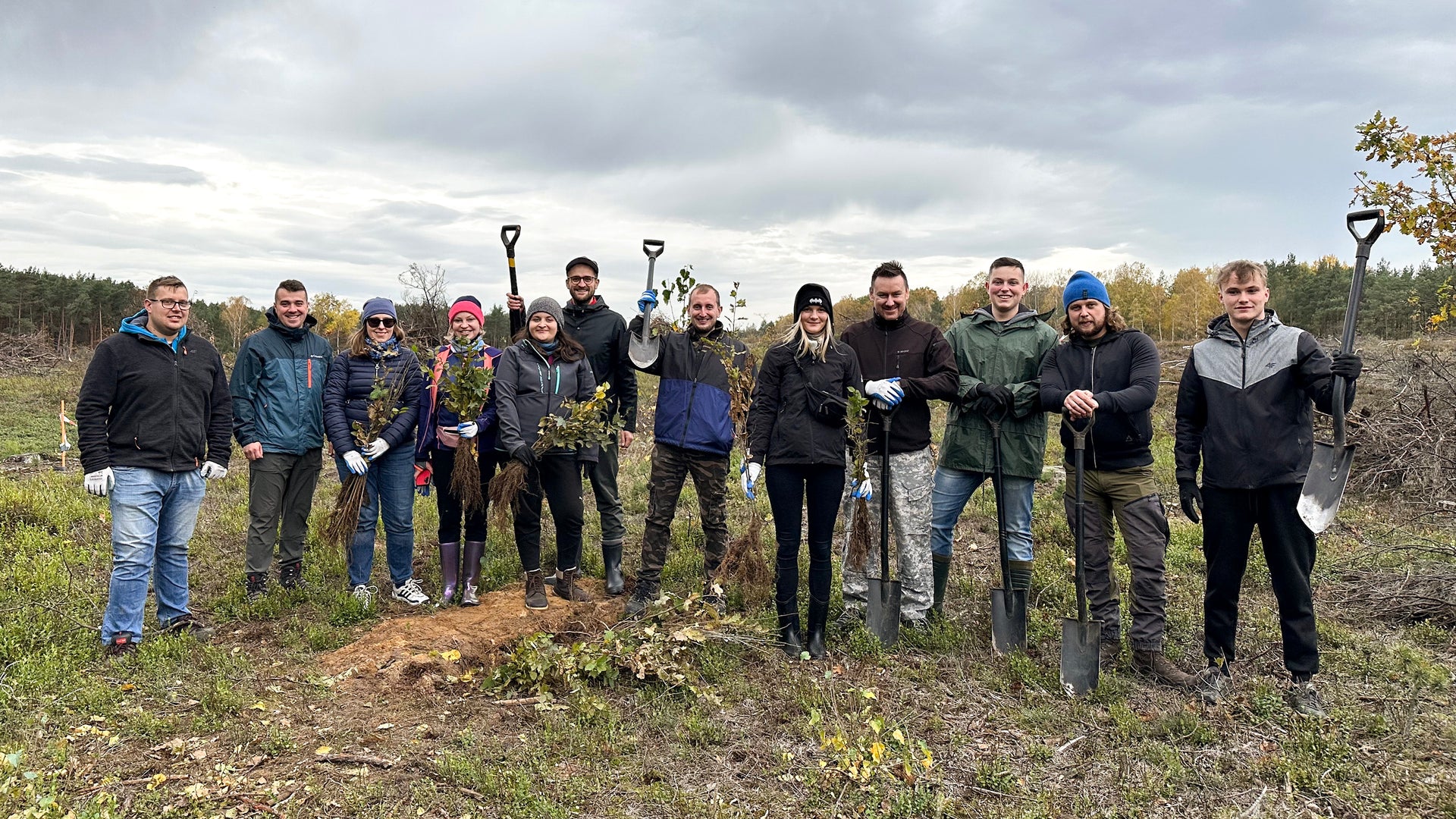 We planted a forest again!
On one special day each year, Oakywood's employees get up from their desks or get out of the workshop to meet somewhere in Poland, somewhere even the navigation struggles to find. We grab spades and begin to dig holes which will be home to oak, linden, maple, elm, poplar, and other seedlings. On Friday, November 3rd, together with Las na Zawsze (Forever Forest) foundation we planted 8 490 m2 of a new forest which is here to stay.
Gratitude for nature
We have been guided by this sentiment from the very beginning – showing our gratitude for being able to use nature's resources. Since our desks and accessories are made of renewable materials – wood – we decided to help the renewal process. For this reason, we give a portion of the revenue from each item to organizations such as Forever Forest or One Tree Planted. But that's not all! Thanks to the courtesy of Las na Zawsze, we got invited to take part in planting the forest. We couldn't say no!
This year's planting
Our journey of physically planting the trees started last year in Tarłów when on a chilly, rainy day, we planted 10 959 m2 of forest. This year we went to Wilkowyja. On Friday morning, having briefly gotten lost in the beautiful Polish countryside, we made it to the meeting point where we were greeted by the Forever Forest team. Besides our Oakywood party, we were joined by groups from 2 other companies and some volunteers so we had no shortage of helping hands.
After a short introduction and receiving instructions, we grabbed the spades, seedlings, and went in. A few hours later, slightly tired but brimming with satisfaction, we looked to the meadow that was now rich in various types of trees and shrubbery - on its way to becoming a grand forest.
Forever forest – protecting the area from deforestation
It's important to note that Forever Forest doesn't simply plant trees but entire forests – they ensure the terrain has the forest floor and bushes to attract birds, insects, and other small creatures. It creates a rich and biodiverse ecosystem that exists in natural forests.
The forests planted by the foundation will remain safe from felling – they will continue serving the people and the planet by producing oxygen, clearing the air, protecting the ground from erosion, and providing a safe home for many animals. Although the wooded area is formally the foundation's private property, anyone wishing to enjoy the silence and serenity, breathe in the aromatic forest air, forest bathe, and get away from the bustling city will be allowed to enter.
We left Wilkowyje as the sun began to set and some of us (shout out to the Ciche team!) got back home late that night. Weary but content, we all fell asleep with the satisfaction of a job well done. And we simply can't wait for next year's planting – long live the forests!