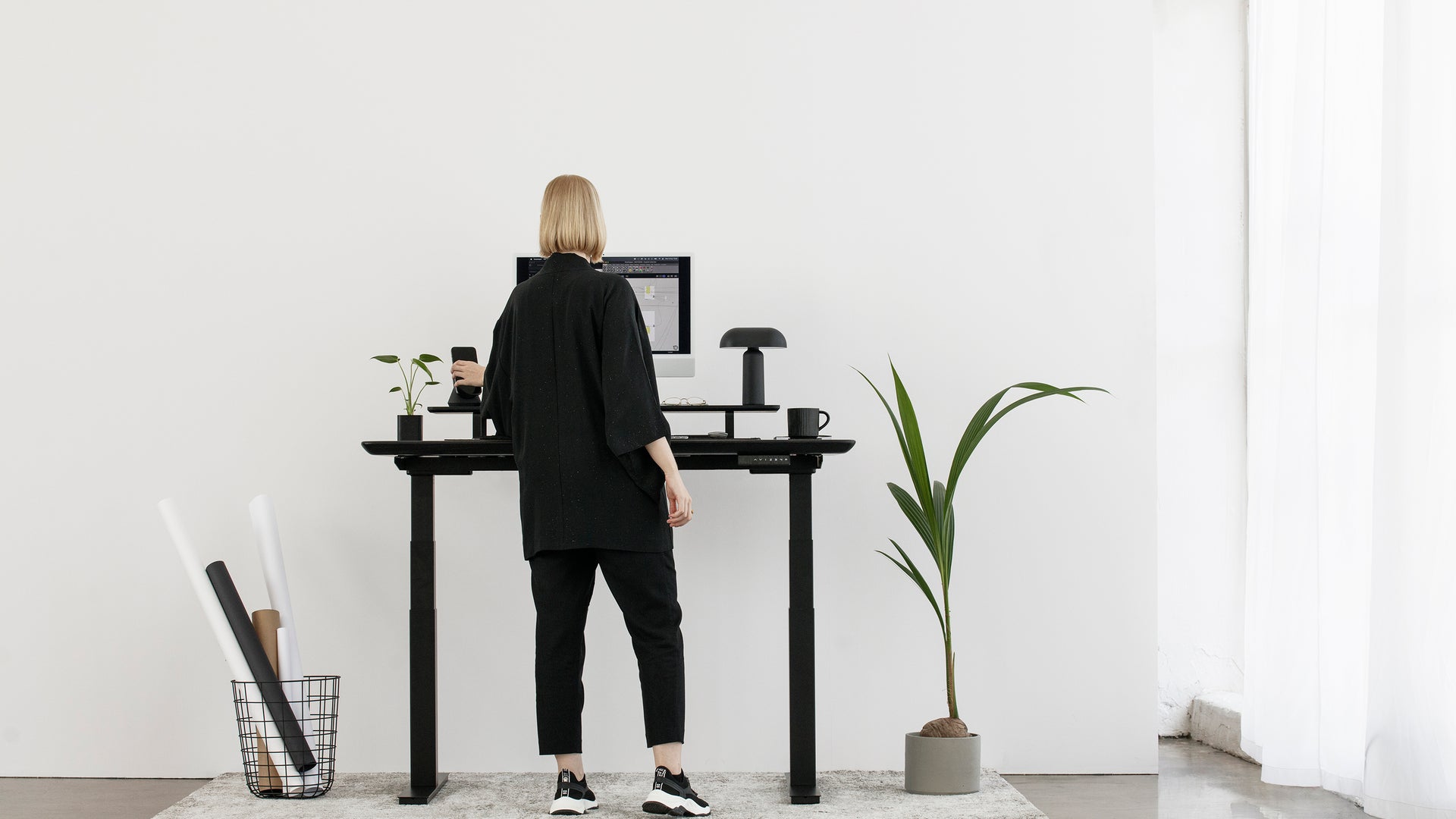 How to arrange a home office with a regulated desk?
Our Standing Desk equipped with an automatic height regulation system is not only a sturdy product, it is also a sizable piece of furniture. You can adjust the tabletop size to your required size, but remember that the frame and engine also take up some space. How can we arrange our space so that the regulated desk seamlessly incorporates itself into our decor while simultaneously being a comfortable place to work? Together with interior designer Małgorzata Wojtyczka, we have come up with a few tips that might be helpful.
Desk placement
What is the best place to put a Standing Desk, especially when we don't have a separate room for a home office? In such cases we often end up working in our living room or any other large space that can accommodate a small workspace. We can also place the desk in our bedroom, although sleep hygiene experts advise against this solution.
If we don't have enough free space to designate a separate room to be our home office, we must determine which room offers the most peace and quiet to allow us to focus comfortably. In most cases, this room will be the living room or the bedroom. The desk should be placed in the most remote corner, not in the walkway. A partition wall or a bookshelf are a great way of further isolating this space.
Interior Designer
In a small apartment, where the bedroom can only fit a bed and a closet, and the kitchen is also the living room, finding space for comfortable work may seem almost impossible.
When we have a limited space to work with, we should place the Standing Desk against the wall or next to the window - this will create the illusion of more space. Good quality lighting, preferably access to sunlight, is also an important part of the process. If the natural light is scarce, a regulated desk lamp fitted with an appropriate color bulb will work just fine - says Małgorzata Wojtyczka. Our Oakywood configurator is also a great help in arranging small spaces. Apart from picking the tabletop size, you can also decide to use casters - a set of 4 wheels to make it easy and effortless to slide your Standing Desk away (next to a wall or tucked away in another spot) after work and enjoy the rest of the day in your space.
Big but not overwhelming
When designing the Standing Desk, we have paid special attention to its optimal size, so that it could easily fit (and carry) all your necessary equipment and accessories. This is why our sturdy, steel frame and a solid wood tabletop can withstand significant weight. You can currently reduce the tabletop dimensions in our 3D configurator, however if your job requires you to work with a lot of devices, a big surface is the way to go. Placing a desk in, for example, a living room can sometimes cause it to 'dominate' the space and make it look too much like an office - in other words, your work can take over your leisure time. How can we seamlessly integrate a rather large and hefty desk into our decor without overwhelming it?
If we wish to 'hide' a big desk, the best solution is to cover it with furniture that draws attention away from it. Good examples of this would be a tall bookshelf in a similar color to the desk, or a piece of decor, like a large, striking painting. In a room with light coloured walls and floors, a Standing Desk with white legs will look the most inconspicuous whereas a darker desk will look best concealed in a darker space. Shelves and wall art will successfully counterweight a hefty desk.
Interior Designer
One office shared by two
Having a special, designated room for working from home is definitely a luxury. What can we do to accommodate two people with two desks in one home office - how can we organize our space so that we don't distract each other at work?
When sharing a home office with, the best solution is to put the two desks at the opposite ends of the room to minimize distractions. If, however, this maneuver is impossible, the two desks should be placed back to back in the middle of the room or next to a wall, with an added acoustic panel in between to separate and quieten both workspaces. Desks placed side by side can be separated with a decorative partition or a bookshelf - depending on the amount of space. The acoustic panels will come in handy during frequent work calls to prevent distractions.
Interior Designer
We can apply the same principles when accommodating more workers or designing an open space office. Do you remember the days when we worked in spaces with desks almost haphazardly placed next to each other, and where achieving full focus was a huge effort? We would rather forget. One of remote work's biggest advantages is the ability to furnish and arrange your workspace the way you like it so that the work you do there brings you joy.