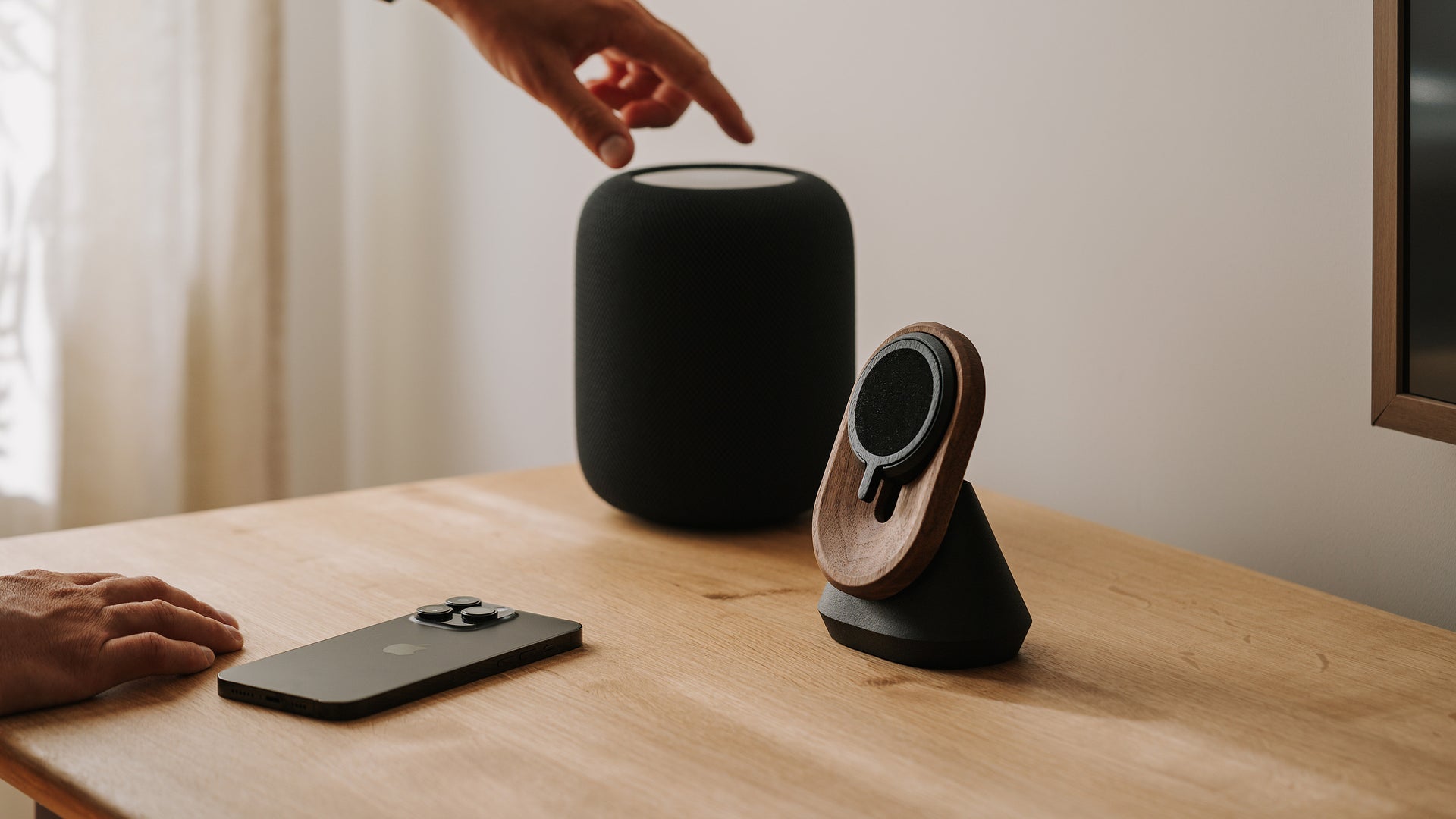 The MagSafe Puck - new possibilities of the MagSafe collection
Expanding the functionality of our products and ensuring that our accessories offer more than one use, has been one of Oakywood's goals from the very beginning. This is why our MagSafe collection consists of items which are multipurpose and can be used in a variety of ways. Since complacency is a foreign concept for us, we have decided to enhance its user comfort even further - and introduce you to the MagSafe Puck.
What is a MagSafe Puck?
Let us begin by dispelling any doubts: our new MagSafe addition wasn't created in collaboration with Puck from Shakespeare's A Midsummer Night's Dream. Nor is it manufactured in the charming town of Puck on the south coast of the Baltic Sea. While deliberating on how to name our new product, we noticed that it resembled… a hockey puck - so we decided to call it just that.
The MagSafe Puck replaces a traditional charger and allows you to securely attach your iPhone. This makes products such as the MagSafe Wall Mount or the MagSafe iPhone Stand even more useful.
Oakywood Founder & CEO
Our MagSafe Puck, designed by Magdalena Gembala, complements other MagSafe accessories and expands their functionality. This small, wooden puck with built-in magnets can replace the original Apple charger whenever you don't need to charge your phone and still wish to use it comfortably, without the limitations imposed by any wires. As a result, your MagSafe iPhone Stand or Desk Shelf Mount can act as handy docks for you to quickly and effortlessly attach the device to and use it in a vertical position.
The idea, the project, and the materials
After designing and introducing our MagSafe collection, we have noticed that it was still possible to improve its functionality. The solution was to create a product with the same magnetic ring, taking advantage of the compatible MagSafe technology in iPhones.
Oakywood Founder & CEO
The magnetic MagSafe Puck insert is a result of Oakwood's efforts to maximize the utility of our products - we are committed to making our accessories multifunctional, as it goes hand in hand with sustainable development goals: instead of buying many single-purpose items, you can choose one product with multiple uses.
The MagSafe Puck's design is a fusion of minimalism, aesthetics, and practicality: its base is made of natural oak wood that is stained black. Thanks to its built-in magnets, you can be sure that your iPhone is securely and stably attached, while the small handle helps in removing the Puck from the aluminum MagSafe charger bracket. Furthermore, we have covered the wooden base with flock - a soft, velvet material which is highly durable and resistant to scuffing - to better protect your phone from damage.
The MagSafe Puck - despite its simple form - requires great precision of production. The main principle guiding this project was making the casing out of solid wood, which, considering its small size (5mm thickness), was not easy to achieve. Together with the Oakywood production team, we have developed technological solutions allowing for precise milling of openings for the 4 magnets positioning the MagSafe Puck against the MagSafe accessories, as well as for the magnetic ring securing the iPhone. Another important aspect of the design process was making sure the magnets were strong enough - for this reason, we had to decrease the thickness of the puck's outer walls (below 1mm), which was no small feat. We have chosen flock to cover the contact area, which provides the device with a 'soft' landing and protects it from scratching.
Founder, CEO & Industrial Designer at Magdalena Gembala Studio for Industrial Design
Increased functionality, magnified comfort
As we have previously mentioned, the MagSafe puck came to be in order to breathe new life into our MagSafe collection by making it even more functional, with more uses than before.
We have discovered that, in some cases, this additional functionality is very much needed - one example is the kitchen where we frequently use our phone to look at recipes or to set the timer. Now, the iPhone Stand allows you to participate in a video call or watch movies wherever you want - hands free. The MagSafe Wall Mount can also come in handy in bathrooms, bedrooms, and kitchens alike.
Oakywood's MagSafe Puck offers a more convenient and comfortable way of using your iPhone and everyday accessories - and for us, it is a step towards creating products that meet your needs.
Oakywood Founder & CEO
Here are some tips on how to make the most of your MagSafe Puck:
Place the MagSafe iPhone stand with the Puck on your kitchen counter to easily access recipes or watch YouTube tutorials while you cook;
The Stand and Wall Mount come in handy during home workouts or yoga practice - you can follow the instructions of online trainers without disrupting your flow;
Attach the Desk Shelf Mount to our desk shelf to use your phone while you work or freely participate in video calls (a Wall Mount placed on the wall above your desk is another great option);
You can put the Wall Mount with the Puck on the wall in the hallway or the living room and use it as a 'dock' or a 'hanger' for your phone. ' Hang up' your phone once you get home or when you don't use it - this way your phone will have a permanent spot and you won't have to frantically search for it behind your couch or in your shoe cabinet; besides, it might be the perfect solution for parents of curious young children who love to play with anything within arm's reach - chances are, they won't be able to reach a phone hung on the wall;
Watch movies in the bathtub by placing the Wall Mount with the Puck on your bathroom wall - don't worry, the magnets are strong enough to keep your phone out of the water;
If you use your iPhone as an alarm clock or like falling asleep to some relaxing ASMR, you can put the iPhone Stand with the Puck on your bedside table (alternatively, use the Wall Mount on the wall next to your bed).
These are just some of many ways of using the magnetic insert - the ideas for further uses multiply constantly (our Production Manager, Marcin, uses his MagSafe Puck as a phone mount in his car - the sky's the limit!). We hope that this compact addition to our MagSafe collection makes a world of difference when it comes to your comfort.