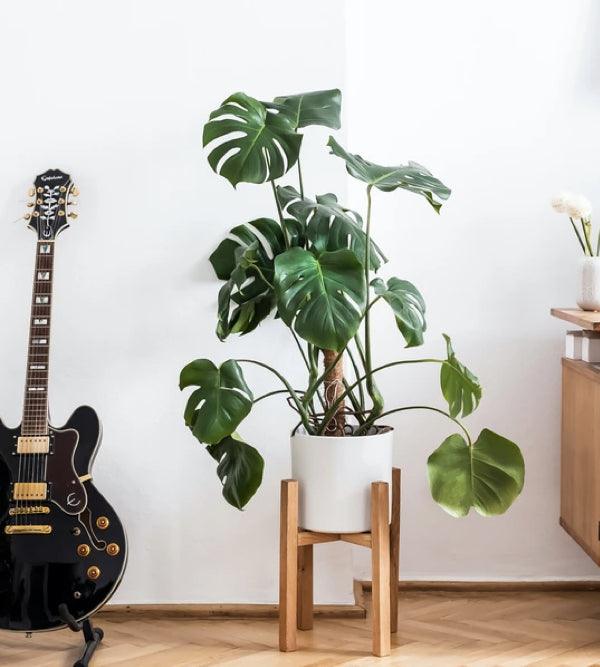 Home Jungle Essentials: Desk Planters, Mid Century Plant Stands
For several years, the idea of ​​a home jungle has been breaking popularity records. Closed in their apartments in big cities, surrounded by concrete, we miss what is natural, green, and relaxing for the eye. Many of us are the proud owners of countless monsteras, ficus trees, strelitzias, peace lilies, fiddle leaf figs, and polypodies.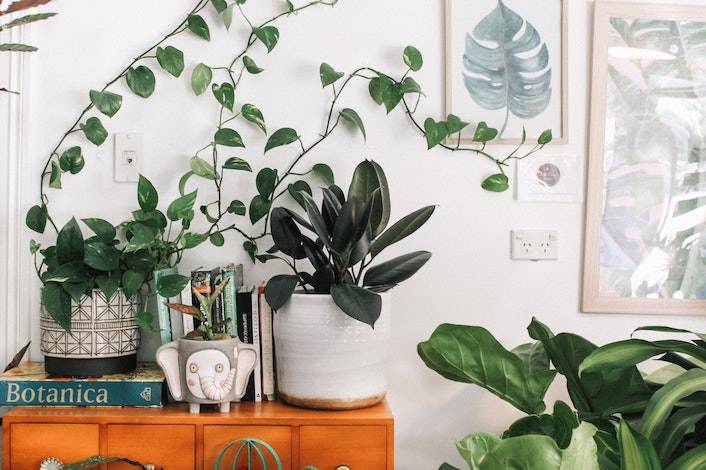 Photo by Prudence Earl on Unsplash
Home Jungle - Social Media Trend
The home jungle is a trend that comes from social media - particularly from Instagram and Pinterest. It all started with the mid-century interiors hype, inspired by the design characteristic of the 1960s and 1970s. Modernist furniture is durable, multi-purpose, and has simple shapes. The functional, simple furniture looks good only with simple and natural decorations. Large green plants are perfect for this role.
The home jungle is an attractive interior design trend. Unfortunately, having many plants at once comes with responsibilities. If you don't want your monstera variegata to be completely damaged after a few weeks, read all care and watering tips before buying. Pay attention to insects (such as scale insects or thrips, which we often bring from supermarkets), replace the soil regularly, and replant your plants at least once a year, to provide their roots enough space.
Photo by Judah Guttmann on Unsplash
Mid-century Plant Stands
Plant stands will allow you to display your favorite pieces, but also make it easier for your plants to access the light. In the stores, you will find many fascinating plant stands - including those that can accommodate many pots. The most fashionable large plant stands for the home jungle are wooden ladders and vintage rattan flowerbeds.
Single plant stands can be made of various materials: metal, rattan, or seagrass. One of the most popular designs is a mid-century plant stand made of wood. The iconic model has a simple form: it is based on four wooden legs and protected with ecological oil, giving a natural matte finish. The retro solid wood plant stand is available in 6 sizes: from 8 to 14 inches (20-35 cm).
If you don't want to spend a lot of money, look for unique plant stands at flea markets or in your parents' attic! If you like retro style, you can reach for original accessories from the 60s, 70s, and even 80s. Just remember that the stands have to be renovated, and the wood must be covered with oil. Otherwise, your plant stands may become unstable - and swell or fall apart.
Desk Planters
If you are not ready yet to become the responsible guardian of the entire jungle, you can start your adventure with growing plants with a few succulents. Succulents are "plants for the forgetful" - with a unique ability to store water. Succulents do not have a developed root system, so a small pot is enough to grow them.
Succulents should be watered rarely, but with plenty of water. If you want your plants to survive as long as possible, don't water them every day. Choose a moderately sunny location, but do not place plants in full sun. A great place to grow succulents can be a desk placed near the window. You can put several desk planters on it, and without much effort, green your space with fascinating species of succulents: aloe, echeveria, crassula, or agave.