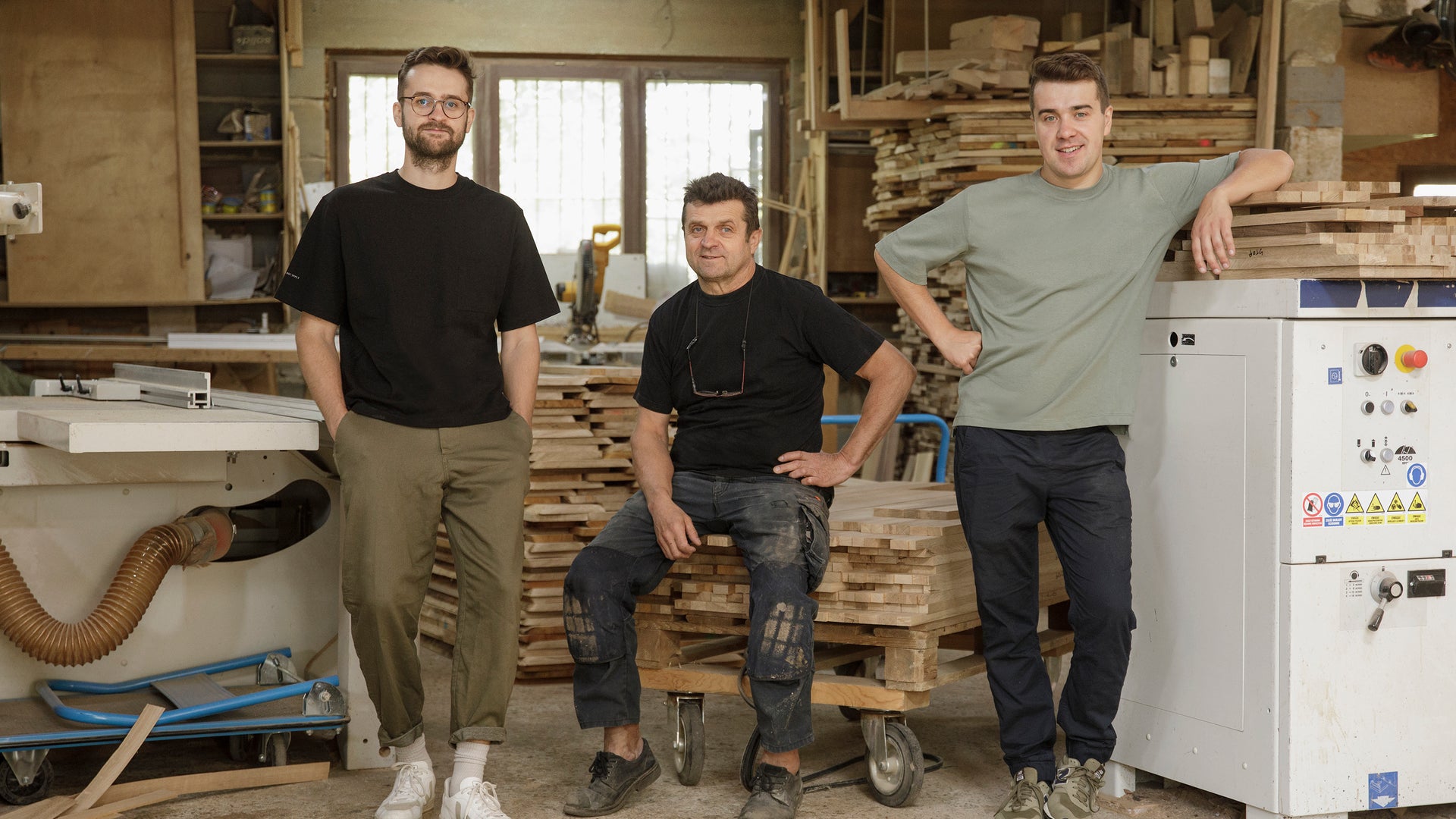 An Inherited passion. A conversation with Edward, Mateusz, and Marcin Haberny
Passing down a trade from one generation to another is a rare occurrence these days - mostly because our world changes at a dizzying speed; technology advances each day, some professions disappear, while others are created. However, there are times when traditional craftsmanship can be updated to keep up with modern challenges and opportunities. This is exactly how Oakywood came to be. You can read the intergenerational conversation with Mateusz - the brand's founder, his dad Edward, and brother Marcin.
Mr Edward, how did your journey with woodworking begin?
Edward Haberny, Production Manager: When I was a child, I always admired my dad's skills. He wasn't simply a carpenter, he was also excellent at shoeing horses and building houses. As a young boy, I decided to try my hand at the craft. I used a planer on wooden legs, constructed by my father himself, and started creating my first wooden pieces.
After I moved to Warsaw, I worked with my uncle and a group of fellow highlanders on finishing luxury villas and chalets. It was a completely different environment but thanks to my ingenuity, I began to quickly adapt to it. My woodworking skills were appreciated and, after a while, I realized I wanted to do carpentry on my own. I decided to build my own carpentry workshop and gradually expanded it. I equipped it with professional tools and machinery which helped me carry out even the most complicated designs such as stairs, doors, windows, and furniture.
What about you, guys? Who did you want to be when you were kids? Were you always so enthusiastic about working with wood? Did you observe your dad at work, or did you catch the woodworking bug later?
Mateusz Haberny, Founder & CEO: I have to admit I never expected to be where I am now. I worked at my dad's backyard workshop but I considered it to simply be a way to earn some extra money. Together with my brother, we often helped our dad with various projects during the holidays or after school. It gave me a way of saving money first for my adolescent whims, and later for travels.
From the very beginning, I planned to have a career in the IT industry. I graduated from a technical high school where I studied Computer Science and Econometrics. I wanted to go into Data Science.
Marcin Haberny, Production Manager: As a young boy I was interested in astronomy and geography. I even spent my first paycheck from working at dad's workshop on a telescope. I have spent a lot of time in the mountains, especially in Tatry, from a young age. I remember I wanted to be a mountain guide in order to combine my passion with work. All my interests and hobbies were always related to nature so perhaps working with wood is not a complete coincidence.
As the workshop is located next to the house, I had plenty of opportunities to help dad with small carpentry jobs. As we grew older, dad trusted us with more technical tasks. Whether we liked it or not, we would learn about his job and the woodworking craft.
Mateusz, tell us more about Oakywood's beginnings. What is it like to start a company at such a young age?
Mateusz Haberny: Even as a child, I always wanted to be an entrepreneur - I was fascinated by the idea of being independent at work. As a student, I realized I could start my adventure in entrepreneurship at university, as a side hustle. While researching the possibilities, I learned something crucial. I found that, in this increasingly digitized world where everything is made of plastic and aluminum, we humans show a powerful need to surround ourselves with natural products. I connected the dots and decided to use my remaining years at university to enter the business world combining the wood industry with technology. My interests and childhood experience turned out to be a perfect combination!
What is the most important thing in your work and what gives you the most satisfaction?
Edward Haberny: Wood is a very easy material to process which makes it possible to create amazing products. This gives me immense satisfaction. The satisfaction is even greater when you come across a happy customer and your work is appreciated.
Mateusz Haberny: Work that's compatible with my passions and ideals is incredibly important to me. I want to create products and solutions that matter to me and propel me forward. This passion and a sense of direction help me keep up my levels of engagement and motivation. I want to feel that my work has a real effect on the world and contributes to making it a better place. Whether that means providing our customers with quality products, getting involved in community initiatives, or influencing the industry, my goal is to have my actions influence the world for the better.
I love the ability to create and develop new ideas and projects. I get enormous satisfaction from the fact that my job can have a positive effect on people. Making products that help others organize their workspace and become more productive or inspired makes me feel very proud and fulfilled.
Marcin Haberny: At work I value accuracy and precision. As a production manager, I supervise the process to make sure even the smallest of details are created with due care. At the different stages of production, I take the product in my hands and ask myself whether I'd be fully satisfied with it as a customer. Sometimes it keeps me up at night but I think that's just an occupational hazard. I like what I do because I know I give my 110% and our clients recognize this hard work.
What do you wish for other fathers on this Father's Day?
Edward Haberny: For Father's Day, I wish for all talented carpenters and craftsmen to have their hard work recognized by their customers, and to remember how important it is to have some rest. Men don't live on bread alone: I personally love long bike rides to give my head a break.
Mateusz Haberny: I wish for all fathers to find some balance between work and private life. I hope your success does not come at the cost of your family and that fatherhood brings you satisfaction and fulfillment. Cherish every moment with your family - these moments will help you recharge your batteries and regenerate.
Marcin Haberny: For Father's Day, I wish for all dads, both those who are brand new and those with extensive experience, much love and patience in passing on your values and in the whole process of raising your children. I realize that this is not an easy task but the satisfaction it brings is unmatched.
Thank you for speaking with me.