Customer Reviews
Filter Reviews:
case
part
gift
husband
air bubbles
work
Oakywood
home
star deduction
delivery
09/10/2022
Worth every penny
This case just makes my day better whenever I see it. It may not be cheap but cost should never be a sole factor when evaluating an item in a class like this. The wood grain is absolutely stunning, the case sturdy, and it elevates an ordinary mobile accessory into an item of fine craftsmanship whose subtle beauty just makes me feel good each time I see it.
Bianca B.

Luxembourg
01/14/2022
I have not received it yet
Can not say because it has not been delivered yet!
Hi Bianca We are really sorry that you still haven't received your order! As we mentioned in the e-mail, we are currently clarifying this matter with the courier company. We do our best to ensure that the product is delivered to you as soon as possible, but if it turns out that the package has been lost in transit, we will either reship your order or refund your money immediately. If you have any questions, please contact us at contact@oakywood.shop. Thank you for your patience!
Damian W.

Singapore
09/15/2021
Looks, Feels and Works Excellent!
This is an awesome piece of work because it's a repeat purchase after I unfortunately lost my previous set of AirPods Pro. The fit is impeccable, the feel is awesome and it looks incredible. I cannot help but buy the exact same one to be the cover for my replacement airpods. What's the best part? The company contributes to environmental sustainability by planting a tree for each product sold. I think I have helped to plant at least 5 trees!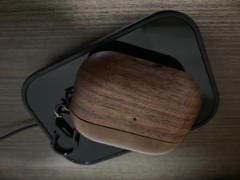 Travis

United States
08/25/2021
Stylish but loose
It's a lovely case, however it doesn't fit snugly around the charger. I'm constantly having to push it back into place. The habit of doing so has become reflexive each time I pick it up. Not exactly a low maintenance case for the price.
Hi Travis, we are really sorry to hear that you are not completely satisfied with the product. Please send us a message via contact@oakywood.shop, we will be happy to help!
Jessica B.

United States
06/02/2021
Love the case!
This was a gift for my husband and he loved the case!
---