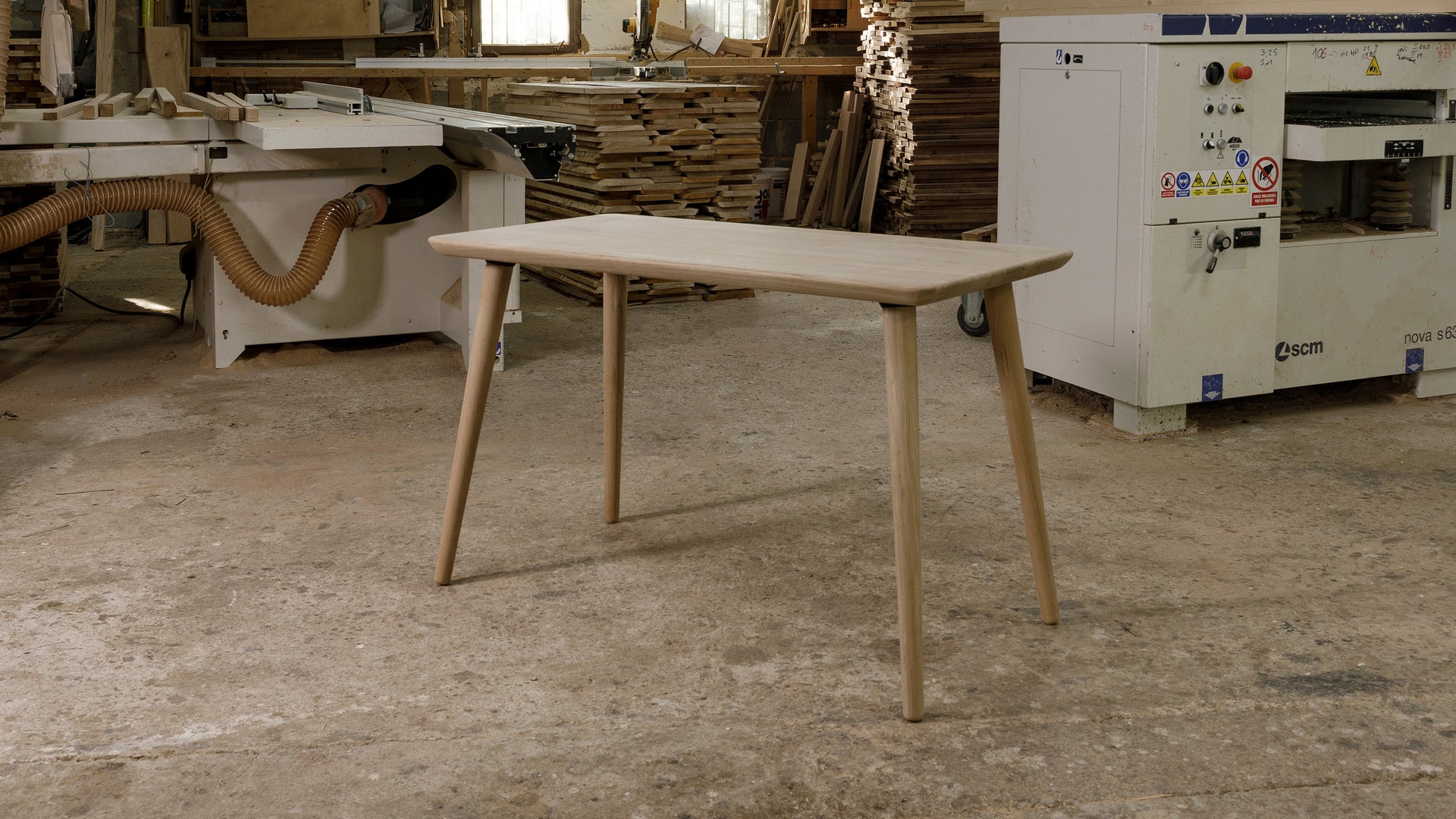 How to take good care of wooden furniture?
Wooden goods are not only sturdy and long-lasting, they also age with grace – as time goes on, they gain character and become more precious. That is, of course, only if you take good care of your furniture. In order to make this task easier for you, we have compiled some useful information about the individual qualities of the materials we use at Oakywood, as well as some general tips on wood conservation.
Oak wood
Oak wood is very easy to work with: you can cut, dye, and bend it with little effort which makes it perfect for crafting all types of furniture. The only difficult part is polishing the wood – this testifies to its durability and resistance to wear. Oak's resilience can also be attributed to its high contents of tannins.
The characteristic straight grain pattern and the medullary rays, which look like white ribbons floating on the surface of the wood, make oak a unique and timeless choice.
American walnut
The deep, dark coloring of the wood transforms American walnut furniture and accessories into statement pieces which boldly stand out, especially in minimalist spaces. Walnut wood has a distinct grain pattern that makes even a simple desk look like a sophisticated décor piece.
Similarly to oak wood, American walnut is quite easy to work with: the wood itself is an elastic, yet durable material. Remember though, that American walnut furniture isn't very resistant to humidity, and is prone to being affected by mold. Therefore, the wood needs appropriate care and is not the most suitable material for outside use – keeping the furniture indoors will help make it last.
How does wooden furniture change over time?
The aging process of wood depends not only on its natural properties but on other factors as well: mainly care, conservation, and placement of the wooden desk, shelf, or table. The temperature, moisture levels, and exposure to sunlight are also incredibly important. Even wood that has been treated with oil wax will lighten, lose the deepness of its hue, and become less resistant to humidity and wear – in case of wooden desks and desk shelves, this will be especially visible on the working surface.
The UV rays are especially dangerous for wooden surfaces: even if they don't fall directly on the furniture, they still influence the discoloration process. This can be observed by moving an object that has been resting on the wooden surface for an extended period of time. We will quickly notice the darker area, previously hidden from the sun. To preserve the original, mat, deep color, be careful not to directly expose your wooden surfaces to sun and moisture. Oiled wood should also be regularly restored.
Production Manager
Everyday care for a wooden desks
The most fundamental part of caring for wooden furniture is every day, systematic, and appropriate treatment of this precious material. Because Oakywood's desks and accessories are sustainably produced, we really care about our clients' conscious and ecological approach to the maintenance of purchased products. Dust your surfaces using a soft, damp cloth with no detergent. You can use mild detergent from time to time or in case of tougher stains, but make sure the products you use are made to clean wood.
Be mindful of the conditions in the room: wood doesn't like excessive moisture, nor very dry air (just like us, humans – so, while ensuring your furniture is in an optimal environment, you'll simultaneously take care of your own health and wellbeing 😉). Avoid placing a wooden desk too close to a heater or a window, especially if it's south or west facing.
DIY wood renovation
You can perform some basic wood renovation and protection treatments yourself – with the help of our Maintenance Kit, which includes sandpaper of appropriate grit, OSMO EASY PADS, and natural, ecological OSMO oil wax. Why did we choose oil wax over varnish? Natural oil wax, which we use, provides more effective protection, emphasizes the uniqueness of the wood, and doesn't clog pores. Plus, in case of minor damage, you can repair only the damaged spot – varnish doesn't give you such a possibility.
You should first oil your desk around one year after purchase, then repeat the treatment every time you notice signs of wear. You don't have to restore the entire surface in case of spot damage – all you need to do is mat the area and apply the oil to the affected place without losing the color consistency of the surface. Such renovation will protect your tabletop from water and dirt. To refresh wooden furniture, you can treat the top surfaces, the ones that have frequent contact with water and sweat, and are therefore prone to scuffing.
Production Manager
The conservation process itself is very simple: clean the surface, then polish it with the sandpaper moving along the grain of the wood. Thoroughly mix the oil wax and spread a thin layer of it on the surface using a cloth, then leave to dry. Don't throw out the used fabric straight away – rinse it well with water first, otherwise it can self-combust.
After around 8-10 hours (or simply the next day) apply a second layer of oil. Remember that the drying time depends largely on the conditions in the room, especially air temperature and ventilation. And that's it! A regularly renovated desk will look brand new for years to come and you will have the satisfaction of having made a sustainable decision by investing in quality products.