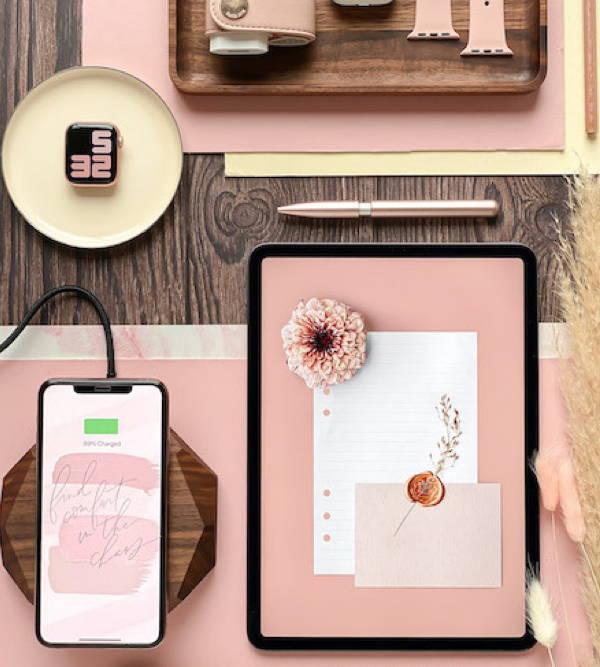 The Best Christmas Tech Gifts: Quiz
Christmas is a time of giving. We always try to choose unique gifts for our loved ones - gifts that will make them a real pleasure. Unfortunately, sometimes it happens that despite sincere intentions, our head is empty.
If you don't have a gift idea for someone important to you, use our quick and fun gift guide!
Decide which of the desks will appeal to your loved ones. Check what Oakywood products were used to create a given set, and choose your favorite products from the list!
Give your loved ones what best suits their style. Check out our Christmas inspirations!
1. Classic with a twist
Oakywood wooden accessories made of walnut wood perfectly complement this beautiful setup in various shades of gray. A natural, wooden pot for succulents, a slim wireless charger, and a monitor stand are a great contrast to the office classics - a gray desk, a mat, and black and gray devices.
2. Powder pink and dark wood
This setup will surely be loved by all people who appreciate order on their desks. Pastel pink perfectly warms the dark, walnut wood, from which the tray for office accessories and the wireless charger in a geometric shape is made. Dark wooden accessories are a non-obvious but stylish addition to a charming pink interior. The whole, kept in a specific color palette, gives the impression of being incredibly harmonious and coherent.
3. Minimalism & convenience
All the elements of this minimalist setup make up a functional and coherent whole. Dark gray and black accessories are complemented by Oakywood wooden products that help organize the space on the desk. In the center of the desk, there is a monitor stand that ensures an ergonomic position of the device. On the left side, you will find a wooden organizer and a 2 in 1 headphone stand with a wireless charger.
4. Natural and bright
This bright setup is dominated by three colors: white, warm brown, and black. Natural materials, walnut wood, and leather, as well as green plants, go well with a lot of equipment needed for everyday work at the computer. A monitor stand, dual dock, and laptop docking station make it easy to organize your desk for a clean and tidy look.
5.Set for special tasks
When we look at this desk, it is impossible not to pay attention to the large monitor located in the center. With such spectacular equipment, office accessories can only be a background. A white desk, a desk extension, and bright office accessories beautifully display the monitor, keyboard, mouse, and speakers. A big gray desk pad made of soft felt and cork additionally warms this minimalist interior. This simple, yet beautiful set can be completed with other Oakywood felt accessories: mousepads and cup coasters.