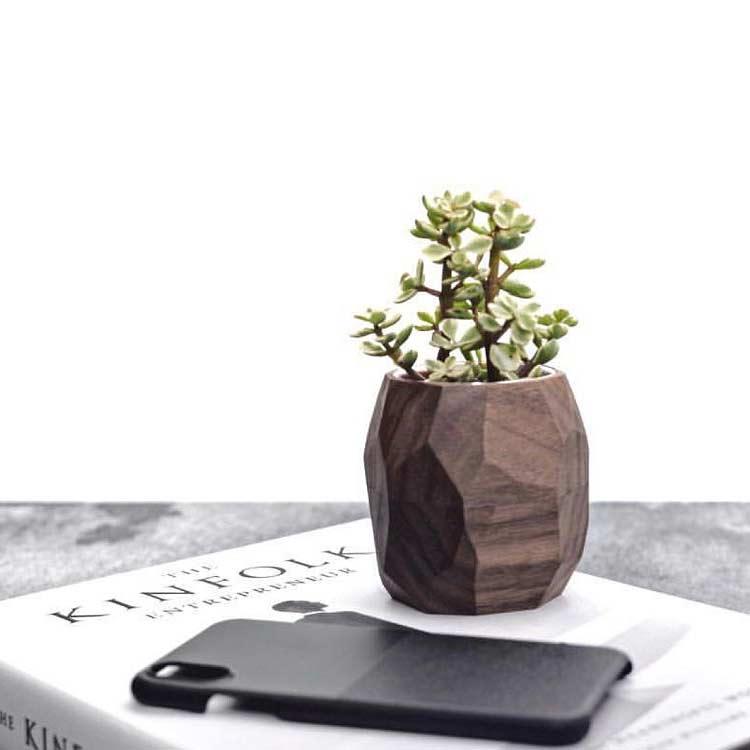 Reduce stress in the office - buy more plants!
Plants in the office

Here at Oakywood, we absolutely adore plants in the office space. Not only do they bring color, life, and filter the air of toxins, but they provide a peaceful working environment and offer the calm that all of us can benefit from throughout our stressful work days. If you're looking for fun ways to implement some color and life into your work space - no matter how big or small - potted plants are the way to go!
Wooden geometric planters
Here are just a few of the benefits of going green in the office:
Reduced Stress - plants have calming capabilities
Increase Productivity - less stress = more productivity
Cleaner Air to Breathe - as mentioned above, plants help filter the air and provide fresher, cleaner air
Increased Creativity - plants can definitely help to spur the creative side
Reduced Sickness & Absence - not only do plants absorb carbon dioxide and mold spores, but they can also help absorb germs if you have the right variety
Reduced Noise - they help absorb sounds and provide a great filler for open space
The more the better!
There is one important rule to follow: the more green the better. You can start with a small succulent in a wooden planter or a plant situated in a geometric planter.
The more plants, the better!
Succulent plant pots are gaining popularity for their versatility, color, and beauty. Wood plant pots are a beautiful way to showcase any plant you want within your office, providing stability for your plant and beauty for your work space. Wood always looks classy as an accent - and when paired with a plant, it can really improve your office aesthetic.
Which plant to choose?

Some plants you may want to consider adding to your space for ease of care plus for their capability in absorbing toxins and even germs are as follows:
Aloe Barbadensis - also great to have on hand for cuts, bug bites, and wounds
Spider Plants - Look beautiful atop a desk or shelf
Ivy - all sorts - also look beautiful on top of a bookshelf or desk when the vines begin growing long, as they tend to cling and wrap onto other objects
Peace Lillies - beautiful year round, these are classy and add a feminine touch to your space
Orchids - any and all types - but Phalenopsis Orchids are super simple and only require watering once every 10 or so days
Talk to Your plants!
No matter the type of plants you choose to add to your space, the more the merrier. Some people say if you talk to your plants, it helps them to grow and thrive. Whether that's true or not is a mystery to be told.
Wooden succulent planter

Plants are also a great gift to give to coworkers and friends to brighten up their office space or home, especially now that it's Autumn, the days are shorter the temperature outside is colder and it's more depresing. Some greenery on the desk would cheer up anyone!
Add some Green to your office and do it in style with Oakywood wooden accessories.