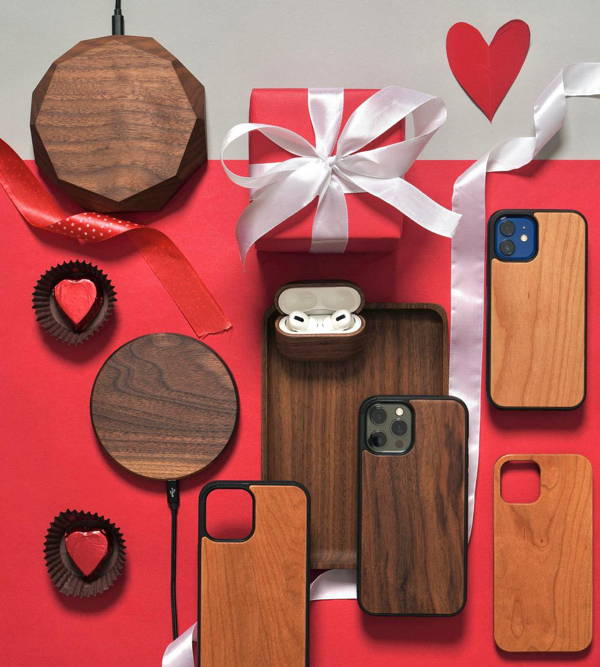 Personalised Valentines Gifts
When we are looking for personalized Valentine's gifts for people we love, we want not only to give them a beautiful and unique thing. First of all, we want the gift to express our feelings. Customized wooden accessories from Oakywood can make a timeless and universal or a personal and touching gift.

Wood docking stations, chargers, and office accessories will be a beautiful personalized Valentine's gift that will serve your loved ones for years. Items made of natural materials do not harm nature - unlike plastic gadgets. If you want to give your loved one something special, use the engraving option - which will turn every piece of wood into the perfect Valentine's Day gift.
Personalized Valentine's gifts
If you want to give your loved ones a personalized Valentine's gift with engraving, all you need to do is to press the "personalization" button next to each product that has this option. Enter your text, set the appropriate text size, and choose the font you like best. After completing the order, each wooden product is packed in an elegant cardboard box - perfect for a gift.
If you need a few tips on what personalized Valentine's gifts to give your loved ones, be sure to check out our suggestions!
Personalized Qi Charger
The Qi charger is one of the most popular Oakywood accessories. The original design, inspired by geometric shapes, precise handcraft in solid walnut or oak wood, and careful finishing with ecological oils, make our induction charger original, durable, and comfortable to use. Surprise your loved one with this unique wooden item with a classic look, under which a piece of top-quality modern equipment is hidden!
The wireless charger is compatible with all Qi-enabled devices, incl. iPhones, Samsung Galaxy and Google Pixel smartphones.
Valentine's Gift for a music fan
If your loved one appreciates high-quality sound and uses over-ear headphones, give them a headphone stand with a geometric, oak or walnut base, made of solid wood and black painted steel. Each headphone stand is hand-made, with attention to the smallest detail - that is why this wooden gadget is not only a beautiful but also a convenient item that will help you optimize each desk.
The personalized headphone stand is also available in a 2 in 1 version - with a built-in wireless charger.
Personalized Catch All Tray
Do you want to gently suggest to your other half that he or she should put things back in their place? Gift him or her a personalized wooden organizer that will hold all small things, usually scattered around the desk or hidden in drawers. A wooden tray with a unique engraving is a beautiful, high-quality solid wood decoration that adds a natural, forest character to any interior.
Engraved Wood Phone Case
A personalized phone case is a classic and casual, yet beautiful and durable gift. The shock-resistant phone case made of walnut or cherry wood is thin and light. Every Oakywood phone case is made by woodworking specialists in our workshop in Podhale, Poland, and hand-polished to bring out the natural shine of the wood.
Original Valentine's Gift
Do you know what Triple Dock is? If your answer is yes, it means that you certainly understand how much the triple charging station for Apple Watch, AirPods, and iPhone can make your life easier! If your answer is no, be sure to try this awesome wooden gadget from Oakywood - and optimize the charging of your devices.
In our offer, you will find docking stations for various Apple and Samsung devices. All docks allow you to quickly and conveniently charge your phone, smartwatch, or AirPods. These charming, handcrafted wooden docks are also a convenient and beautiful holder for your equipment when you are cooking, drawing, or learning a new skill. The docking station can be placed on a desk or a TV cabinet.