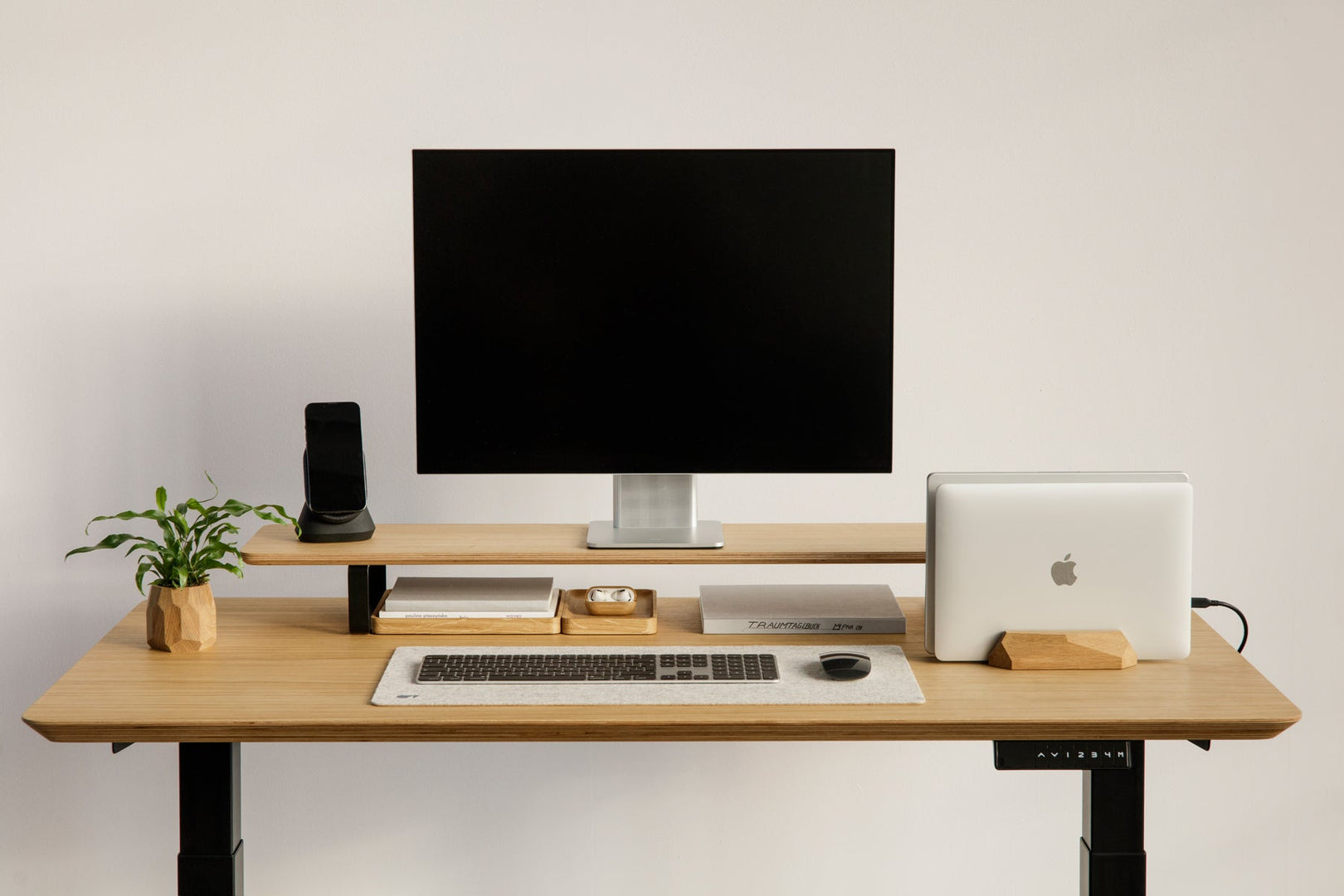 How to set up a perfect student desk?
The beginning of a new academic year is a perfect moment to think about new and exciting ways to set up your desk so that it's a perfect space for studying and the knowledge migrates into your brain almost on its own. A well-designed space aids concentration and can often positively impact your will to study. What rules should be followed in organising your desk?
The key to productivity – organization
A cluttered desk is, for many, synonymous with creativity. Scattered notes, open books taking up every bit of free space, empty tea or coffee cups, countless pens, pencils, highlighters, and in the middle of it all – a laptop or monitor, tablet, and smartphone in need of a charger that's nowhere to be found. Some people feel right at home in this environment and seem to effortlessly navigate it to find everything they need at any given moment. Such creative, controlled mess can stimulate the mind to find out-of-the-box, inventive solutions, at least in some cases.
On the other hand, a clean and tidy desk fosters productivity and allows for complete concentration on work tasks. It also helps to avoid distractions and while these can be seen as a welcome boost to creative work, they hinder learning and retaining information when studying.
We asked Christina @study.socialmedia, whose bread and butter is creating content on this topic, how good organization influences productivity and motivation:
With an organised desk I feel way more motivated because I actually then want to use that space fully and be productive! Also, I am a very organized person In general and think it's always a good idea to have a clean and good-looking desk. If your desk is organized you A) find your important stuff easier which saves time and B) also makes you feel comfortable so it's easier to focus.
The golden rules of desk organization
While designing your ideal desk setup, it's best to carefully consider your own needs and learning habits: workspace should be arranged according to the needs of its user, not the other way around. Here are some golden rules that will help you create an optimal study setup.
Only essentials on top of your desk
Take care to only put the indispensable items on top of your desk: specific notes, laptop or tablet, a pen, a cup of tea or a glass of water (remember to stay hydrated!). This will help you focus all your attention on the task at hand, and ultimately finish it faster and to a much higher standard.
 
Every item has its designated place
It's much easier to maintain order on your desk once even the smallest items such as, for example, paperclips, sticky notes, sharpeners, or scissors have their own designated places – this helps you save time looking for things you most need at the moment. This is why it's a good idea to use organizers which not only make your space tidier but also make it more pleasing for the eye.
Hidden cords
Tangled charging cords which take up significant space and distract the eye are an unwanted sight on your desk. To tidy them up and conceal their presence, you can use a variety of cord organizers such as bands, clips, containers, or under-counter holders.
 
Sorted notes
Although we increasingly rely on digitalised notes, this doesn't mean we no longer print or write things down on paper. Additional study materials from class, various copies, hurriedly scribbled notes on single sheets of paper – these are often causes of the chaos on your desk. The solution is rather simple: all you need is a few file folders or ring binders that can house your papers and documents. Don't forget to sort them according to theme and remember to put them in their designated folders.
 
A comfortable desk
The desk itself has an invaluable role in creating an optimal workspace. An uncomfortable desk, not suited to your specific needs and expectations doesn't encourage diligent learning and long study sessions. When choosing this particular piece of furniture, you should consider its height – ill-fitted dimensions can cause, for example, back or wrist problems. A regulated height desk is therefore worth considering as it can allow you to sit comfortably but also to change your position from sitting to standing. The dimensions of the tabletop are also an important factor when it comes to studying: one that is too small will quickly feel cramped, whereas too big of a desk can encourage accumulation of items that aren't necessarily essential and thus, distracting.
Organizing your perfect study desk can take some time but it will be a time well spent. Only by carefully planning your space, will you be able to adapt it to your own character and your preferred learning style. It will result not only in increased productivity or motivation but also comfort and stress-free study sessions.