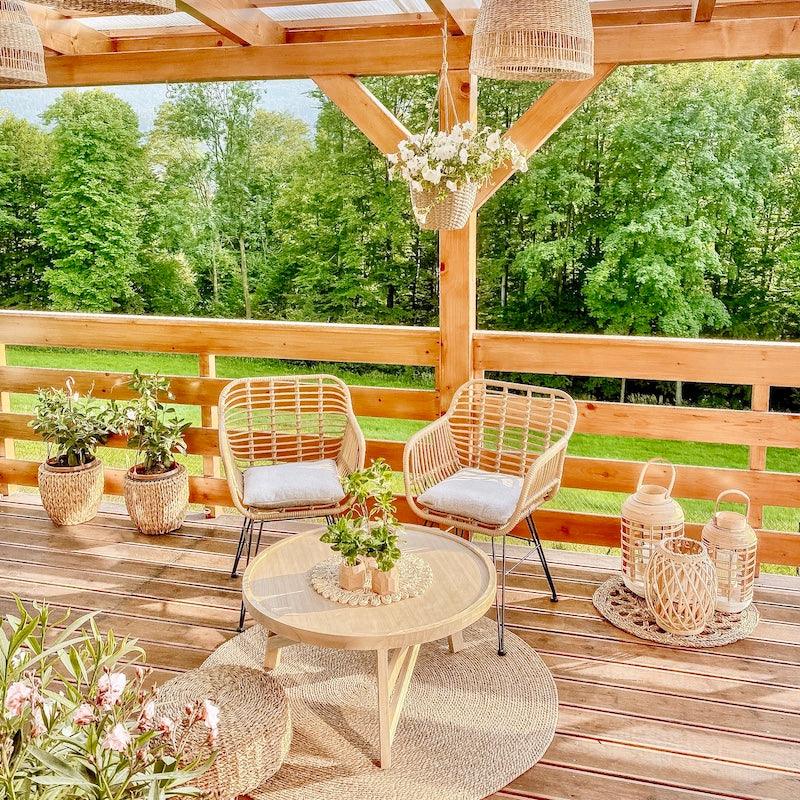 Outdoor Home Office. 3 Inspiring Garden Office Ideas
For many of us, the hybrid work and study mode has become something more than a temporary solution for times of lockdown. The possibility of partially remote work has become a sought-after benefit for employees, who can thus save time on commuting and stay in a comfortable home environment with a self-configured setup. But does remote work still look so delightful in real life?
Photo by @zadomowiona_na_ziolowej
Unfortunately, many of us still have not overcome the most nerve-wracking difficulties connected with the home office. One of the most common challenges is the lack of privacy and poor working conditions, such as a cluttered apartment or the presence of entertainment items that effectively distract us from work. Meanwhile, especially in summer, the opportunity to create a private and comfortable workplace is at our fingertips. See how to organize a perfect outdoor office in your garden, balcony, or patio, where your productivity and satisfaction will skyrocket!
Garden Office In an 18th-Century Farmhouse
Jill from @at_home_with_the_wheelers is the owner of a home office that would be a dream come true for any nature and cozy interior lover. We asked her to reveal the details behind the making of this extraordinary workspace.
"The outdoor office is a pre-constructed summerhouse, which we bought in August 2018 as a garden hideaway. When we went into lockdown in March 2020, my Husband and I were both forced to work from home. We only had one study in the house, and I have a very busy job and need privacy and confidentiality. That's when I stumbled upon the idea of transforming the summerhouse into an outside office."
"We had outdoor electricity sockets installed, flooring fitted and linked the WiFi from the main house using an extender. The desk folds down when not in use, so the space remains multifunctional. I had to install blinds and curtains as the sun can get quite strong in the afternoons, but overall it has been an amazing space to work and I have even used it in the winter with the help of a small convector heater. My colleagues are all very jealous of the space and the cottage garden view on my Teams calls!"
"I love being outside, so working inside but outside has been such a treat and I feel like I've really been able to make the most of working from home. I like the fact that I have been able to retain the rustic character of the summer house which compliments our 18th century home, but also create a comfortable, quiet, and private space to work."
Move Your Office Outside - WFH Office In A Balcony
Although the garden office is an excellent space for remote work, not all of us have the opportunity to build a separate construction in front of the house. Sometimes, however, it doesn't take much to transform an ordinary terrace or balcony into a cozy and quiet place to work. When arranging an office in the garden, it is worth ensuring the color consistency of all accessories. Do not be afraid to combine different textures, materials, and types of wood.
Photo by @zadomowiona_na_ziolowej
Thanks to this brilliant combination of rattan lamps and armchairs with flower pots, a jute rug, and plants, this terrace has become a pleasant oasis in a boho style. Office accessories made of oak wood perfectly match the light, rustic materials and make organizing a temporary WFH office so much easier! Oak flower pots, a laptop stand, or a wireless charger are a perfect combo for all those who like to work outside, but at the same time beautifully complement every ordinary office.

Photo by @dom_za_miedza
While creating an outdoor office, a good practice is separating your workspace from the rest of your garden or house. Thanks to the large leafy plants or furniture, you can easily arrange smaller rest, work, storage, and eating areas. You can use the so-called decorative frames - thanks to the use of carpets or trays, you will close the composition and, in consequence, avoid the impression of randomness and disorder.