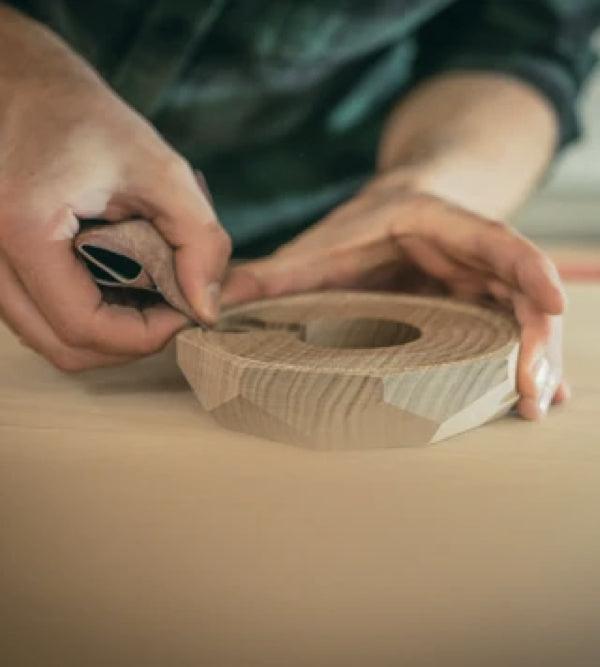 Can we tell you two undeniable facts about Oakywood? Here they are: we are passionate about working with wood and we love nature. Our family workshop located in Podhale, in the small town of Ciche, is a unique place where working with wood is an activity passed down from generation to generation. When designing technological accessories, we are inspired by what surrounds us: the majestic view of the mountains and the landscape full of tall, old trees and sharp slopes. The values ​​that guide us are ecology, sustainable development and love for nature.
From the very beginning of our activity, we attach great importance to the materials from which we create Oakywood products. We work with them every day, pampering every detail ourselves and ensuring that everything that comes out of our hands is durable and functional. We control the quality of all our raw materials on an ongoing basis. We only use ecological, simple and noble materials:
natural oils

Portuguese cork

merino wool felt

solid wood: oak and American walnut
Solid wood
The wood we use at Oakywood has the international FSC certificate - therefore it meets the strict standards of sustainable forest management. Materials marked with the FSC logo come from responsible sources and do not harm the environment in any way - both in terms of ecology (they do not come from areas inhabited by endangered species of animals), social (they are obtained in an ethical way) and economic (forest management does not have a negative impact on the economic situation of a given country).
American Walnut, Oak
The basis of most Oakywood products: wooden wireless chargers, docking stations, laptop stands or flower pots, are two types of wood: American walnut and oak. Black walnut has a specific, unique appearance: a dark brown color with visible rings. Due to its original appearance and durability, it is a popular material for elegant furniture and accessories.
The oak from Poland is a tree known for its durability and longevity, with a characteristic heaviness and beautiful, naturally light color. Each new shape of Oakywood accessories is refined by hand - so that all owners of wooden gadgets can enjoy their unique character.
Merino wool felt
Merino wool is a natural material which exceeds most fabrics available on the market with its exceptional thermal insulation properties and durability. Merino sheep are a breed originating from Asia, now commonly inhabiting Australia. The animals living in the high mountains have perfectly adapted to the harsh conditions - the special structure of their fleece protects against the cold and the sun. Merino wool felt is durable, easy to clean, and at the same time delicate and soft - that is why it works perfectly as a raw material from which we make comfortable desk pads.
Portuguese cork
Cork is a popular material that is widely used in the construction, clothing and wine industries. However, few people know that due to the structure of the bark of the cork oak, it is a naturally ecological raw material! The trees from which the cork is obtained consist of two layers: the "living" interior and the protective shell. The outer layer of cork oak grows regularly and can be removed safely - without harming the tree, which regenerates naturally. The barking process can be repeated many times. This oak lives up to 300 years - and for half of that time it can be a source of cork.
The cells of the cork are 90% filled with air. As a result, they are light and flexible. Due to its high durability and flexibility, we use cork in the production of our desk mats, cup coasters and mousepads.
At Oakywood, we make every effort to ensure that our products serve you well and for a long time. Authenticity and commitment are important to us - that's why we are more than pleased that you appreciate our original accessories. Soon our collection will be expanded with new products made of non-obvious, ecological and biodegradable materials. Stay tuned!