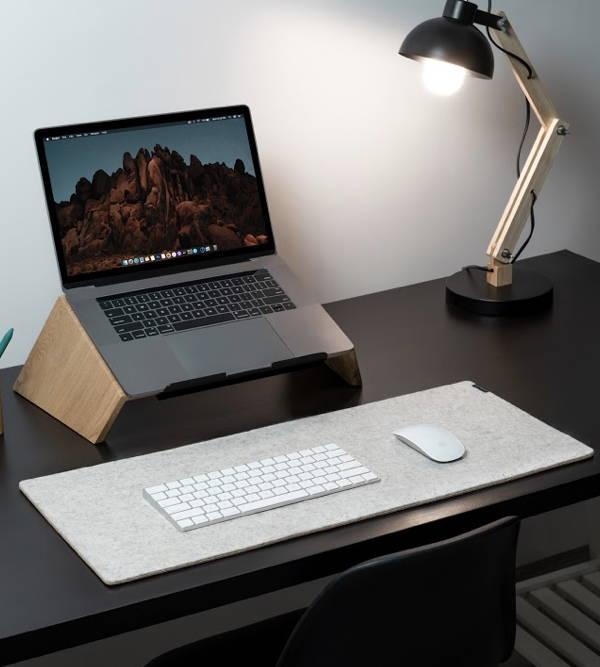 Mouse and Keyboard Pad: How To Choose?
It is a well-known fact that the proper workplace makes us more effective - faster and more focused. When choosing accessories for work, such as a mouse and keyboard pad or a monitor stand, we should also pay attention to the fact that these items should protect us against several health issues that are associated with a sedentary lifestyle: arthrosis, tendinitis, or vision problems.
Some of us have already experienced the side health effects of the remote work. The home office mode has dropped unexpectedly for many of us. We have been working at kitchen tables, on the couch, or in bed - without providing adequate support for our wrists, and not taking care of the ergonomic position of the computer.
If you have not yet taken care of the comfort of your work, it is worth considering buying a few accessories that will relieve your hands, neck and spine. You don't have to buy a new desk or armchair right away to create a comfortable workplace.
Sometimes a few minor changes are enough - for example, choosing the right mouse and keyboard pad.
Which mouse and keyboard pad will work best in our case depends on many factors: what equipment we use and how we handle it, what place we have, or what kind of work we do. Therefore, we would like to present our top 5 picks for mouse and keyboard pads for various tasks. Check which one you like the most!
Mousepads to Support Your Wrist
Carpal tunnel syndrome (CTS) is a common condition that manifests itself as pain in the thumb, index and ring fingers. Pain worsens at night and when an injured person raises his arm. CTS most often requires a long rehabilitation process, including special exercises and an ointment treatment. In some cases, carpal tunnel syndrome requires a release surgery.
Probably every person who has experienced the characteristic numbness of the hand at least once will agree that prevention is better than cure.
Fortunately, there are many companies specialized in ergonomic office accessories that offer a wide selection of ergonomic mouse and keyboard pads that can be adapted to your personal needs, including your working conditions.
In their offer, you will find an exquisite selection of mouse and wrist pads, as well as keyboard pads in various sizes, colors, and shapes. Fellowes mouse and keyboard pads are distinguished by flexible memory foam or gel filling system that provides adequate, comfortable support.
Gaming Mousepads
The gaming pads world has its own rules. Gaming mousepads and keyboard pads must be large, provide optimal agility, be 100% non-slip and durable. During dynamic gameplay, the player needs to have full control over his movements - no resistance or unexpected cursor jumps are allowed.
The most popular brands that produce gaming pads are SteelSeries, Razer, and Corsair. The three mentioned brands offer mousepads and keyboard pads in various sizes: from S to XXXL. Depending on the preferred settings of the mouse sensitivity and the individual habits of the player, fans of computer games can choose between different textures and sizes.
Oakywood Felt & Cork Keyboard Pad
If you care about the good of our planet and enjoy good, original design, you will surely like the Oakywood felt and cork mat. Our mouse and keyboard pads are available in two colors, anthracite and gray, and in several sizes - MousePad, Medium and Large. The mouse and keyboard pads are made of soft merino wool and high-quality Portuguese cork, which is the non-slip base of each mat.
Functional, soft, and durable mouse and keyboard pad made of felt and cork is a premium product that provides comfort and brings natural warmth into the office space. Moreover, the materials used for its production are ecological and biodegradable - and the merino wool felt meets the OEKO-TEX® 100 standards.
Powerplay Wireless Charging System
The Powerplay wireless charging system from Logitech is an innovative proposition for fans of modern technological solutions. Thanks to the special Powercore system, the pad allows uninterrupted use of a dedicated Logitech wireless mouse. No more tangled cables or dead batteries - the Logitech mousepad is a new, inspiring view on computer accessories.
"Leather" Mousepad
A leather mouse and keyboard pad is a timeless solution for all types of desks. Importantly, this classic, elegant pattern also comes in versions that will appeal to all animal lovers! The "leather" material made of polyurethane looks like natural leather - it is durable and safe for all surfaces.
We truly hope you found something that suits your needs! Remember - by taking care of your workplace you take care of your health. Playing and working at a computer can be safe and comfortable, so don't settle for temporary solutions and take care of your comfort today - starting with small steps. Hence, which mouse and keyboard pad do you choose?