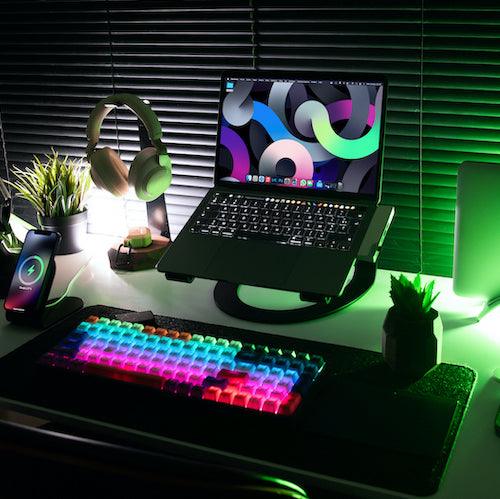 "For me, being a photographer is a miracle". An interview with Olivier Konan
Olivier Konan is a commercial photographer living in Côte d'Ivoire. This incredible artist is distinguished by his unusual sensibility - allowing him to turn a product photo into a fascinating study of the object. Thanks to his precision, creativity, and enormous technical knowledge, Olivier has gained great popularity in social media. His Instagram account is followed by over 351,000 users who eagerly study the image-making process and can always ask Olivier (who loves helping beginning creators) for his priceless tips.
Olivier has achieved international success and works with many well-known brands. But in our conversation, he showed up as a sensitive, grateful, and very talented man for whom the possibility of being a photographer is a constant miracle. Check what we asked @olivieer about - and don't forget to follow his IG account for more photos!
All photos were taken by @olivieer
How did your adventure with photography start? Why did you become a photographer?
My adventure with photography started in the 2010s, during the war in Ivory Coast (my native country). I decided to resign from school in 4th grade. Together with my parents, we moved in with my aunt - far from the conflict-affected areas. Being at her house, I spent a lot of time playing with her camera. I was taking pictures of plants and flowers, and publishing them on my Facebook account. What attracted me most at that time was the camera itself. I was passionate about the way it was made - the design and the structure fascinated me. All I wanted was to take a picture of the camera. But I had to quickly resign - because I didn't have a second one. The thought of being able to take this picture someday has been haunting me from this very moment.
In 2012, by the grace of God, I was able to found my first photo studio. Like any good photographer in his early days, I started with pictures of friends and acquaintances who came to spend their time there. This experience allowed me to try another style of photography - that I was able to subsequently develop in 2015, the year I started professional photography.
I had the chance to pursue my passion in Morocco - where I correctly learned the art of photography through training. Having no one around me, alone in my room, I tried different methods and photographic styles only with electronic devices or objects that I had around me. This "isolation" allowed me to test and master several techniques, which I still use in my photos. I am very grateful to God because when I analyze my past (having dropped out of school, with only a few months of training behind me, with no mentor) and see my work, I consider it a miracle and an incredible opportunity.
What do you like to photograph the most?
I started with portrait photos of people, but currently, I prefer photographing technology. With electronic equipment, I have creative freedom - at any time, I can create a different setting, or try a new configuration. I feel like I have full control.
We love to follow behind the scenes of your photoshoots! How did you learn to create such creative settings for product photos?
Everything starts from my childhood. I hate dust, and this phobia makes me very picky about cleanliness. Everything should be as clean as possible - my friends even call me Mr. Clean. Also, as a beginner photographer, I could not tell the difference between 3D renderings and real photography. I was convinced that I could achieve this perfection that we find in 3D in my photos. So I tested a lot of configurations.
I spent several years examining the behavior of light so that I could unravel its secrets. I am very grateful to God, who guides me and shows me the direction to follow.
We know from your Instagram that you receive a lot of tech gadgets from different brands. Are you trying to use them all? Do these gadgets make your work or daily life easier?
I gradually try to use them all - it is the only way to determine which ones make my daily life easier. Certainly, the more beautiful and practical they are, the more photo ideas they give me.
Do you often change the configuration of your office? Have you created the office of your dreams yet, or are you still improving it?
I think I could call my office 'Transformers'. I constantly change something - depending on my photo ideas, current inspirations, mood, or products that I currently have. I keep improving everything with different configurations, and my goal is to create the ideal office one day.
What's an essential item on your desk?
I couldn't work properly without wireless charger and speakers. These two are essential accessories for my concentration. I would even say that music is my fuel.
Name 3 items you couldn't work without
The Oakywood line of products is by far my favorite. Basically, I admire wood textures, and holding these products gives me chills every time. Too bad I only have to choose three, but my picks are: speakers (my fuel), wireless charging station (I'm in love with it), Oakywood computer stand (perfect for the spine).
What is your favorite Oakywood product?
My favorite is definitely the 2 in 1 Headphone Holder with Wireless Charger.
Thank you for the interview!
Thank you! At the end of our talk, I would like to express once again how grateful I am to God. I resigned from school, had only a few months of training behind me, and no mentor, no guide with me - and yet, when I see my work, I consider it a miracle and an incredible chance to be able to live from what I love!
P.S. Today is Geek Pride Day - and to celebrate & support all geeks who pursue their goals with hard work and passion, we have prepared a -20% discount on all Oakywood accessories. Use code GEEK20 and use @olivieer recommendations or choose your favorite products!