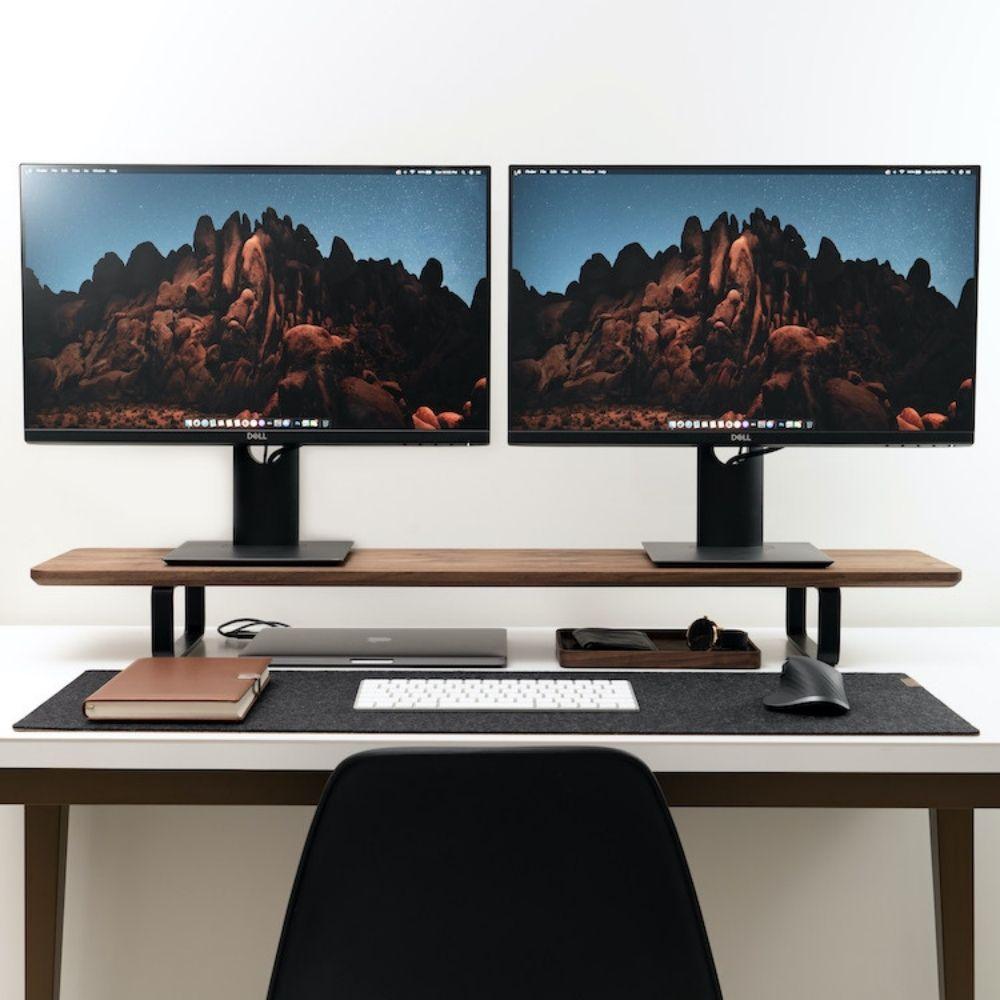 How to use two monitors to be more productive?
If you work remotely and only use a laptop, we have good news for you. You can tremendously increase the comfort and efficiency of your work with just one change. Connect any monitor to your laptop. Working with an additional screen will increase your productivity by up to 1 hour a day!
There are many benefits to working with two screens, including:
the ability to perform several tasks simultaneously

convenient calls - important for people working remotely, or for students who are attending online classes

easier copying & pasting

ability to consolidate multiple data

a comfortable and safe workplace, which significantly increases our efficiency.
Photo: @vigokrumins
What to do to make working on two screens meet the criteria of ergonomics? What solutions can we use if we do not have a monitor and we do not want to buy it? In our article, you will find answers to all these questions.
Working on two monitors and health
Working on two screens increases our efficiency - and in combination with a well-organized desk, it is safe for health and more comfortable than working only on a laptop. We must remember that if we want to make our work environment ergonomic, we have to improve our whole desk setup. Purchasing an additional monitor will not make our workspace immediately ergonomic.
According to the OSHA guidelines, the screen and keyboard should not be parts of the same device. We should adjust the height and inclination of the screen to our desk and chair. And above all, we should choose the equipment that best matches our individual preferences.
Photo: @melatech.it
The monitor should be positioned 15-30 inches (40-75 cm) from our face. The farther the screen is from our eyes, the better. The appropriate distance of the monitor from the eyes allows us to see the entire screen. Thanks to this, our eyesight is more focused, and we do not overload our neck with frequent movements.
Most monitors have a height adjustment feature. However, if the possibilities of adjusting the monitor to your needs are limited, you can use the following solutions:
monitor stand - an ergonomic monitor stand should raise the device to a comfortable position at eye level while providing a screen tilt between 20° and 50°.
monitor holder - an adjustable monitor holder is perfect for owners of small desks. The monitor attached to the wall does not take up space on a desk, and the adjustment possibilities are very wide.
desk with height adjustment - standing desks allow many different modes of sitting and standing work. This feature makes the optimal setting of the monitor much easier. However, to achieve an ergonomic position, the standing desk must be supplemented with additional equipment - such as a shelf, an adjustable monitor arm, or an additional drawer for a keyboard and mouse.
What if I don't have a monitor?
Working on one screen is less efficient than working on several screens. However, if you cannot use an additional monitor, you can choose one of the following solutions:
Sidecar - thanks to the Sidecar function, the iPad can easily become an extension of your MacBook screen. With Sidecar, you can extend or clone the screen and take advantage of a wireless, additional workspace. For compatibility tips and Sidecar's capabilities, visit Apple's website.
Snap Assist - if you are a Windows user, you can use the Snap Assist function, which allows you to split the screen into several sections and adjust their size to your needs.
laptop stand - the laptop stand raises the device by 15 cm to an ergonomic height at eye level. Thanks to the appropriate inclination of the stand, your eyes and neck become relieved and relaxed.
Working on two monitors increases our efficiency, but above all, it enables us to create an ergonomic and comfortable workplace. When buying high-quality equipment, we should care about our health as well. Therefore, we should ensure good, comfortable working conditions as soon as possible.