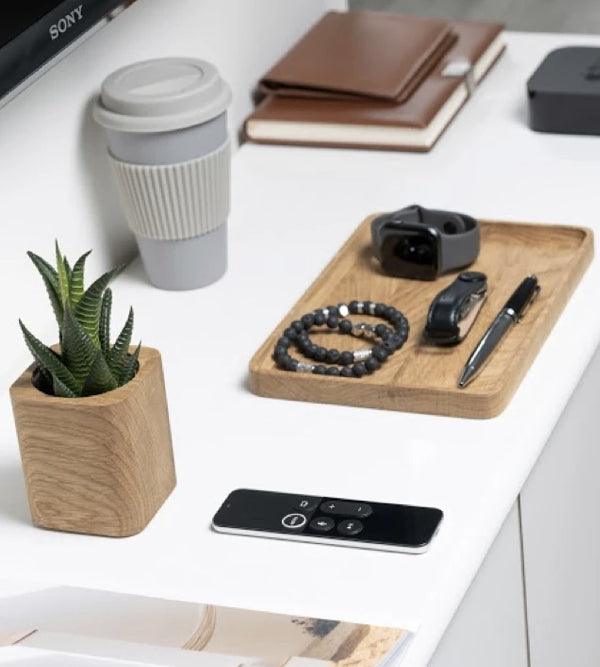 Eco friendly interior design - tips for fall
After a long and hot summer, the favorite season of all homebodies has finally arrived! In fall, we spend more time in our apartments, protecting ourselves from bad weather and catching up on the TV series. In the break between the next season of Netflix production and the sixth cup of coffee, it is worth spending a moment to use rainy days creatively.

October is a good time to polish a place where most of us will hibernate for the coming months. Using the fall color palette, we can create a universal base of decorations and accessories for the home, which will work well for the next months. In nature, fall is a time of an interesting play of light, colors and textures. How can it be used to create a cozy interior in eco friendly spirit? What materials should we choose when arranging an apartment for the fall? Discover our tips for eco friendly interior design!
How to warm-up your space in the fall without buying seasonal decorations
Halloween pumpkins and forest animal figurines are cute, but have a major downside: they're seasonal. Decorations like these take up a lot of space and are made of poor quality materials: plastic, cardboard or plywood. Seasonal decorations can be compared to plastic straws - they are disposable and harmful to the environment. The Huffington Post reports that in the UK alone, 2,000 tonnes of plastic waste is produced annually - and that amount comes only from old Halloween costumes. This is equivalent to 83 million plastic bottles! The statistics do not include disposable cups and plates, candy wrappers or Halloween party decorations.
Seasonal decorations are often made of allergenic synthetics or even materials that are potentially harmful to health. Popular in fall fragrance candles may contain toxic formaldehyde or irritate our sense of smell. Therefore, it is worth reaching for natural, safe candles with a pleasant scent that will not negatively affect our health: soy candles or beeswax candles.
Natural autumn decorations
Photo by Jon Tyson on Unsplash
Do you like decorations that imitate pumpkins, leaves and pine cones? A simpler and greener solution is to bring your fall decorations from the walk! You can prepare a nice fall bouquet from maple leaves, ash, rowan and cones. Beautiful orange pumpkins, squashes and apples can also serve as table decorations - and then as ingredients in a delicious soup or cake.
How to warm-up the interior with natural materials?
Anyone who has had an object made of solid wood in their hands at least once knows how unique its slightly rough texture, weight and smell are. Accessories made of natural materials give a sense of coziness and warm up the interior. Wooden items are distinguished by their versatility and durability - they can be renewed many times, and with proper treatment, they will last for decades.
Multifunctional accessories made of wood
It is worth starting the fall metamorphosis of a room with minor changes. Small wooden decorations can be easily rearranged and arranged in various ways. Multifunctional Oakywood gadgets will add a forest character to the interior, but will also be useful every day - and thanks to their solid workmanship, they will last for many years. The wooden tray can be used as a desk organizer and as a stand for candles. The geometric oak or walnut pot with a steel insert can also be used as a container for pens. An interesting proposition is also a headphone stand - available in a version with a wireless charger instead of the usual base.
Multifunctional, durable items with a well-thought-out design are the basis of a minimalist design. In combination with natural decorations, they will make the space look cozy and nice.
The art of contrasting: wood and wool
Hard and heavy wood goes well with soft, delicate wool. When arranging an interior inspired by fall, it is good to choose subdued colors with warm shades. If you want to warm-up your space, choose natural materials and don't be afraid to play with different textures. A thick, fluffy, hand-woven beige or gray blanket will perfectly match a wooden bed. Bright linen sheets and a pile of soft pillows will make your bed look comfortable and cozy.
If you work remotely, it is also worth taking care of the comfort of your work at your desk. In addition to wooden technological accessories - stands for a monitor or a laptop, you can supplement your workplace with soft wool felt mats. Merino wool felt is a soft and natural material that looks great in combination with solid wood and provides comfort and softness.
Fall is a great time to make your apartment more cozy and functional. After all, it is the place we will spend most of our time in the near (cold) future. Just remember to choose durable solutions and use materials from responsible sources!