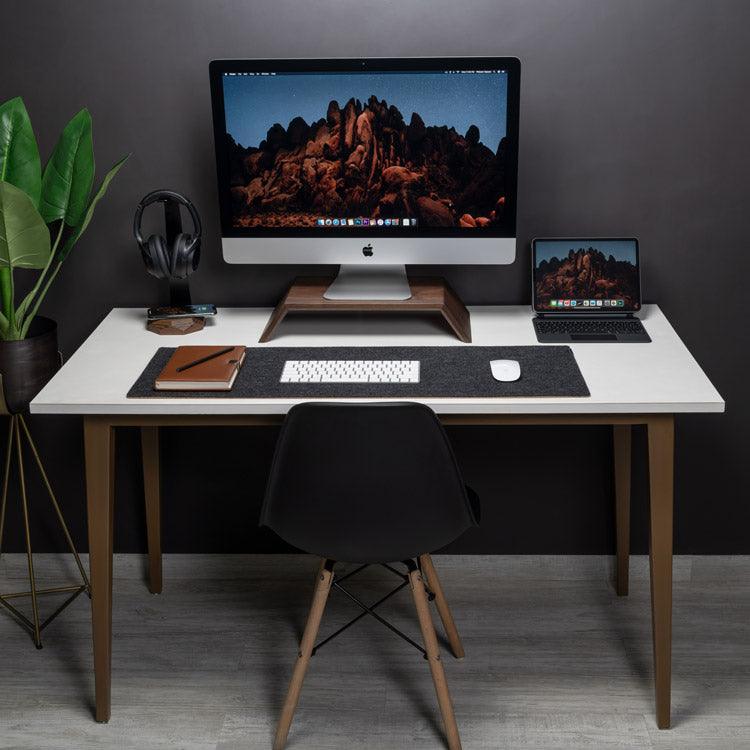 Declutter: How to organize your desk
Did you know that a clean and well-organized desk increases your efficiency during work? When your space is cluttered, so is your thought process. It's time to de-clutter, organize, and purge old items - such as paperwork and other unnecessary clutter - to give you a fresh, new start with the season and help you to become more productive in the process.
 If you are feeling overwhelmed with multiple cords lying haphazardly across stacks of paperwork and other items of unknown origin on your desk - it's time to do something about it!
The following are some helpful suggestions for how to organize your desk, courtesy of Oakywood.
Top Tips for Organizing Your Desk, and De-cluttering for Maximum Efficiency:
Browse through the paperwork lying on top of your desk. More than likely, most of it is suitable for being recycled. The remainder can be placed into a new location for organizational purposes, such as in a folder, a filing cabinet, a drawer, or even on a shelf on your bookcase. Depending on the nature of the paperwork, it might be best to shred documents before tossing them into the recycle bin.



 In addition to your computer, leave the most important items sitting atop your desk that you use most often, such as your phone, headphones, notebooks, folders for important documents, and pens. Organizing them into designated locations will help to keep them from looking messy, while giving your items the respect they deserve to prolong their life.



 Investing in quality decor that will make your space more functional and pleasing to the eye would be beneficial. Perhaps a wooden headphone stand would be helpful and practical for those rather large headphones you aren't sure where to store. A wooden phone docking station, or computer monitor stand could add that special, classy touch.



 Wind un-used cables and cords into an oval shape and secure with some magic tape, a bread tie, or cable tie. Store these cords in a tote or in a basket of some sort, either in a desk drawer or on a shelf in a closet to keep them handy when needed, but out of the way. Label the cords with a sticker to allow knowing what goes where for quick locating.
How to organize your desk
Be sure to add your own personal touch to beautify and personalize your space! The Queen of Organization herself, Marie Kondo, Author of "The Life-Changing Magic of Tidying Up," is a fan of items that give people joy. What are some items that spark joy for you? Place a few special items, such as photos of loved ones, favorite holiday souvenirs or a small succulent flower pot on your desk to make your day more enjoyable.
When your workspace is organized, clean, personalized and inviting, it will make working so much more enjoyable. Give it a try today. Spring is all about new beginnings. Create your new beginning this season with Oakywood wooden technology and gadgets.