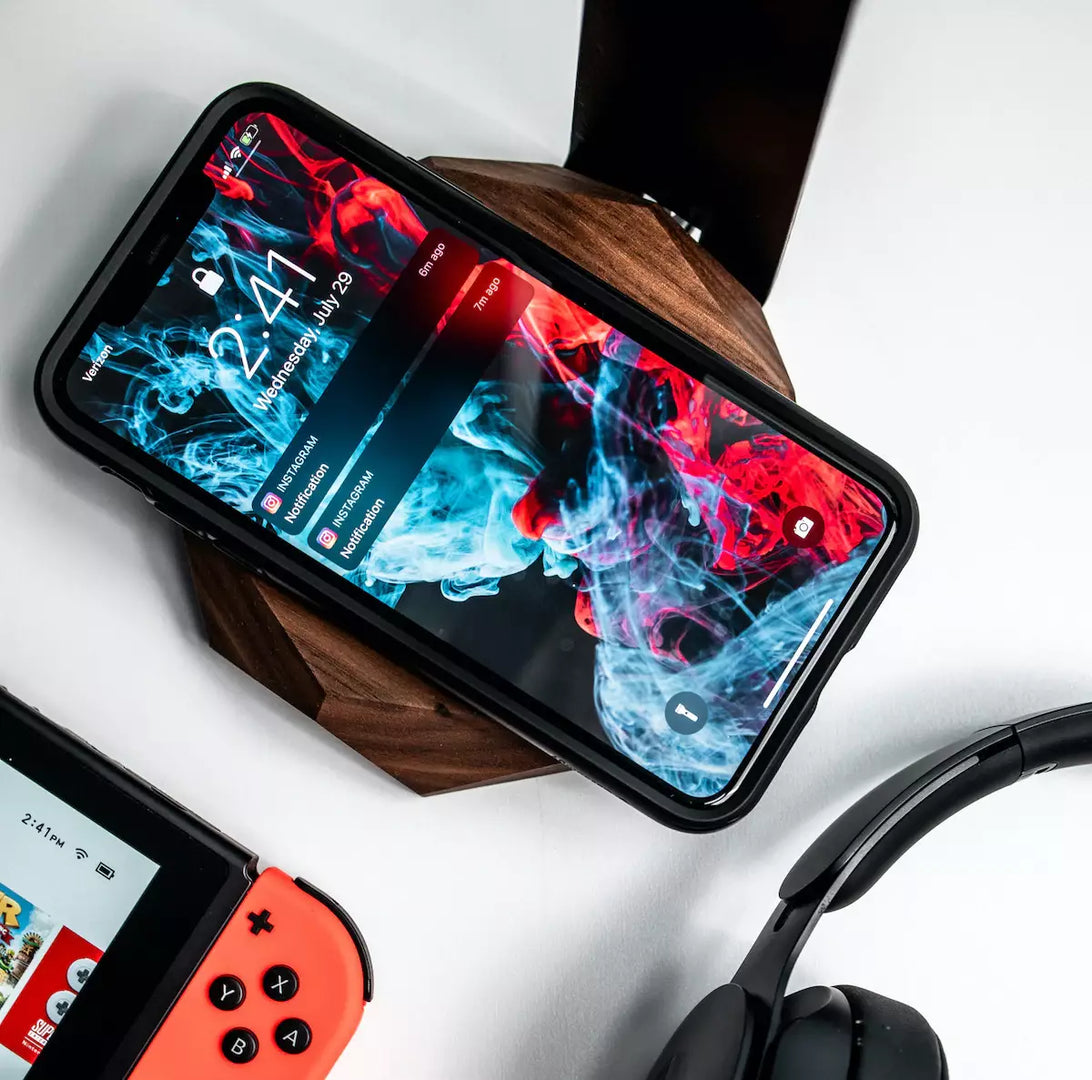 Walnut Wood and Neons - Setup by Chelsey Horne
The easiest idea for an insta-friendly interior? Bright walls, minimalist white furniture, lots of green plants. But as you can see, Chelsey Horne is not going the easy way. Her dark, stylish office consists of many elements that not everyone would be able to combine into a harmonious whole. Creativity, colors, high-end details - the Chelsey Horne setup has it all!
Chelsey is a photographer, content creator, and co-host of the Coffee with Creators podcast. Her amazing and very creative office fully reflects her interests - with photography posters and photographic equipment on the white hanging shelves. On the desk and on the wooden stand you can find small, fun gadgets: the Nintendo Switch console or the Finder icon.
Chelsey admits that her office is full of items she just finds beautiful. Although in her creative space you will find accessories and equipment from many popular brands, Chelsey does not blindly follow trends. That is why her home office is so original and... fascinating. The rustic desk hides some luxurious, technological surprises. Can you guess some of them?
Chelsey's adjustable desk is a combination of ergonomics and great design. This spacious desk with height adjustment allows comfortable working either sitting or standing. A stylish, dark wooden tabletop with clearly visible grains and knots perfectly harmonizes with black walls and dark, walnut accessories!
The wooden shelf-organizer is a smart solution that significantly increases the storage space. On the lower floors, you can store rarely used equipment, mousepads, or cables. And at the top? You can place the items you reach for most often: headphones, an iPad, or a cup of coffee.
There is no room for random items on Chelsey's desk. Chelsey chooses great quality equipment (MacBook Pro, iPad, and Magic Keyboard in space gray, LG monitor, or external drive from LaCie), which she combines with natural materials: wood and leather.
On her desk, you will find, among others, a headphone stand with a Qi charger and an office organizer by Oakywood, as well as a pen, shelf, and mat from Grovemade. Dark, walnut wood, and black accessories are a bold and stylish solution - charmingly broken with colorful accents.
A dark office doesn't have to be a sad one! Anyway, who would feel blue working in such a comfortable space, filled with beautiful and luxurious objects?
From a monitor mounted on an adjustable arm, through a comfortable armchair, to an adjustable desk with a wooden extension - Chelsey's office is a perfectly optimized home office, straight from the dreams of all lovers of ergonomic solutions!