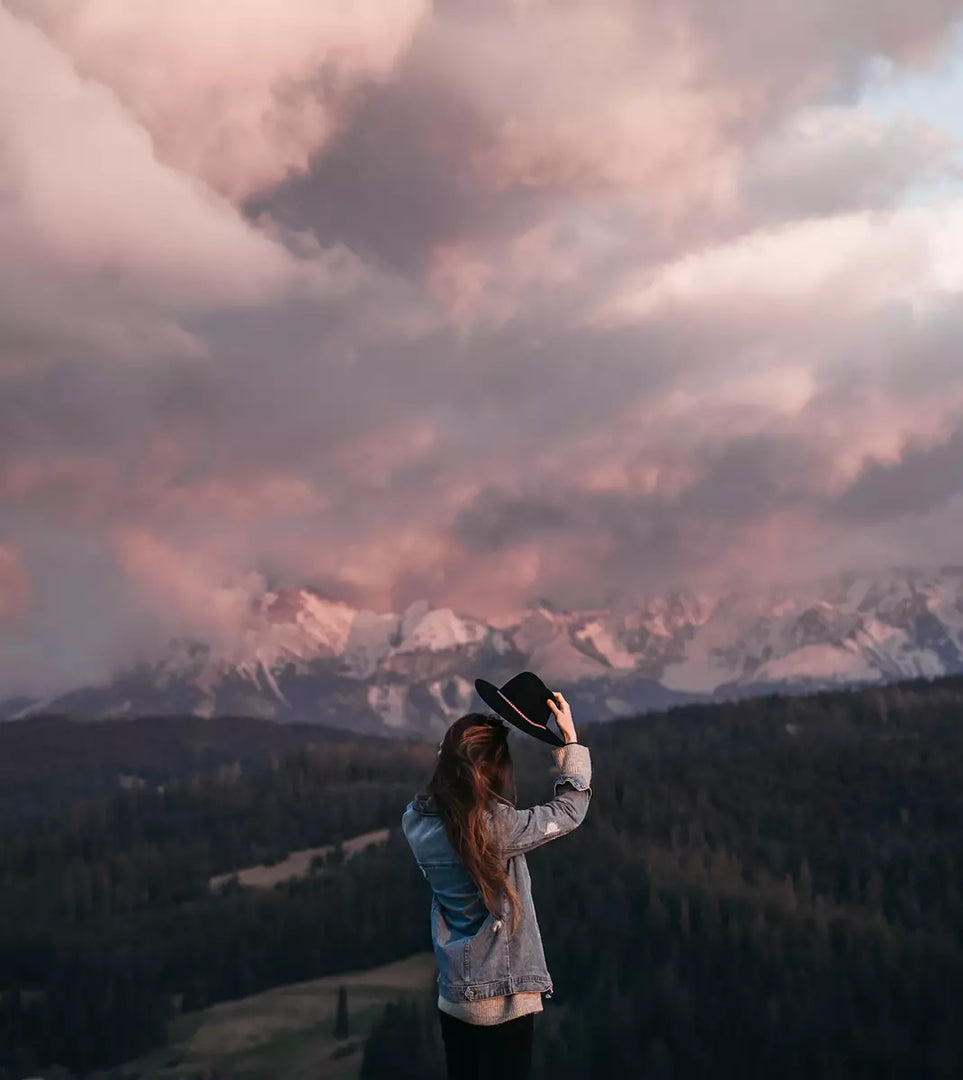 Being close to nature makes us feel alive. Interview with Sara Pawlikowska-Starzyk
This sleight of hand allows photographs to be both objective record and personal testimony, both a faithful copy or transcription of an actual moment of reality and an interpretation of that reality.
The above words by Susan Sontag seem to perfectly illustrate the nature of stunning travel photos by our today's guest. Sara Pawlikowska-Starzyk, responsible for Oakywood product and lifestyle photos, is a sensitive and aware content creator - whose specialty is capturing nature in all its fleeting stages. Her photos are distinguished by their particular lightness, which often contrasts with the image of difficult weather conditions - fog, snowstorm, storm. As Sara herself admits, it is being close to nature that makes us feel alive. What else did she reveal to us?
How did your adventure with photography start?
When I was a middle school student, my parents bought a compact digital camera. It seems to me that it all started at this moment. I liked to use it. Mostly I photographed my younger sister and parents, and I enjoyed every successful photo. In high school, on the other hand, fashion blogs began to appear, so in the wake of bloggers, together with my friends, we often took amateur photo sessions. We published our work on social media, which was also beginning to get popular back then.
During my high school and college, I was thinking a lot about starting to blog. But at the same time, I knew that excellent photos are crucial in this case - so I would have to purchase a better camera. As a student, I could not afford such an expense, so it was only after my studies when I started earning money - that I finally decided to buy it.
In the meantime, I abandoned the idea of starting a fashion blog in favor of landscape photography. After graduation, together with my boyfriend (currently my husband) Paweł, we began to travel - and this is how my love for nature was born. I wanted to share beautiful photos with a bigger audience. Pictures taken with our first camera (Canon SLR with the so-called kit lens), however, did not differ much from those made with our phone cameras - which sometimes discouraged further attempts. Nevertheless, my first camera allowed me to learn the key functions of the camera and the basics of photography.
I did everything by trial and error. I have never been to any photography course. Sometimes I used photo blogs or YouTube tutorials. The breakthrough came after switching to a Sony A6000 mirrorless camera and a Sigma 30mm f/1.4 lens - the image from this camera was so pleasing to the eye! Then we started to combine landscape photography with broadly understood lifestyle photos. After some time (mainly at the urging of friends), we decided to start earning money from photography - and we began making wedding reportages and outdoor sessions. Still, we are best at photographing nature, and we love to combine our photography passion with traveling.
Your photos of nature, especially mountains, are truly magical. What or who is your inspiration?
Instagram definitely had a huge impact on the look of my photos. I think it's a great source of inspiration. Watching the art of mainly foreign photographers such as Hannes Becker, Daniel Ernst, or Frauki, I wanted to travel more and more and capture everything in photos. Of course, nature itself is also an inspiration. I live in Zakopane, Poland, so I have it within my reach everyday.
I cannot imagine living in a big city. Large agglomerations overwhelm me. Contact with nature is essential for me to maintain my inner balance. But when it comes to nature photography, I look for moments that make the photos stand out. Therefore, I hunt for ideal weather conditions, such as fog or the light of the rising and setting sun. I also look for minimalism - I don't like too much going on in the picture.
Hunting for perfect conditions is often not easy and sometimes completely fruitless because I am very demanding. During our travels, taking the ideal photo means getting up in the middle of the night to be somewhere high during sunrise. Because we choose rather cold destinations, rain or low temperature often accompanies us during our trips. It does not stop us - but only makes us feel alive.
We know you love to travel. What places do you have on your travel wishlist?
This year I would like to travel to Norway. We visited the country in 2018, and since then, I still have a mind going back to Scandinavia. I am charmed by the diversity of Norway's landscape. I hope that the COVID restrictions will not thwart our plans again because this is an overdue trip from last year.
In addition, I have several places that are still on the wishlist, including Iceland (which, despite its popularity, we have not yet been able to visit) and the more distant destinations such as New Zealand, Canada, and the US. But I also like to go back to places that I already know well. These are, for example, the Dolomites, which make a great impression on me every time, as well as the alpine regions of Austria.
What is the most beautiful place you have been to so far?
I left my heart on North - and although the competition is quite high (for example, the Faroe Islands or Scotland), Norway definitely wins. Above all, I adore Lofoten. Small fishing villages, red houses, high mountains, beaches with azure water - this perfectly fit my travel needs.
What do you like the most about the Tatra Mountains, where you live?
I feel very connected with the Tatras. I like to watch them change depending on the weather, from idyllic to fearsome. In the Tatras, I try to discover places that are not very crowded with tourists. Such a place is, for example, the Western Tatras, especially beautiful in the autumn period. I sometimes visit more popular places, but I try to show their beauty in a slightly different way.
What are the necessary items on your desk?
I must confess I am not very demanding when it comes to my workstation. Sometimes I work in bed or on the couch. But if I already use a desk, the mouse is important to me (if I work on a laptop). I also like to have a phone at hand - even though it distracts me a little bit. I also use headphones a lot because I listen to music or podcasts while editing photos.
What are the 3 items that must not be missing on your travels?
Firstly, a camera - we take it everywhere, even for very short trips. Another essential item is my phone - it makes me feel safe because I can always call someone in case of danger. Additionally, the phone allows me to catch spontaneous and unplanned moments, mainly as short videos. An essential element of our travel equipment is also the headlamp. Our trips often start or end at non-standard times, so good lighting is crucial.
What is your favorite Oakywood gadget?
Until now, it was a QI wireless charger - I like its shape very much. It is a perfect choice for a desk or bedside table because you don't need to look for a cable and plug it into the phone. But recently, I fell in love with the felt MacBook cases. Together with my husband, we work on two similar MacBooks - but in different colors. The felt case, available in two shades of gray, fits perfectly with our devices, and at the same time, makes it easier for us to recognize which laptop belongs to whom. Especially if they are packed into one backpack or suitcase.