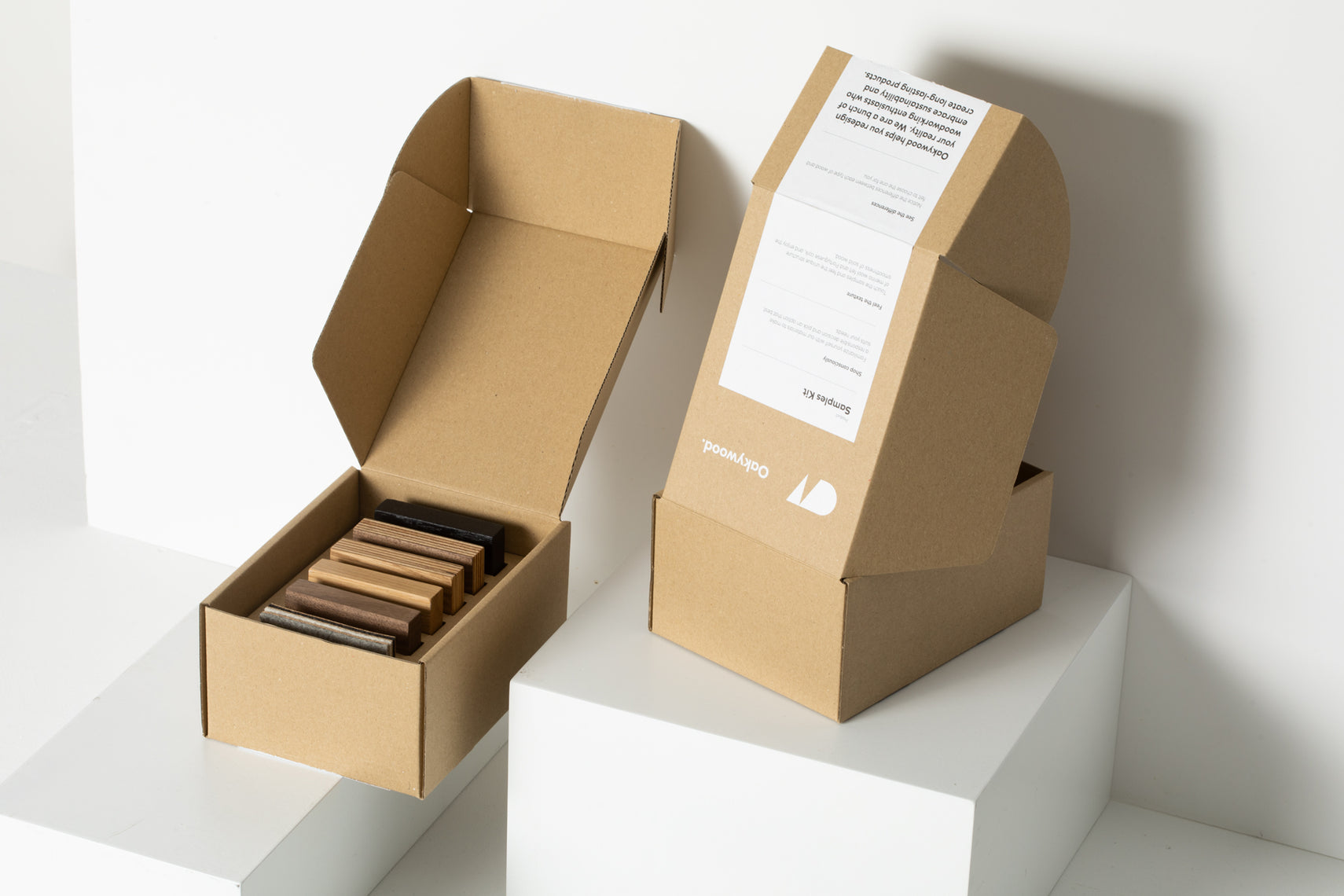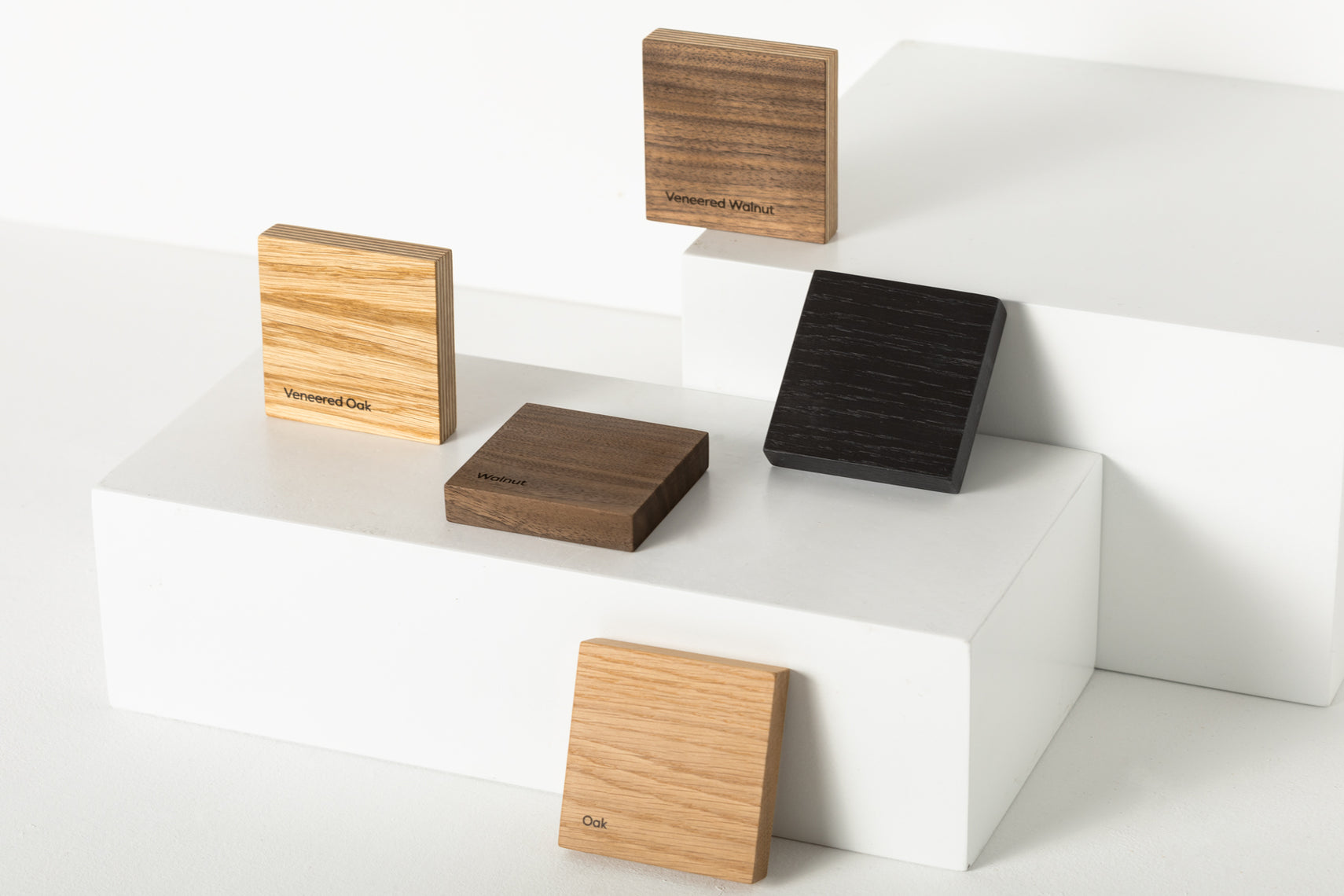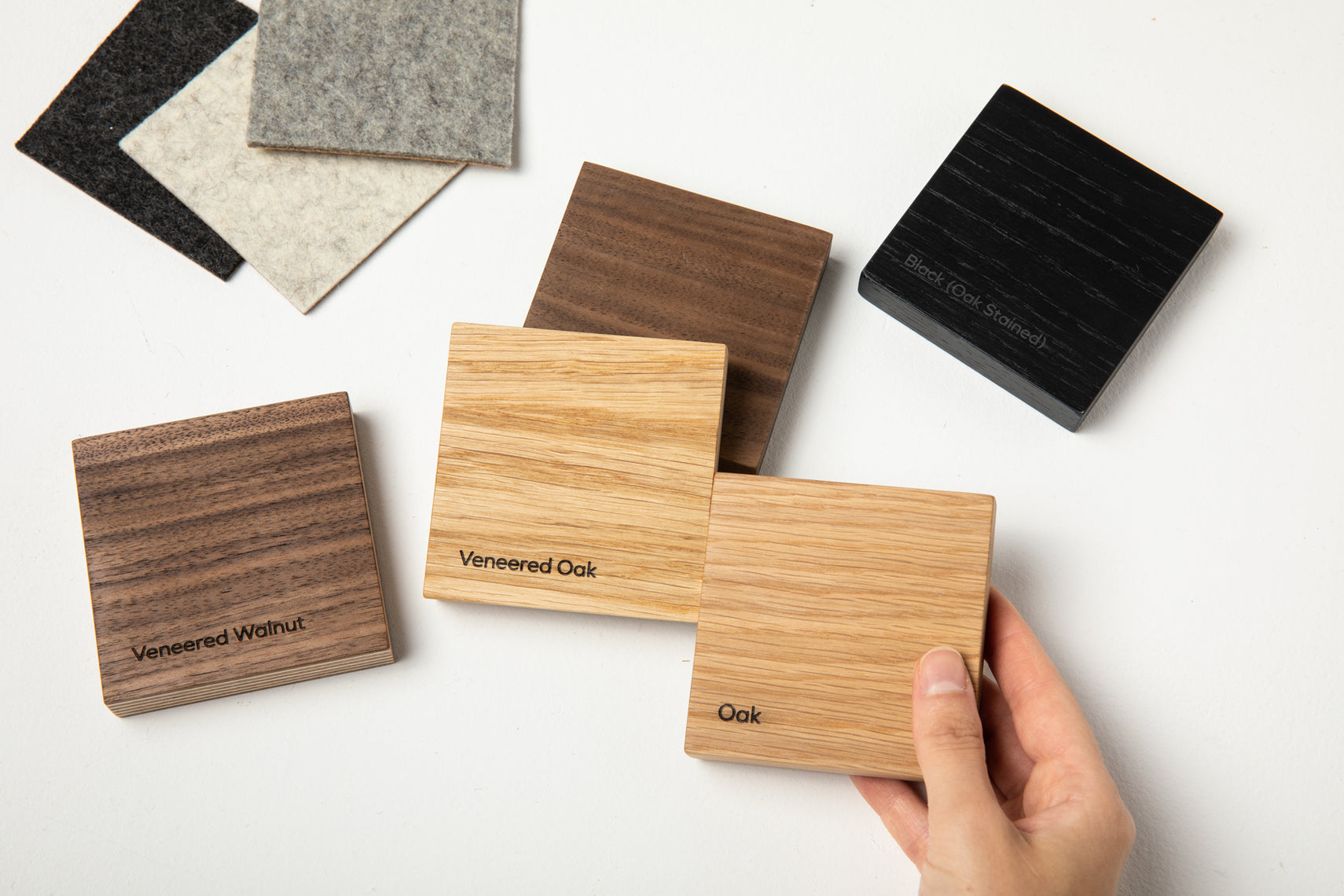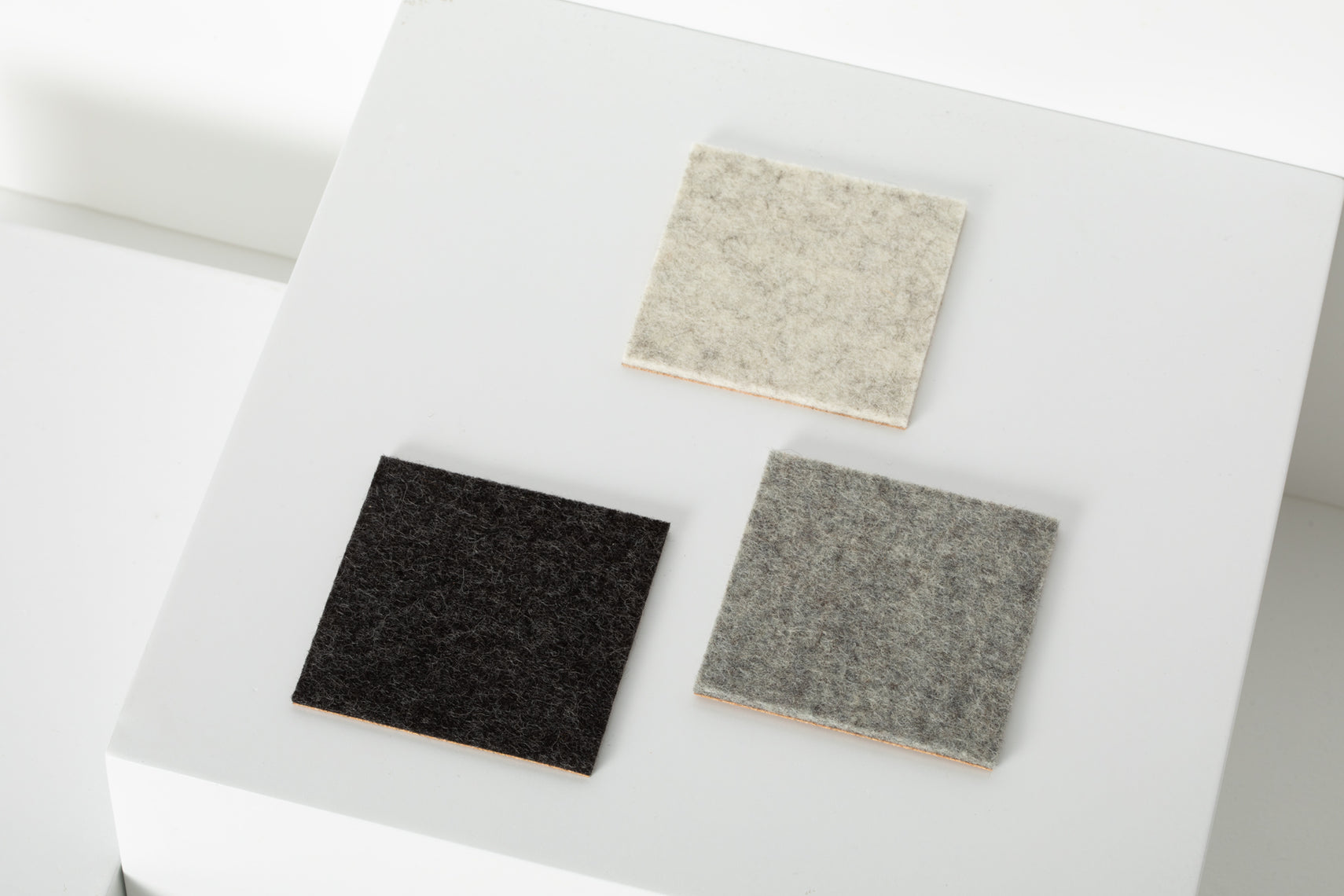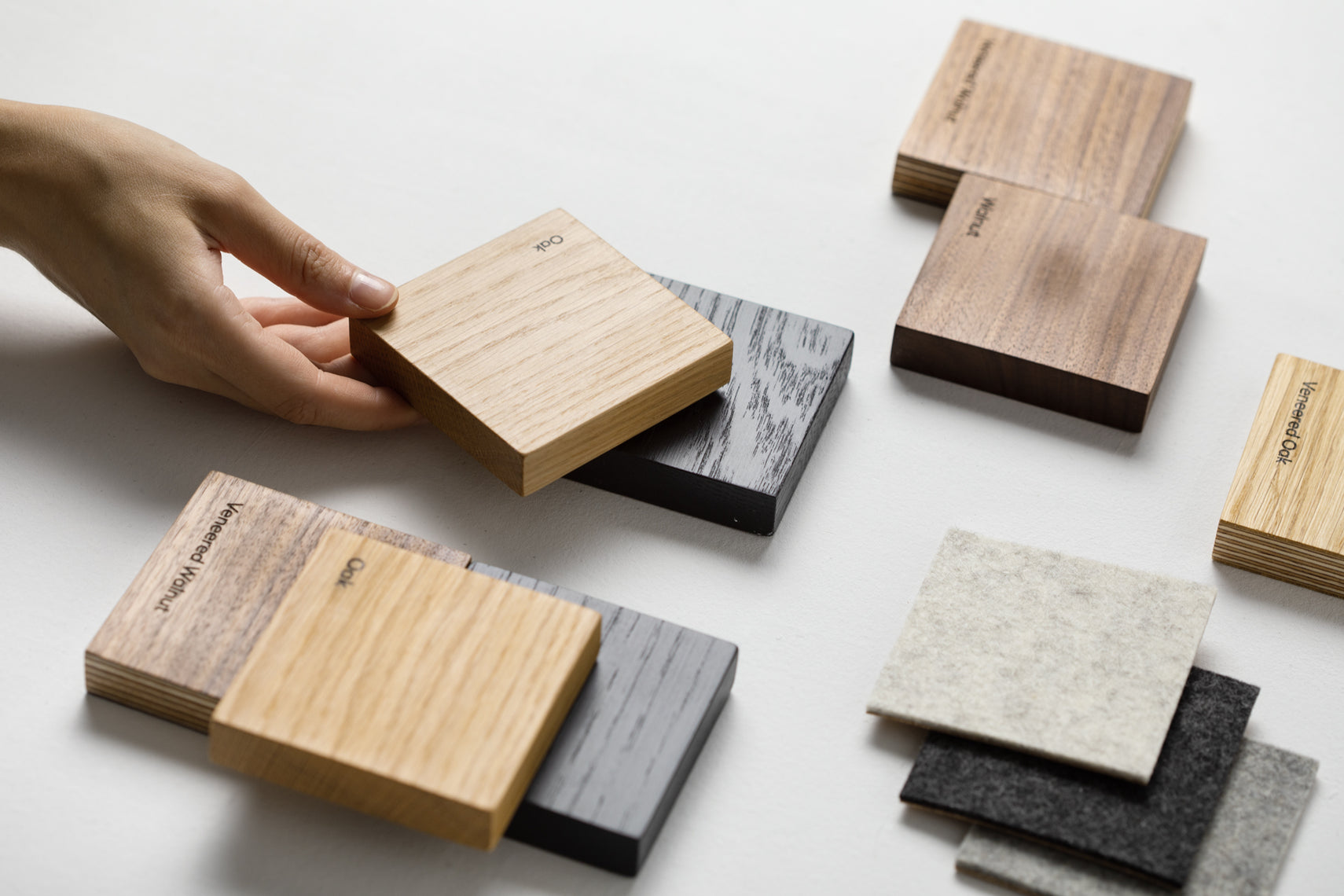 Conscious shopping
Make an informed decision and experience the quality of our materials with Oakywood's Samples Kit. Buying a top-shelf desk and office accessories requires some deliberation – to make things easier, you can now test our wood and felt to ensure they are up to standard. See the rich tapestry of the wood grain with your own eyes, feel the premium texture of our eco-friendly merino wool felt with your fingertips, and enjoy the smoothness of solid wood to make a fully intentional purchase.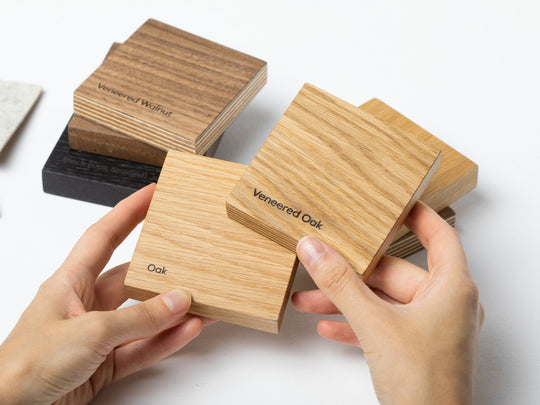 A deliberate choice
Familiarizing yourself with our material samples allows you to make a responsible, conscious decision and pick an option that best suits your needs.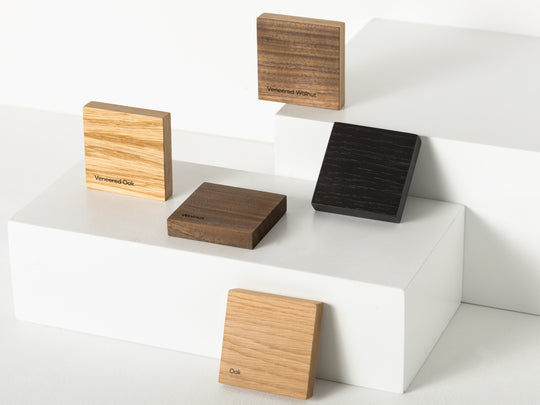 The color of wood
Oak or walnut? Solid wood or veneer? Take a good look at the samples and notice the differences between each type of wood to pick the one for you.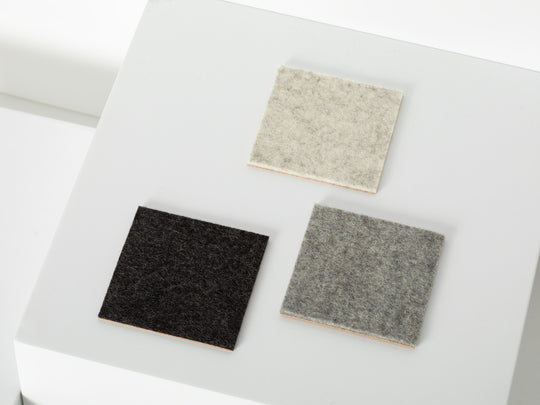 The texture of felt
Get acquainted with all shades of gray and the unique structure of felt with the portuguese cork ensuring secure grip to the tabletop.
The kit includes the following samples:
- Solid oak wood
- Solid walnut wood
- Solid wood painted black
- Oak veneer
- Walnut veneer
- Oak veneer
- Gray felt
- Anthracite felt
- Stone gray felt
Shipping
At Oakywood, we work alongside trusted carriers like UPS, DHL, USPS & many more around the globe to provide USA, Europe & International Worldwide shipping services.
You can calculate the shipping cost at checkout.
For the EU, UK, Canada, US, Norway and Switzerland - all taxes and import duties are included in the final price.
EU: Express delivery - GLS or UPS (1-2 Business days)
EU: Standard - GLS or UPS (2-5 Business days)
PL: InPost (1 Business day)
US: UPS, USPS, or FedEx (1-4 Business days)
Worldwide: DHL or UPS Express (2-5 Business days)
Custom-made products: estimated time of delivery - 3-4 weeks
Delivery before Christmas
We guarantee that orders placed within the dates given below will be delivered before Christmas (by December 24th).* Orders placed later may not reach you on time. Please take this into account when shopping for Holiday gifts.
USA, Canada:
DHL Express or UPS - by December 17th 
UK, Norway, Switzerland: 
DHL Economy - by December 17th
DHL Express - by December 20th
EU:
DHL Economy, UPS, GLS - by December 17th
DHL Express - by December 20th
Poland: by December 20th
Rest of the world: by December 14th
The information applies only to standard products from our offer.
Custom products such as Desks, custom Desk Shelves and custom Desk Mats ordered now will be delivered after Christmas.
We recommend choosing DHL Express for all locations as it has the highest on-time delivery rate.
*Guaranteed dates are based on our historical experience with carriers, please keep in mind that unforeseen circumstances may arise. In the rare event that your order is not delivered on time, we will refund the shipping costs.
Returns & Exchanges
If you are not completely happy with your order, you can return it within 30 days for a full refund.
We offer hassle free return process, please check our Shipping & Returns page for further information.
Please, remember: you cannot return a customized product.