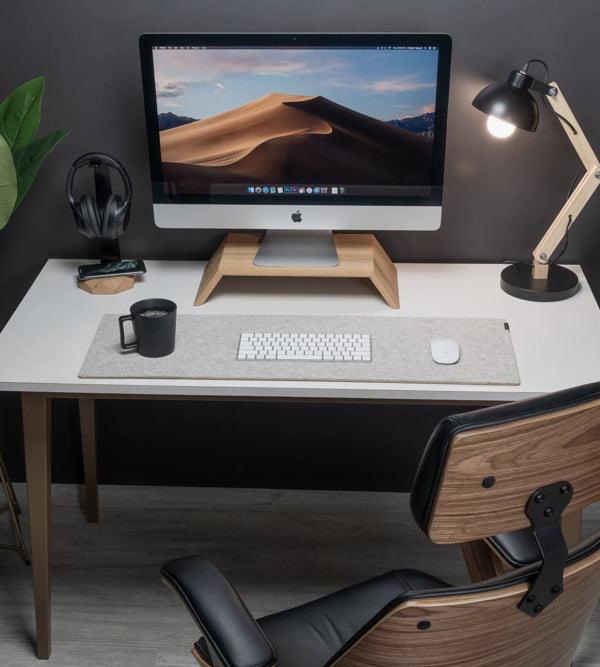 Working from Home During a Pandemic: How to add Some Happy to Your Space
It's probably a safe bet to say this has been the strangest, most unfamiliar year in recent history. Nothing in our world looks the same these days – and chances are likely they might not seem too familiar for a while. On the bright side, many of us can now spend more time with our families in our own homes.
While working from home can be a bit of an adjustment, doctoring up our spaces to be more reflective of our personalities, our interests, and our mood can make a huge difference in the overall outcome of our mindset. The finished product that is our work will be that much better once all is said and done.
Oakywood has plenty of wooden accessories to help transition your workspace from drab to fab in an instant. Let's check out some of our top picks to liven up your workspace with class and style – mostly without breaking the bank.
Felt and Cork Desk Mat
Simple yet stylish, your laptop, mouse and keyboard will look neat and organized with Oakywood Felt & Cork Desk Mat. Handmade, comfortable and soft, felt and cork desk pad is a piece that can last and stand the test of time while never going out of style.
Wooden Succulent Planter
Our Wooden succulent planter is a minimalist succulent planter that is handcrafted from solid wood and is available in either oak or walnut. This piece will allow you to add some greenery to your space, livening up the atmosphere and helping purify the air around you.
Mid-Century Plant Stand
For those who like a bit greener and for bigger plants, our Mid-Century Plant stand is a retro piece that will add a timeless bit of style and greenery to your space. Available in various sizes from 8 to 14 inches, this plant stand pairs perfectly with any of our oak wood accessories.
Wooden World Map
If you're looking to splurge a little while adding a true conversation piece to your space, and if you love to travel or even just dream of it, our wooden world map is the perfect addition to your office. Not only does it show a detailed map of the world, but it does so in impeccable style that will last generations. Made of high-quality wooden veneer, the various countries are engraved onto each section for detail and discernment.
Wooden Laptop Stand
Laptop lovers, rejoice: we have the perfect wooden laptop stand just for you. Upgrade your workspace with our high-quality walnut or oak laptop stand, which will alleviate strain on your neck and eyes with it's raised and tilted positioning. Allows for neat storage underneath if desired, and gives your desk that pop of something special to dress up the room.
No matter which one of our accessories you choose, you can be sure your Oakywood experience won't be anything short of special. Your one-of-a-kind piece will be hand made and delivered quickly to you – and for each product purchased, we will plant one tree in conjunction with One Tree Planted.
Here's to better seasons ahead – and together, we can shape a more beautiful workspace, one Oakywood product at a time.