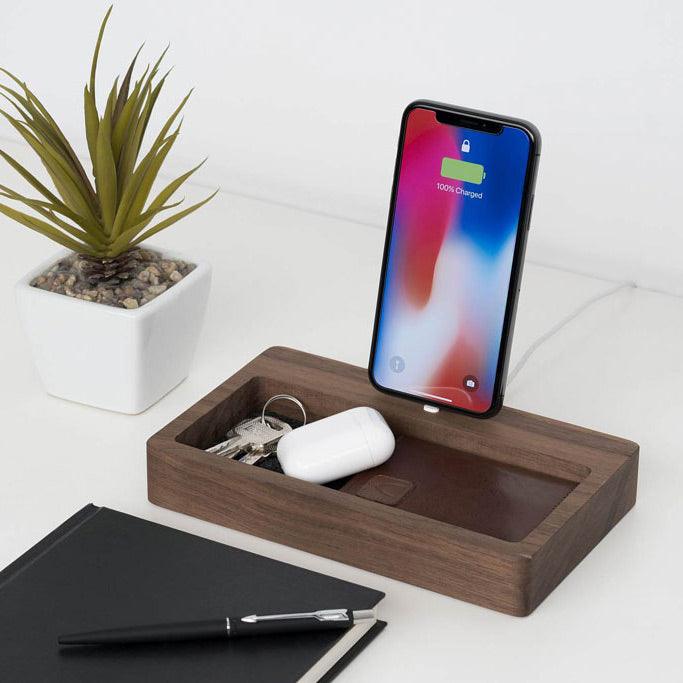 Eco Friendly Gift Ideas For Tech Geeks
Each of us surely knows a person who is a huge tech fan but has "seen it all". Today we come to the rescue to all wandering souls with our universal gift guide. Our eco-friendly gift ideas for tech geeks are full of products that join unmatchable style, fashion, and the latest in technology. Meet our all-time bestsellers and get to know our brand!
Oakywood is a fashion-forward, trendy, upscale, and eco-friendly product line consisting of nothing but the finest wooden accessories, stylish wooden eco gadgets, pure craftsmanship, and impeccable style. Our wooden phone and wooden laptop accessories are a fun way to express one's style, without compromising their taste for the finer things in life - all at affordable prices that won't break the bank.
Eco Friendly Gifts For Tech Geeks
We have so much more than just wooden iPhone cases, wooden Apple watch docks, Solid wood laptop stands, and more. We have products that speak to people from every walk of life. Moreover, our eco-friendly products are made from high-quality natural materials: solid oak and walnut wood, merino wool felt, and Portuguese cork.
Oakywood products are handcrafted in a small workshop in Podhale, Poland. Each of our items is fully unique: wood is a natural material, so every wooden gadget may slightly differ in color, texture, and the arrangement of the wood grains. That is why our original products make a perfect, personal, eco friendly gift for every tech geek.
Eco Friendly Gift for Music Lover
Wooden Headphone Stand - Oak, Walnut
This trendy wooden headphone stand is made from solid wood and is hand crafted from the finest materials. Available in either Oak wood or Walnut wood, this unique piece is perfect for any age. Includes solid steel. This headphone stand is universal in size, meaning it can hold headphones of any style or size - and you'll be proud to have this one on display as a conversation piece. Would make a great eco friendly gift for your teen or as a going away to college gift idea.
Gift for Home Office Warriors
This innovative monitor stand not only looks incredible, but it's so great for your eyes as it raises your computer to eye level - about 3.6 inches, in fact - and in turn, reduces your eye and neck strain all at once. Get work done in comfort and style with this wooden monitor stand, perfect for your home office desk or work desk. You can use the underside for storing your keyboard, pens and pencils, or other important things you might need within arms reach. This stand is crafted from solid wood with open pores, and has been finished with natural oils to really bring out the beauty of the wood grain. It will make a truly unique eco friendly gift for all home office warriors.
For Future Home Jungle Owners
Our Wooden Geometric Planters come in Walnut Wood ($29) or Oak Wood ($29) and are handcrafted into a geometric shape from solid wood. These planters make a classy addition to a tabletop or shelf, and are perfect for planting a succulent or other low-maintenance plant to make your house more of a home. Also perfect eco friendly gift idea for those dreaming to start their own home jungle. The interior of the planter is coated with aluminum to safeguard your piece from water damage.
Universal Gift for all Tech Geeks
Oakywood charging docks
Sleek and functional, handcrafted and durable - these are the four words that perfectly describe our charging dock stations! Oakywood charging docks will make a fully unique, elegant and eco-conscious gift, suitable for various mobile devices. In our offer you will find oak and walnut charging docks for Apple and Android devices: dual, triple and combo docks, beautifully polished to attain a natural wood texture. Equipped with micro-suction tape technology, Oakywood docks allow you to place your iPhone on them with just one hand.
The items pictured above are just a small fraction of the wooden eco friendly gifts we have available in our shop, so be sure to stop by and have a look around to meet all of your stylish eco-friendly needs. We know you'll love it here!