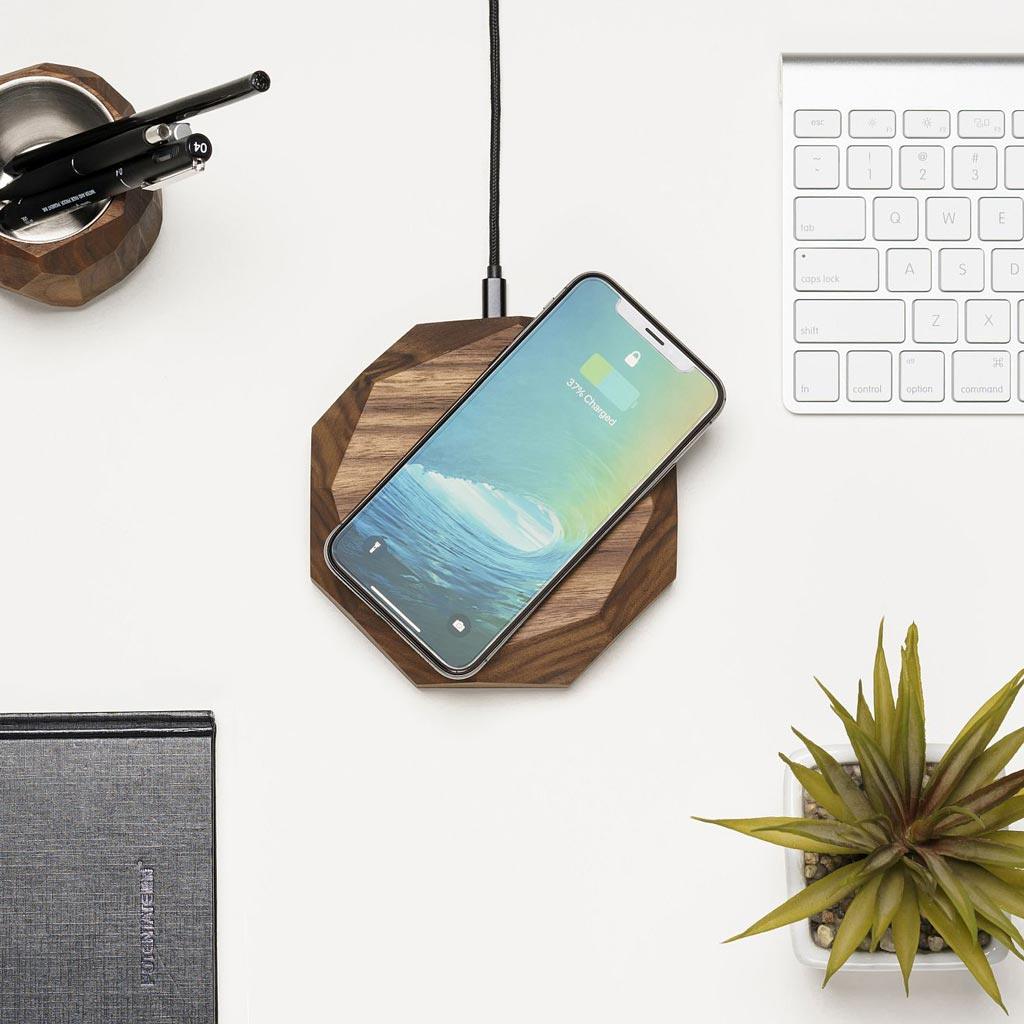 This festive season, take a break from tradition and choose high quality and innovative handcrafted gifts that make a real impact. Opt for an inspired wooden gift for Christmas and surprise and delight your loved ones. All Oakywood premium products are made from beautiful and natural, genuine solid wood, and are finished with ecological oils and waxes that enhance and extend the look of each exquisite wooden high-tech piece.
Think Out-of-the-Box
Go trendy and eco-friendly with a wonderfully organic, out-of-the-box family gift from wood. Not only is the QI Wireless Charger a stunning example of craftsmanship and functional contemporary technology, it's also a fabulously unique sculptured form. The pleasing design is perfect for displaying in a high traffic location in the home, where all family members can easily access it.
The handcrafted premium wooden charger is made from a single solid block of wood that has been cut, carved and shaped to perfection. Place your iPhone X, Xs and Qi enabled devices on the eco dock temple for super fast 10W wireless charging without overheating.
Life's Essentials
The gadget lover who has everything will appreciate a sleek and stylish docking station that takes care of his or hers vital daily charging needs. The iPhone and Apple Watch Combo Dock flaunts a minimalist geometric design that shows off the versatility and beauty of natural solid walnut or oak wood. The understated dock is compatible with almost any version of iPhone and Apple Watch, and provides a convenient place on which to secure and charge the essential tools of modern life.
A Work of Art
Guys and girls who are serious about music and/or gaming will be impressed by the unique appeal of the handcrafted solid wood Headphone Stand. When not in use, the universally sized headphones can be proudly displayed on the geometric design eco stand, instantly transforming the loudspeaker drivers into a contemporary work of art. The versatile wood gift for gamer combines natural hand finished organic wood with black painted solid steel for optimal good looks.
Compact, Curvy and Cool
The ultimate gadget for the most fundamental everyday device has to be the organic and geometric Apple Watch Dock. The compact solid wood docking station boasts octagonal curves and a smooth, hand-polished base on which to charge your cool Apple Watch. The concise design features one hand operation and two charging modes that are compatible with Apple Watch Series 1,2,3,4, for flexible use in any room.
Create A Zen Zone
Keep the desk clutter-free with a Laptop Dock Vertical Stand. The innovative stylish eco dock makes an excellent wooden gift for him, and for loved ones who just happen to be neat freaks. It elevates the prized possession to give your workspace a streamlined look. The aesthetic solid walnut or oak wood dock features adjustable felt stripes that secure the laptop in place, and offers proper ventilation.
Cool Wood Gifts for Other Occasions
If you're inspired to give loved ones cool gifts from wood for alternative occasions, it's worth remembering that wonderful natural wood is the traditional gift that's given to mark a 5th wedding anniversary. Choose a coordinating pair of unique wooden iPhone cases that protect the smart device from bumps, knocks and accidental drops. The organic, ultra slim and lightweight solid walnut or cherry wood phone case has a hardwearing polycarbonate shell, and supports QI wireless charging technology.