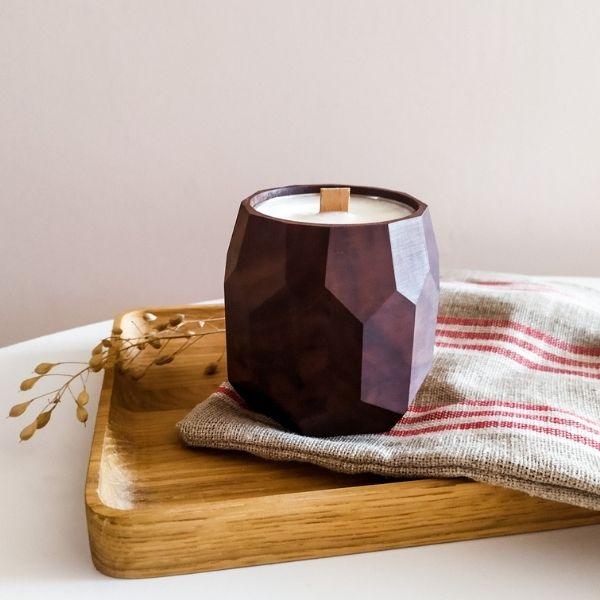 DIY Soy Candle In a Wooden Pot
Scented candles are one of the most pleasant elements of interior design. Available in a variety of colors and designs, the candles warm the interior by introducing a cozy light and spreading your favorite relaxing fragrance around the room. This little thing can be a lot of fun - but at the same time, it may cause a big problem for the environment. Therefore, before purchasing another pack of tealights, we should ensure that they are made of reusable & eco-friendly materials.
Making soy candles in reusable vessels is easier than it may seem. We found out about it ourselves when we decided to give our wooden planter (AKA a pencil cup) another function and turned it into an eco-friendly forest candle! Thanks to the aluminum insert, the melted wax will not damage the wood, the candle remains can be easily removed - and you can reuse the vessel. Let's find out how to prepare a DIY soy candle in a wooden pot!
Candles and ecology
When looking for wax for a DIY candle, we decided to choose an environmentally friendly material - vegetable soy wax from sustainable crops. Unlike paraffin, vegetable waxes and animal waxes (e.g. beeswax) are biodegradable and renewable - in contrast to petroleum substances, often responsible for ecological disasters.
In addition to good quality soy wax, you will need a wooden wick, metal wick holders, and forest fragrance oil.
DIY Forest Candle
You will need:
Candle vessel - wooden Oakywood planter
Wooden wick + wick holder
Forest Fragrance Oil 7 ml (0.24 us fl oz)
Soy wax 120 g (0.26 lbs)
Two pots (to melt the wax)
Wax thermometer (optional)
1. Prepare all the ingredients. For safety reasons, do not use thin glass or highly heat-conducting vessels.
2. Attach the wick to the bottom of the vessel - you can use a special sticker or a bit of melted wax. Glue the wick holder in the center of the vessel. If necessary, you can slightly shorten the wick. It is best to do this right away to avoid breaking the solidified wax.
3. Melt 120 g (0.26 lbs) of soy wax in a water bath. If you have a thermometer, you can control the temperature of the wax. The wax should start to melt at 51°C (123.8 F). Heat the wax to a maximum of 70°C (158 F), cool it to 60°C (140 F), and slowly, drop by drop, add the fragrance oil. Then carefully mix the wax for 3 minutes.
4. After the wax has cooled down to 50°C (122 F), pour it into the vessel. After pouring the wax, do not move the container to prevent the wick from moving.
5. The candle is ready for use after another 48 hours. After lighting the candle, do not touch the vessel. Do not leave lit candles unattended or within the reach of children and pets.
DIY Soy Candle - A Personalised Gift
Soy candle in a personalized pot is a great gift idea. All you need to do is choose the engraving you want to put on the pot, buy your favorite fragrance oil and give your loved ones a DIY gift made of solid wood.