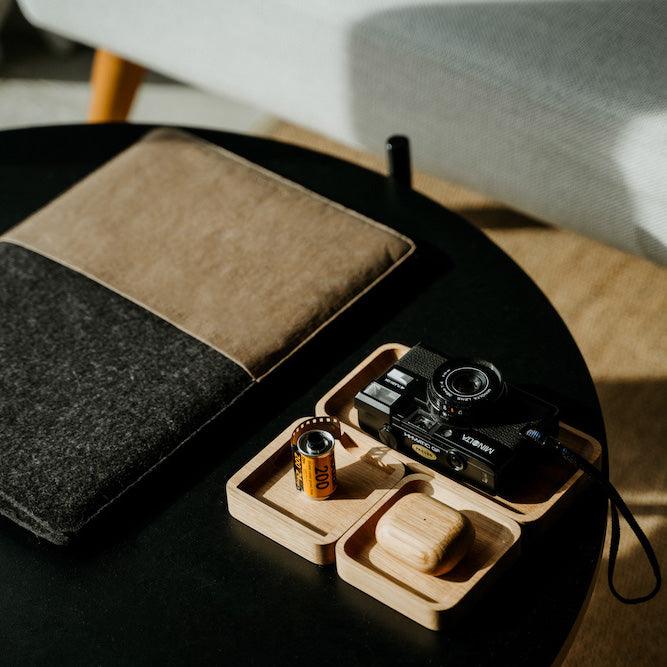 5 interior design trends for 2022 - from japandi to the play of textures
Why do we like to talk about interior design trends so much? Because discussing trends is a starting point for discussing needs, fears, and dreams that are reflected in the places where we live. According to the French philosopher Gaston Bachelard, "the image of the house is the topography of our intimate being" - and as we learn to live in a house, we order our private life as well.
During the pandemic, many of us learned how to identify and secure our needs - and in most cases, it involved the use of appropriate architectural or interior design solutions. Our homes have become our shelters - our comfort zones where we spend a lot of time.
Therefore, our spaces must be pleasant, soothing, clean, and very comfortable. Trends in interior design are focused more than ever on solutions that positively affect our mood, comfort, and sense of security. We understand these needs and experience them ourselves, which is why we have prepared a list of 5 interior design trends for 2022, which, in our opinion, will have the greatest impact on the decor of our homes this year, respecting the principle of harmony between the interior and exterior.
Japandi
Japandi is a hybrid of Scandinavian design and Japanese philosophy that has dominated this year's interior design trends. It is distinguished by a minimalist approach to arranging space, a passion for natural materials, light, simple forms, and subdued colors: various shades of beige, gray, and brown.
When arranging an interior in the japandi style, it is worth giving up unnecessary decorations in favor of multifunctional, well-designed furniture and accessories - which combine beauty, practicality, and durability. Each item in our possession should have a specific place: from random trinkets taken out once a year to electronic equipment that we use every day.
The natural material that dominates the japandi-inspired interiors is wood in any form (furniture, wall panels, accessories, plates) and shade - light (beech, pine, oak) or dark (American walnut, cedar, or carbonized wood popular in Japan).
High-tech homes
More and more Smart Home solutions appear from year to year. Technology at home makes our everyday life easier - whether is it grocery shopping, cleaning, cooking, light management, or locking and unlocking your apartment.
Smart Homes enable us to spend more time on leisure, hobbies, and rest. No wonder many people decide to buy system solutions - as evidenced, among others, by the dynamic development of Philips Hue smart lighting technology, Samsung smart kitchen offer, and, above all, Apple Home Kit solutions.
The development of the high-tech home trend, which we have been observing for several years, is associated with changes in the design of individual products. The newest technological accessories blend better in your home space: just look at the splendid Dyson air purifiers! The range of gadgets that display, disguise or complement high-tech - such as HomePod stands or phone docking stations, is also expanding.
Curve appeal
The curved shape trend is in full swing - and we love it! Furniture and accessories with gentle, rounded forms, to which we want to cuddle, help to create warm, homely, and comfortable interiors. What's more, the rounded shapes refer to the design of the 1960s and allow you to bring a note of nostalgia to the arranged space - and for many of us, retro is a kind of comfort zone.
Circles and ovals can provide a stunning background for larger pieces of furniture. Patterned wallpapers or wall paint arches beautifully highlight the bed, dresser, or kitchen table and help to introduce an accent color that enlivens the interior. When using curves, it is worth remembering only one rule: consistency. When deciding on rounded forms, it is good to go all the way - and complement the rounded furniture with decorations, lamps, and other accessories of similar, gentle shapes.
Minimalism
Minimalism in interiors is a broad concept - but we decided to distinguish it as a separate trend and clarify what kind of "economy of the form" we mean. First of all, colors: minimalism aims to reduce unnecessary stimuli, which frequently means using a specific color palette. Recently, black accents in space have become particularly popular: window frames, frames, mirrors - combined with gray, beige, and white textiles and natural materials in subdued colors (wood, cork, wool).
Secondly, multifunctionality! Multifunctional items are the perfect solution for those who limit the number of items they have as much as possible. One charger for phone, AirPods, and Apple Watch? Oh yes! Folding or adjustable desks that blend in with your home space? That's what it's all about!
Touch-stimulating accessories and the play of textures
Objects that stimulate the sense of touch are widely used to reduce stress and tension in the body. Touch stimulation has a beneficial effect on the human psychoemotional condition - therefore the use of objects that stimulate this sense should be part of our daily psychophysical hygiene.
A large selection of touch-stimulating items can be found in office accessories stores. These are, among others, specialized footrests, wrist rests, massage mats or desk mats made of soft merino wool felt.
In interior design, "touch therapy" can also be introduced simply at the level of textures we use in a given space. When choosing interior design elements - from floors (parquet, panels, tiles, resins), through carpets, to bedding and curtains, you should pay attention not only to their appearance and durability but also to whether they are pleasant to the touch or do they contain elements that stimulate this sense.
Interior design - a new series on our blog
Soon, more entries will appear on our blog to deepen each of the above-mentioned trends. Follow our social media and newsletter to be up to date with new developments. Speak soon!