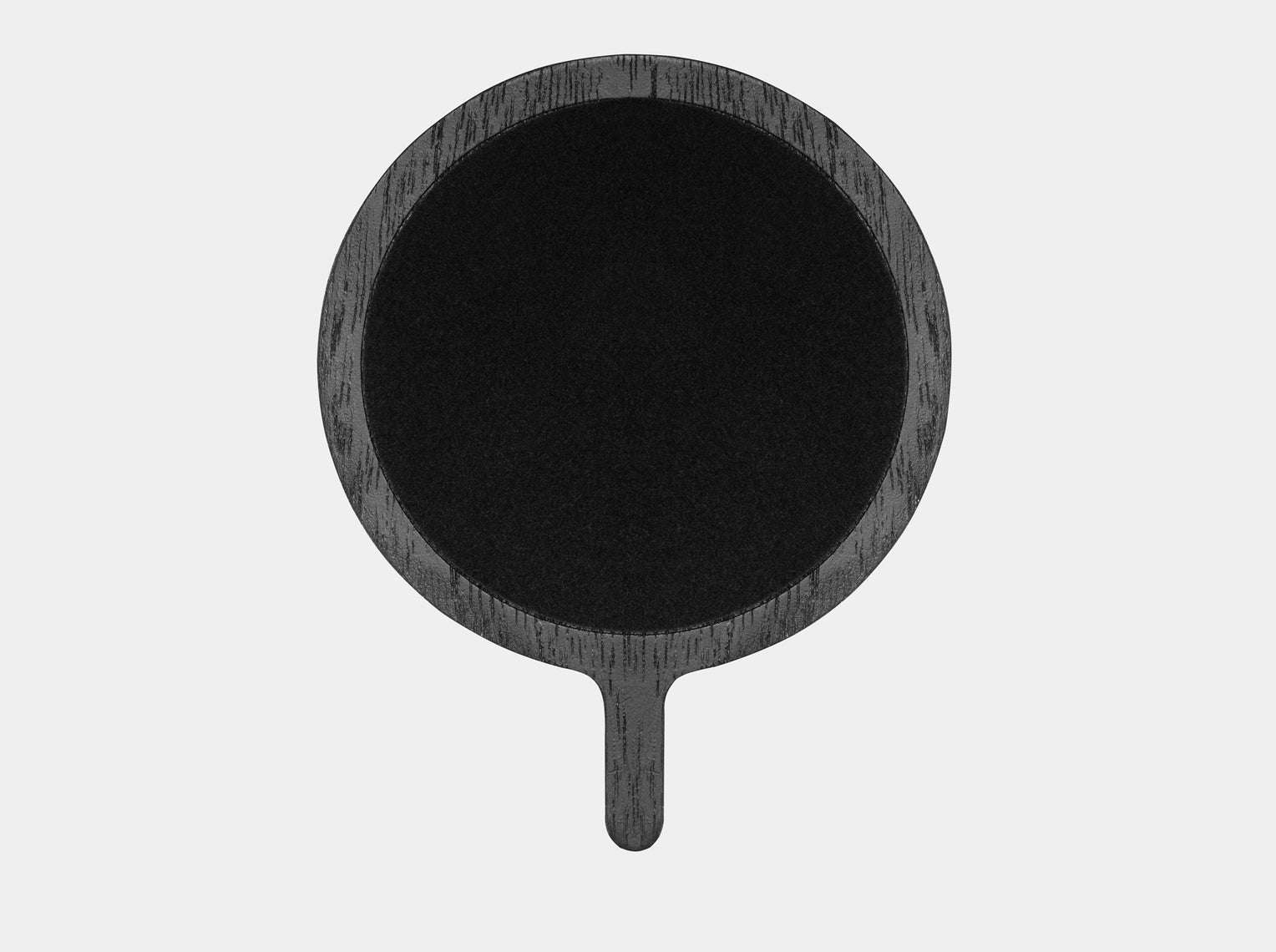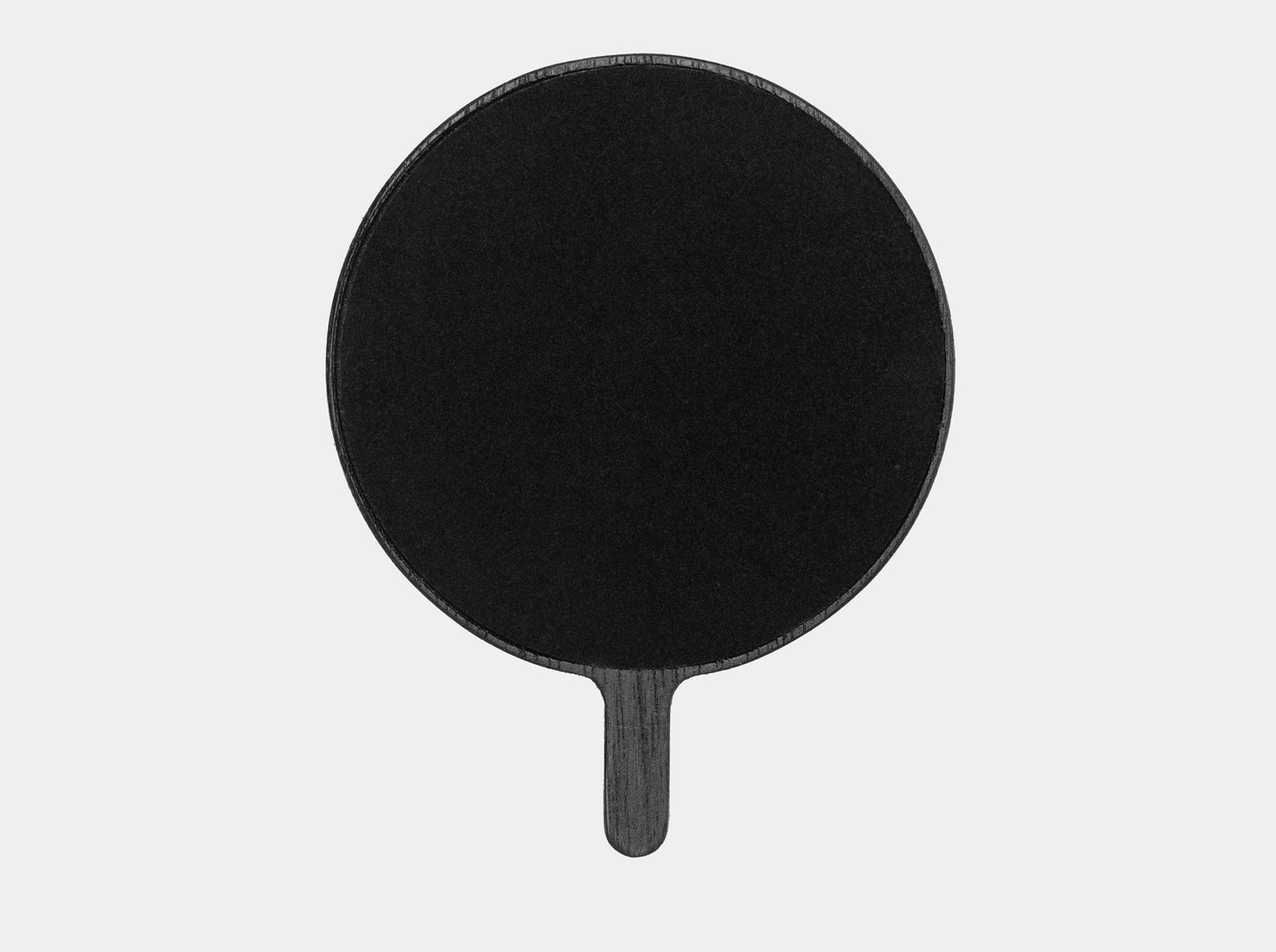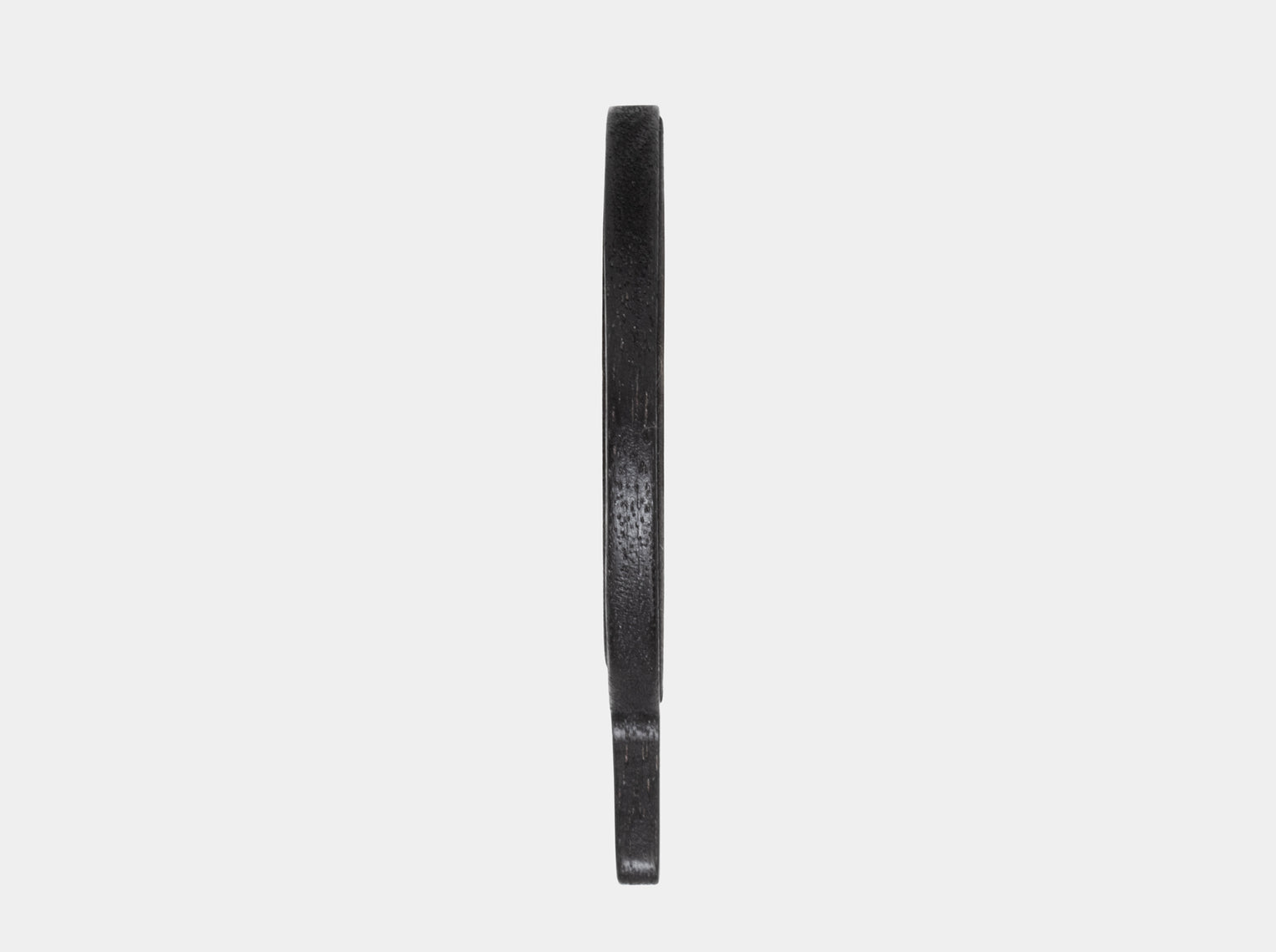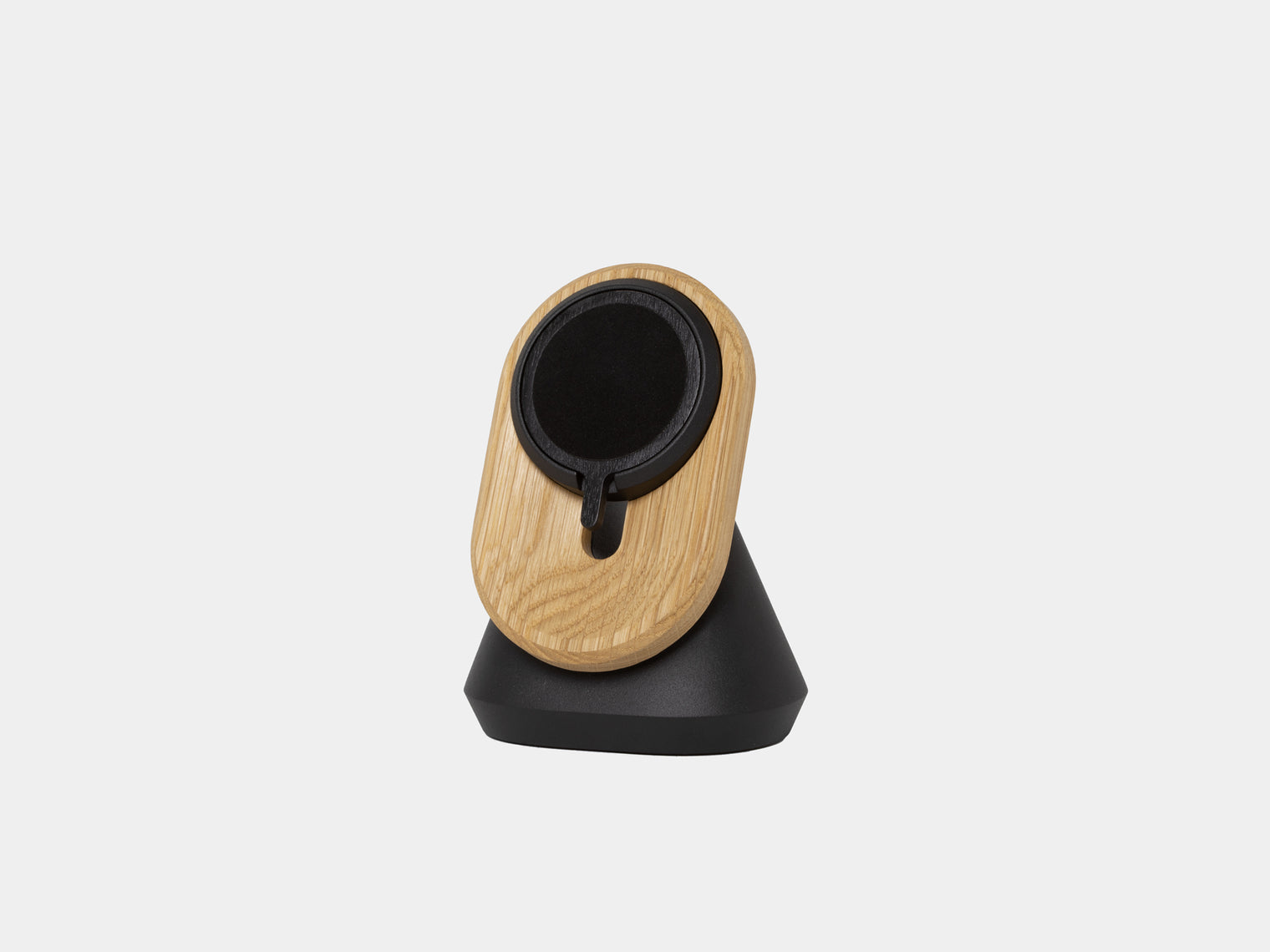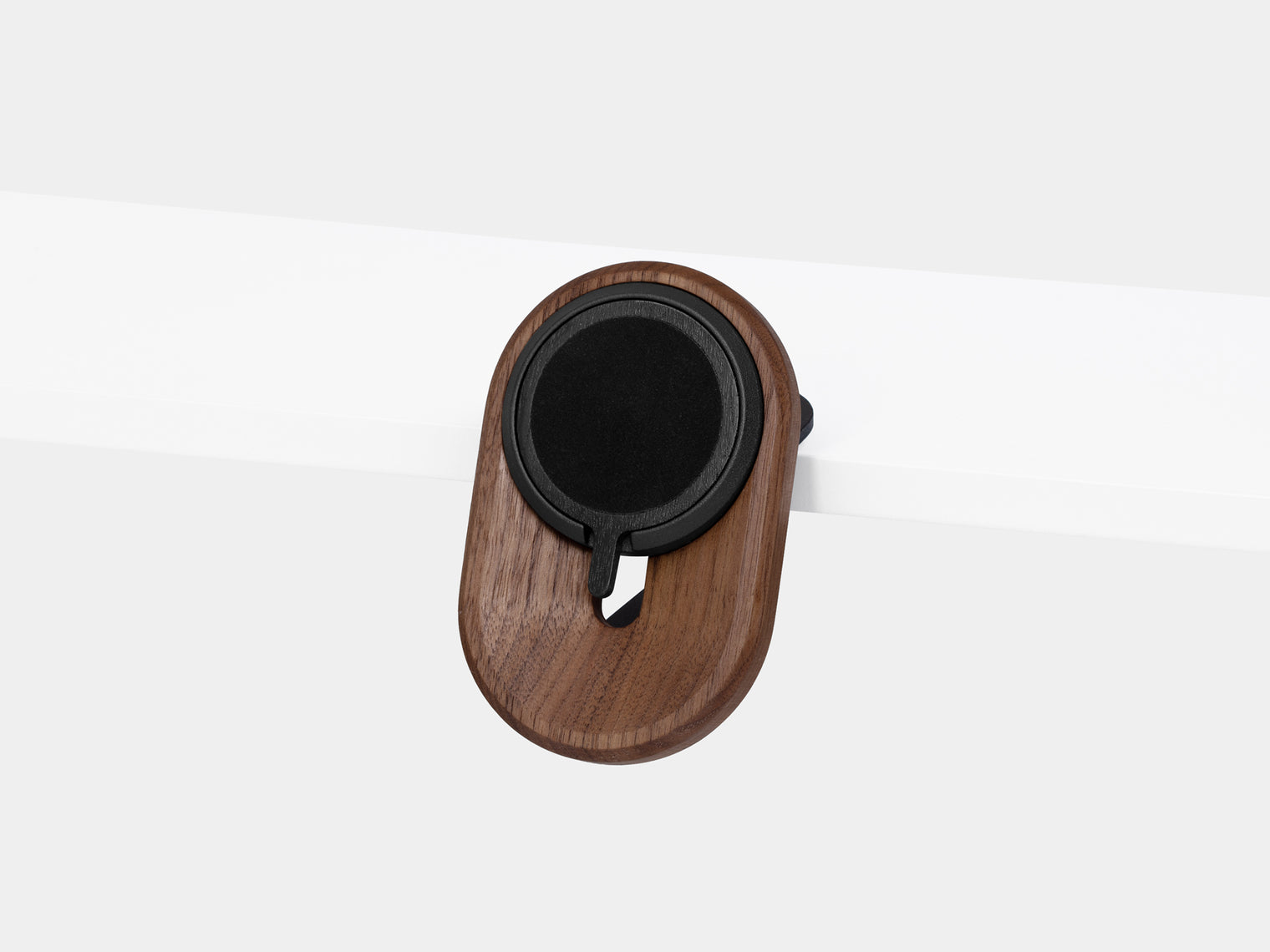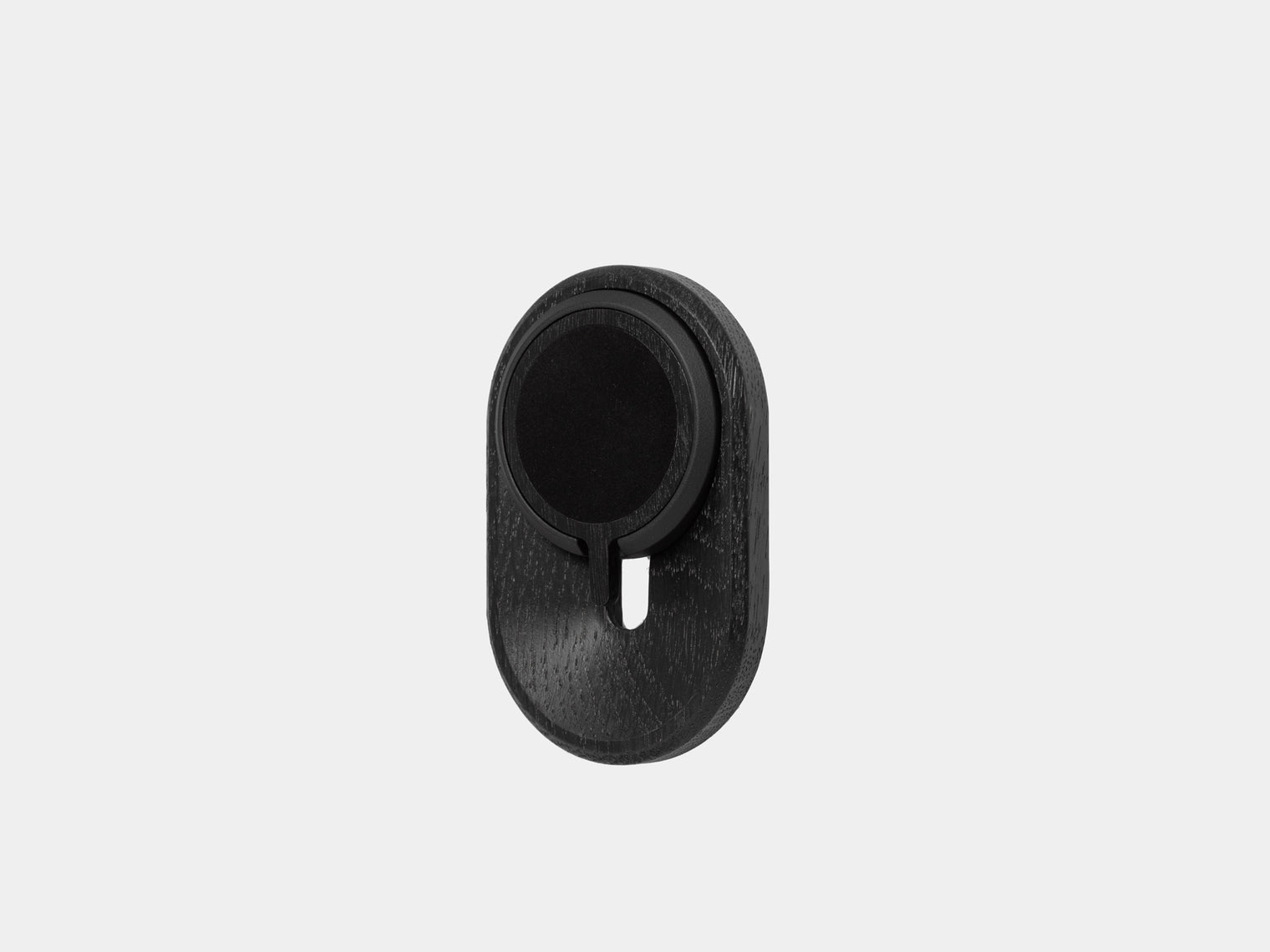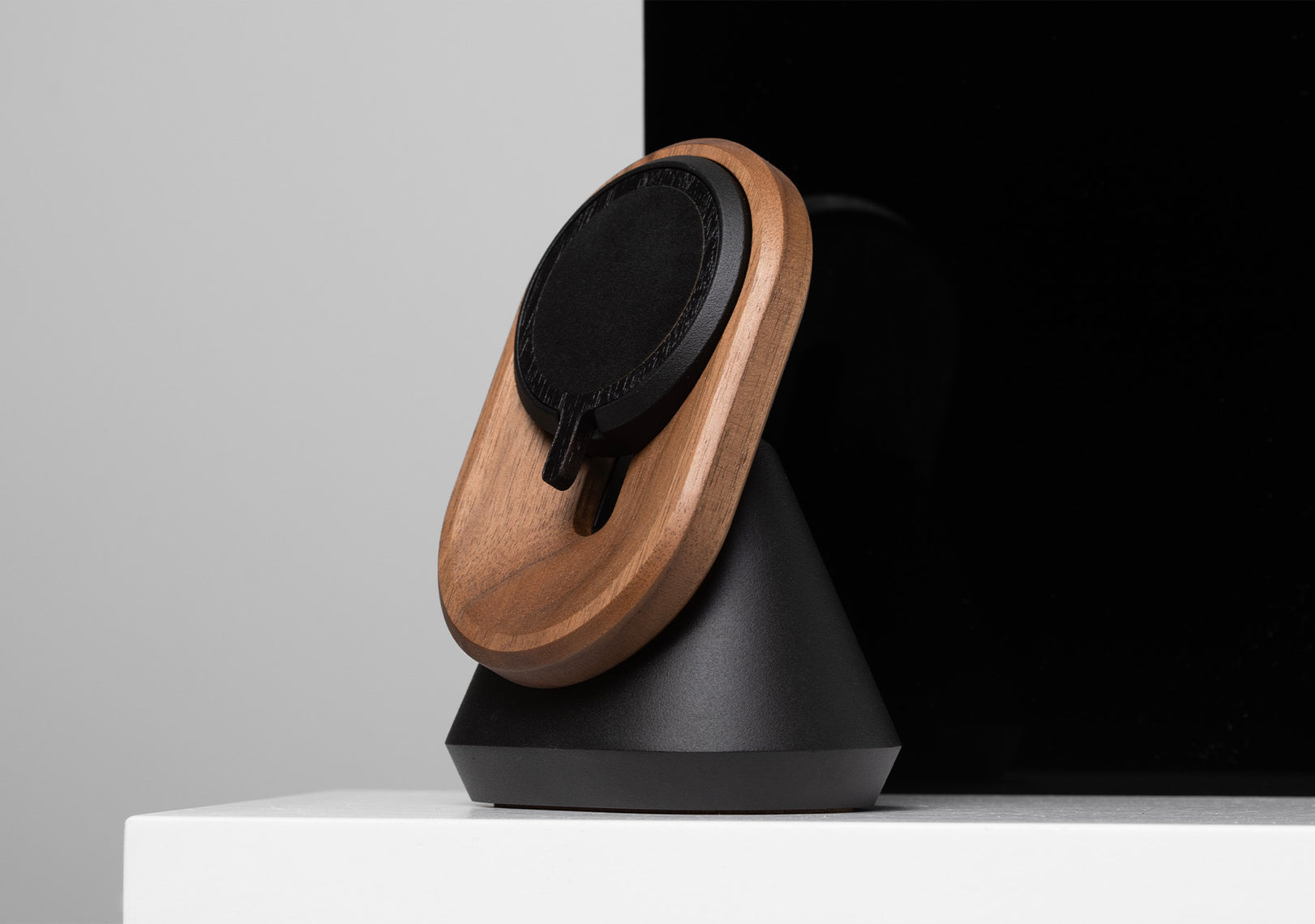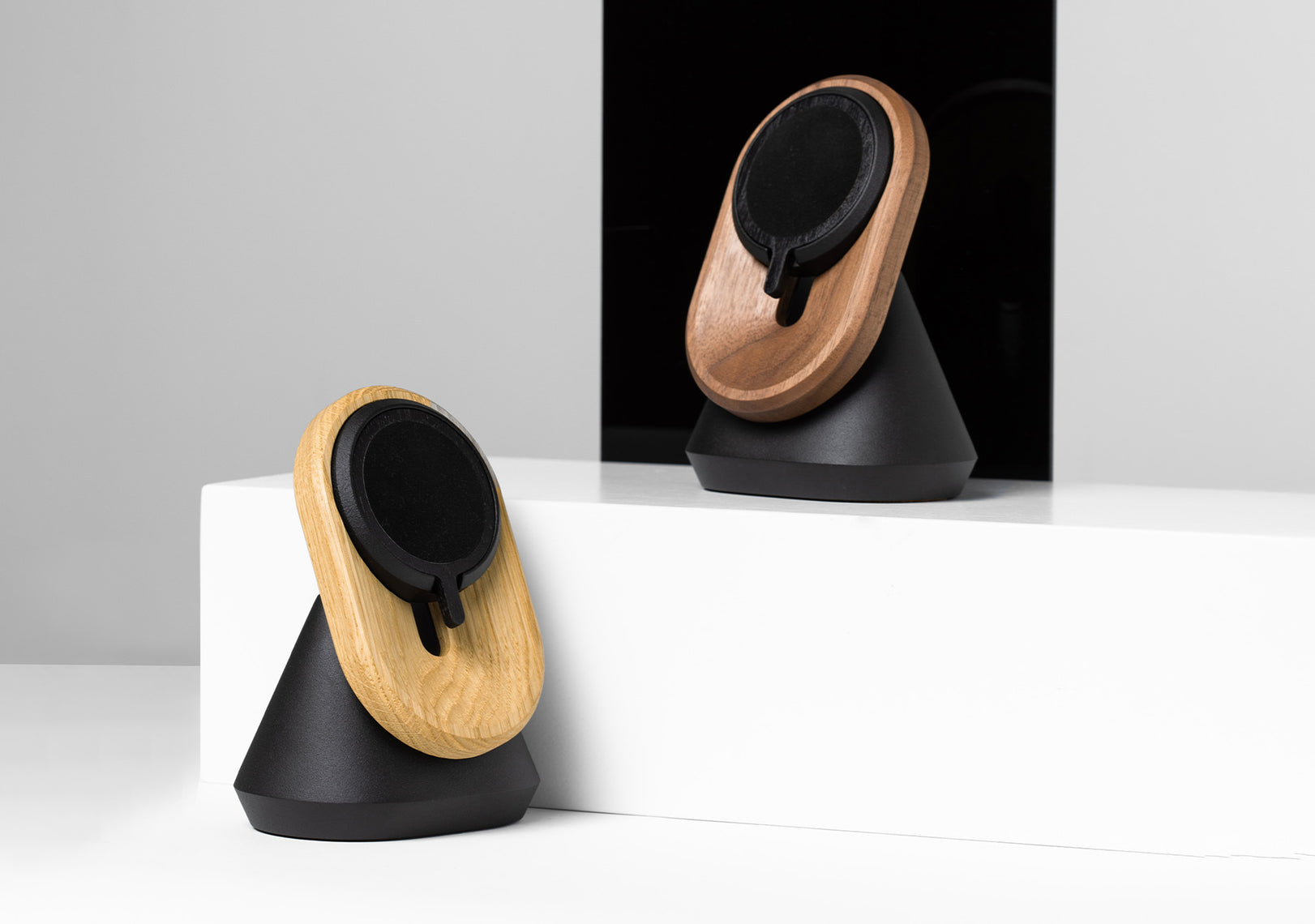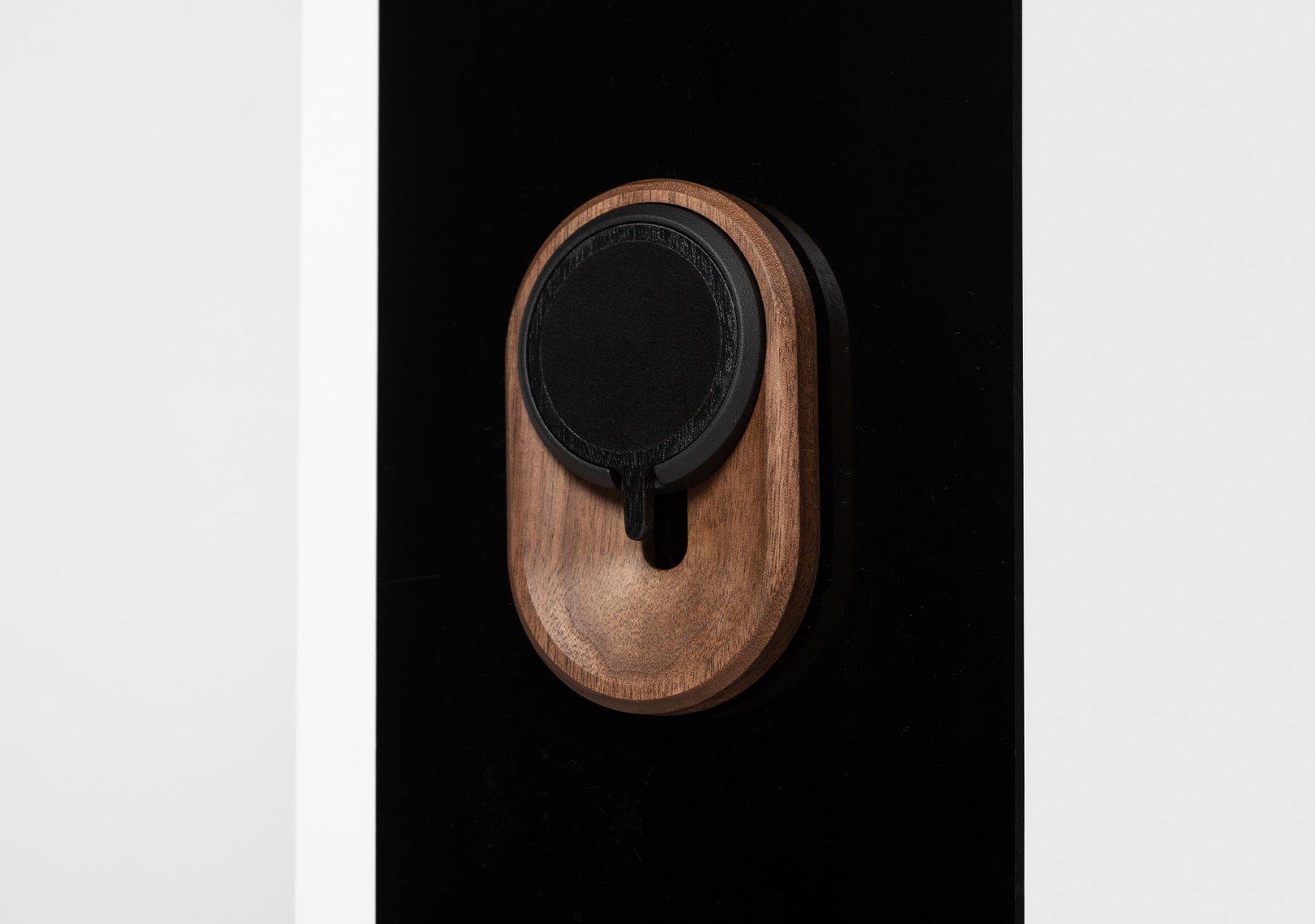 Limitless MagSafe
The MagSafe Puck is a magnetic insert for Oakywood's MagSafe products - it replaces the Apple charger, freeing your Stands and Mounts from the limits of wires. It allows you to comfortably use your phone in the kitchen, while working out, or during a work call. Together with the puck, MagSafe accessories can serve as organizational solutions, for example, a dock for you to 'hang' your iPhone on when you come home.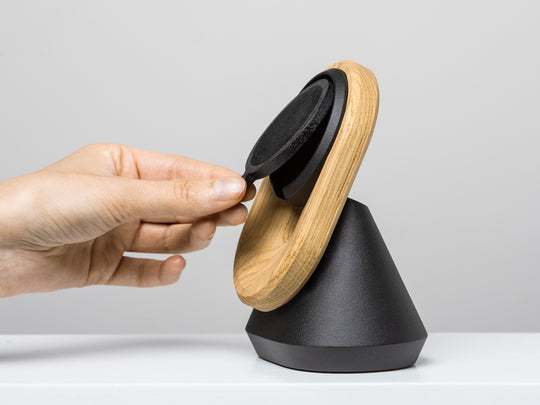 A comfortable handle
The small handle lets you swiftly pull the insert out of the aluminum circle.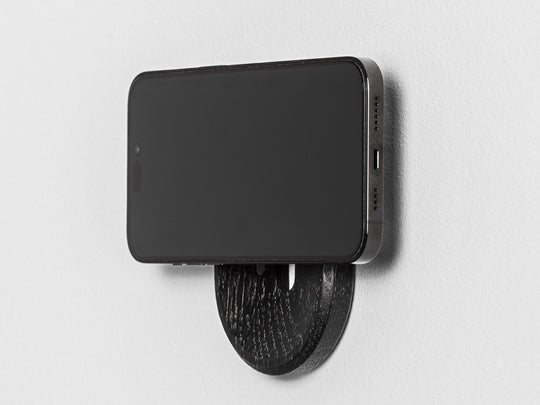 Extra strong magnets
The insert is fitted with magnets which hold your phone stronger than the original MagSafe charger. This ensures safety and stability while in use.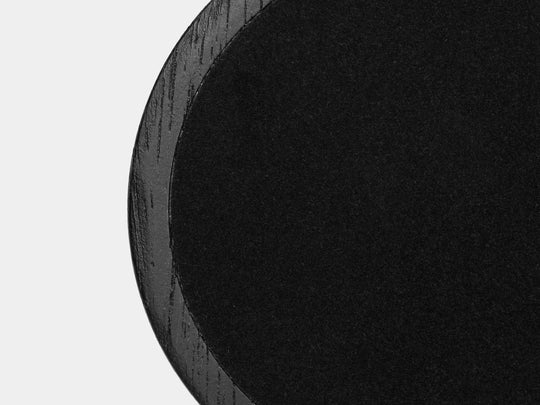 Scratch-proof flock
The MagSafe Puck's wooden base is covered with flock, a velvety material which protects your device from scratches and damage.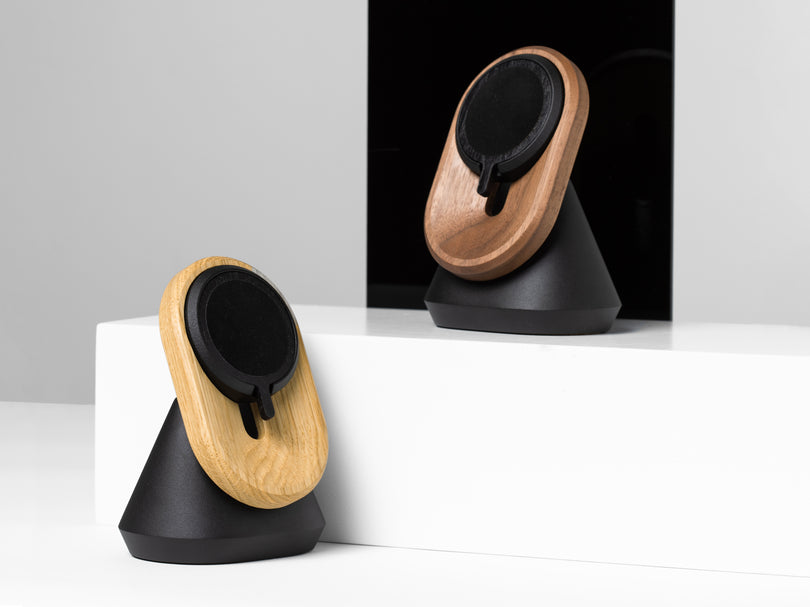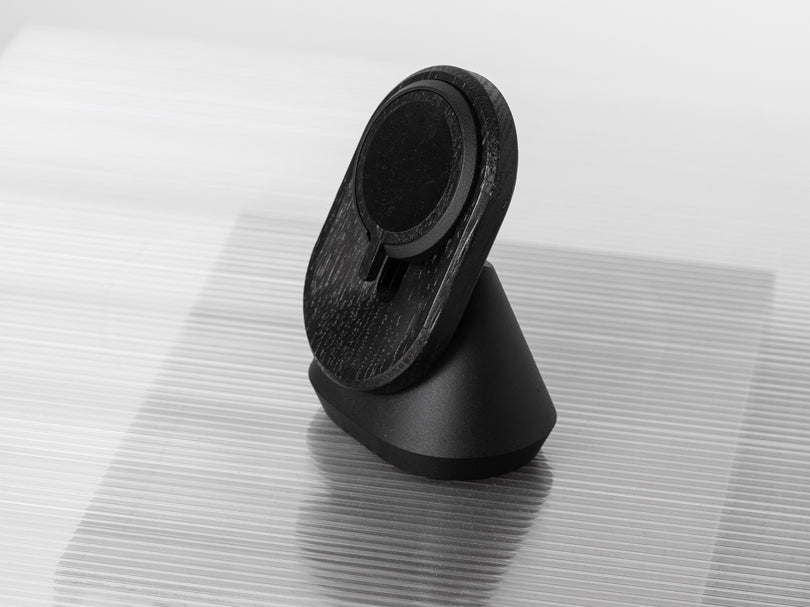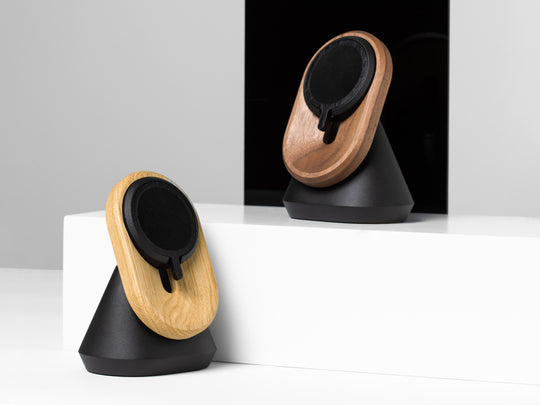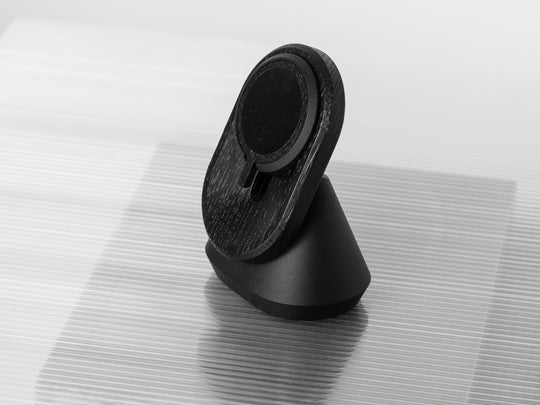 A simple and deliberate construction
The MagSafe Puck has a solid wooden base covered in flocked material making it soft, yet resistant to wear and tear - you can safely attach your phone without its case and not worry about any scratches. The insert is also strongly magnetized: it has a magnetic ring and 4 magnets to connect with any product from our MagSafe range. The minimalistic and thought-through design makes the MagSafe Puck a comfortable and practical addition to other Oakywood accessories.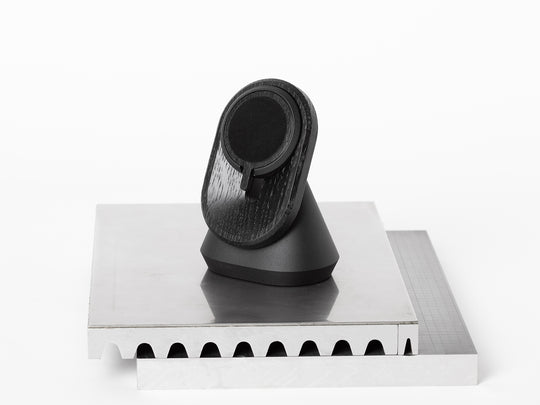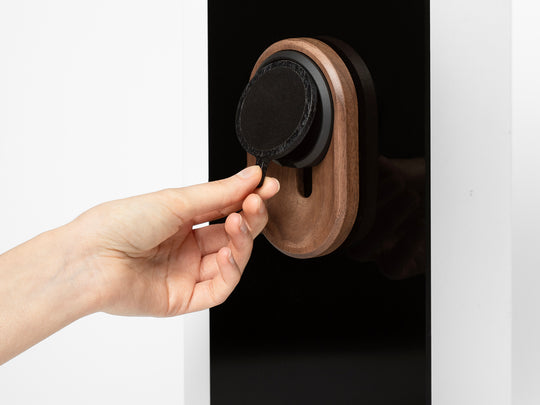 The MagSafe Puck is a complement to our MagSafe collection: you can put it in the metal handle instead of the charger. This magnetic insert has been designed for those who want to make the most of our MagSafe accessories and use them as well for other purposes than just charging.
The Puck is compatible with all iPhone 12, 13, 14 and 15 models, and with MagSafe rings.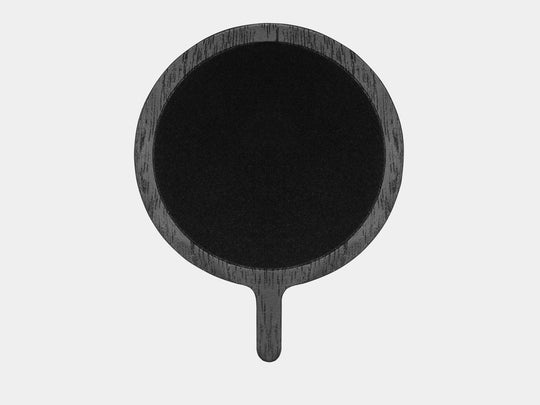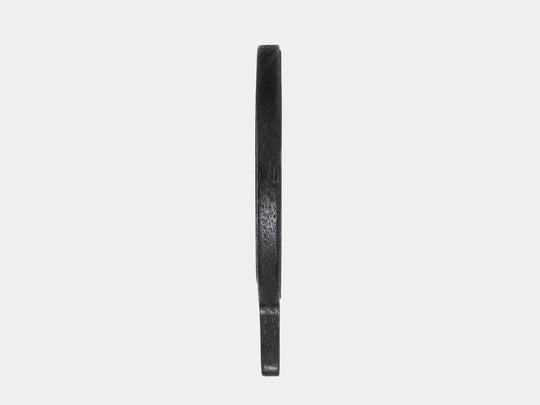 Dimensions
Length: 7.2 cm
Diameter: 5.6 cm
Thickness: 0.5 cm
Length: 2.83 inch
Diameter: 2.2 inch
Thickness: 0.2 inch
MagSafe Puck
Total price: $19.00
Production and labor
$10,449.45
Production costs include the price of materials and their transport, as well as production workers' wages. We take particular care to use the highest-grade materials.
Taxes
$4,369.77
As a company registered in Poland we pay all taxes required by Polish and European laws.
Margin & Fixed Costs
$3,419.82
Our product prices include not only production and operations expenses but also fixed costs, marketing budget, and employee salaries.
Environmental Initiatives
$1.00
We are proud to continue working with organizations such as One Tree Planted and Forever Forest. A portion of profits from every product goes to tree planting initiatives.
Sustainability
Black solid oak wood – sourced in Poland, oak wood is sturdy, damage resistant, and durable. The black stained surface adds to the heaviness of the material.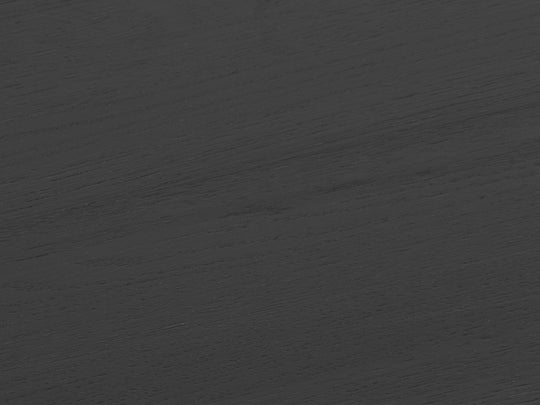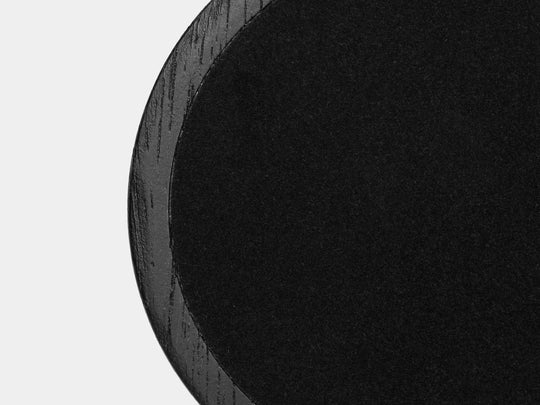 Shipping
At Oakywood, we work alongside trusted carriers like UPS, DHL, USPS & many more around the globe to provide USA, Europe & International Worldwide shipping services.
You can calculate the shipping cost at checkout.
For the EU, UK, Canada, US, Norway and Switzerland - all taxes and import duties are included in the final price.
EU: Express delivery - GLS or UPS (1 Business day)
EU: Standard - GLS or UPS (2-5 Business days)
PL: InPost (1 Business day)
US: UPS, USPS, or FedEx (1-4 Business days)
Worldwide: DHL or UPS Express (2-5 Business days)
Custom-made products: estimated time of delivery - 3-4 weeks
Returns & Exchanges
If you are not completely happy with your order, you can return it within 30 days for a full refund.
We offer hassle free return process, please check our Shipping & Returns page for further information.
Please, remember: you cannot return a customized product.