High-level ergonomics
Allowing you to easily adjust its height, the Standing Desk revolutionizes your workspace and transforms it into an ergonomic haven for productivity, motivation, and wellbeing. Its sturdy construction, together with the smart height adjustment system allow you to precisely regulate your desk and smoothly change your position from sitting to standing – elevating your workspace comfort.
Sturdy worktop
Beveled, rounded worktop coated with natural oil wax masterfully balances utility with natural design.
4 heights
The smart height adjustment system allows you to save 4 presets and automatically change your position at the push of a button.
Silent mechanism
Twin-engine drive makes the motion of raising and lowering the tabletop a fast and silent affair. The maximum noise level is 45 dB.
Nature technology
Oakywood's Standing desk combines nature and modern technology, offering you maximum functionality and comfort. The tabletop is 4,2 cm which makes it exceptionally sturdy and durable. Its milled edges rounded with our custom cutter make the solid wood slab seem lightweight and minimizes risk of damage to sensitive parts. The surface is coated with a protective layer of wax oil which gives the wood a smooth feel without clogging its pores.
System
Height range: 62.5-130 cm (25-51 inch)
Height adjustment range: 68 cm (27 inch)
Maximum tabletop load: 70 kg (154 lbs)
Maximum desk load: 120 kg (260 lbs)
Lifting speed: up to 40 mm/s
Noise level: <45 dB
System weight (no tabletop): 31.5 kg (69 lbs)
Plug type: 110-230 V

The desk is made from natural wood so some variation in color and grain pattern may occur.

The Standing Desk is covered by a 5-year warranty*, with the following exceptions:
• Mechanical damage
• Chemical damage (nail polish stains, ammonia detergents, spilled liquids, etc.)
• Moisture exposure
• Stains caused by sun exposure
• Accidents and other than intended use
• Deliberate damage

The warranty covers only the original buyer – you need a receipt or invoice to make a complaint.

*DISCLAIMER: The wood is coated with natural OSMO Topoil wax oil which leaves its color and texture unchanged. This solution makes the tabletop a little less resistant to wear and tear but very easy to restore yourself using our wood maintenance set.

Dimensions
Worktop measurements:
120 cm x 60 cm = 15 kg (33 lbs)
140 cm x 70 cm = 20 kg (44 lbs)
160 cm x 80 cm = 25 kg (55 lbs)
Desk height range: 62.5 cm - 130 cm

Tabletop thickness:
Solid wood: 4.2 cm
Veneered wood: 3.2 cm
Worktop measurements:
47.2 inch x 23.6 inch = 15 kg (33 lbs)
55.1 inch x 27.6 inch = 20 kg (44 lbs)
63 inch x 31.5 inch = 25 kg (55 lbs)
Desk height range: 25 inch - 51 inch

Tabletop thickness:
Solid wood: 1.7 inch
Veneered wood: 1.3 inch
Standing Desk
Total price: €1.027,95
Production and labor
€-0,45
Production costs include the price of materials and their transport, as well as production workers' wages. We take particular care to use the highest-grade materials.
Taxes
€-0,23
As a company registered in Poland we pay all taxes required by Polish and European laws.
Margin & Fixed Costs
€-0,32
Our product prices include not only production and operations expenses but also fixed costs, marketing budget, and employee salaries.
Environmental Initiatives
€1,00
We are proud to continue working with organizations such as One Tree Planted and Forever Forest. A portion of profits from every product goes to tree planting initiatives.
Sustainability
Solid walnut wood – American walnut wood is a durable, long lasting, and damage resistant material. Its unique, rich chocolate tone is complemented by a clear wood grain.

Solid oak wood – sourced in Poland, oak wood is sturdy, damage resistant, and exceptionally durable. The distinctive heaviness of the material is offset by its light color and prominent wood grain.

Powder coated steel – thanks to the surface covered with electrostatic paint powder, the steel becomes durable and resistant to corrosion, chemical or mechanical damage, and high temperatures.
Customer Reviews
Filter Reviews:
desk
quality
Oakywood
purchase
work
touch
legs
standing desk
piece
Products
Francesco B.

Italy
12/14/2022
Great quality!
Beautiful solid wood and great finish, I really appreciated the quality and the soft finish. Also the legs and the command to move the desk up and down are good. The parts and tools provided to mount it don't feel cheap as sometimes happens with other products. The only criticism is that in my case the command doesn't attach tightly to the desk, but I guess it can be easily fixed by using another screw. Also the instructions were clear, but had a bit of trouble identifying the different screws to be used. Overall super happy!
Liam

France
11/12/2022
Desk is exactly as advertised
Picked up the 160cm solid Walnut desk. Delivery took 4-6 weeks as advertised, desk arrives in two pieces (table top + legs). Took about an hour to set up but everything's pretty self-explanatory - plan to have a powerdrill to take off the 30 or so screws sealing your tabletop in its delivery case. She's a beauty. The wood looks great, and my all-black computer gear (bluetooth keyboard + mouse) looks quite nice. Mounted two screens with an arm mount no problem (so much easier to get that set up when you can elevate the desk to 130cm or lower it to 30cm at the touch of a button).
Brittany

United States
09/05/2022
Exactly What I Wanted
I've been looking for a solid wood convertible standing desk for some time after working from the dining room table for 2+ years. When I found Oakywood I knew it was worth treating myself to this beautiful craftsmanship. I am very happy with my purchase. The oak finish, perfect size, and the dual monitor raiders add just the right touch for me. I would recommend this to anyone that required durability, design, and functionality with their desk purchase.
Robert E.

Canada
02/22/2022
The Big desk ;-) in Oak +
Ok call me impressed! This desk is solid, the Oak is beautiful. (There is an edge bevel about 2.5" to 3" so make sure any Monitor Arm Mount or Microphone mount will fit. (If that's your intent) Mine did fit and am super pleased. I have a 49" monitor mount attached to the desk. Very secure and desk has no issues supporting it, solid Oak I'll never sell this one it will last forever I'm sure) I'm so impressed at how easy it was to assemble (I do have experience assembling things, but even then it was simple (one person can do most of it but there will be a need for 2 at a few points of the assembly) the hydraulics are impressive no jerks or shudders as it goes up or down, my 49" monitor on an arm doesn't even jitter. (Woah). I set up the first two memory heights so far. (press 1 or 2) and it's perfect for sit or stand. So smooth. Again impressed beyond my expectations. I also ordered the monitor stand (big one) it's one solid piece of work. Looks amazing on the desk. The tray adds that little extra touch. I've never ordered anything from Poland before, but if this is any indication of what they produce I'm hooked. Quality to price is perfect. Keep doing what your doing. Thank you from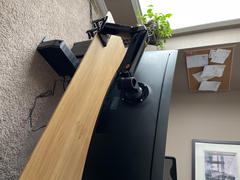 Andreas B.

Sweden
01/24/2022
Gorgeous solid walnut desk
I bought the solid walnut standing desk in 140x70 cm with black motorized legs. The legs and motors work great and have 4 programmable slots, which is fantastic and speeds up changing position at work. I had a non programmable motorized desk before and being able to just push one button and get it to the right height repeatedly and quick is great. The table top, clearly the most important part, is gorgeous. The walnut has a really nice dark luxurious look and feel to it. Getting to work at my upgraded home office space is just fantastic and an everyday luxury making my life better. As I am sitting / standing at my desk almost every day it is a nice change to have something beautiful to look at! Only thing I would have wanted to change is the depth of the bevel. It is about 3 cm deep and the clamp of my, and most available, boom arms, e.g. for microphones etc., will not work with such deep bevels. I still have to figure out how to solve this issue going forward. Would have been great if one could choose chamfered edges and corners vs beveled edges and rounded corners. All in all a purchase that I am very happy about. Thanks so much Oakywood!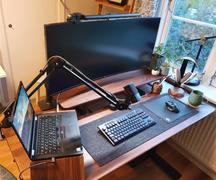 Shipping
At Oakywood, we work alongside trusted carriers like UPS, DHL, USPS & many more around the globe to provide USA, Europe & International Worldwide shipping services.
You can calculate the shipping cost at checkout.
For the EU, UK, Canada & US, all taxes and import duties are included in the final price.

EU: SUUS Logistic or Schenker (up to 10 business days)
PL: SUUS Logistic or Schenker (3-10 business days)
Outside of the EU: DHL or UPS (up to 10 business days)
Desks are made to order: shipping in 3-4 weeks
Returns & Exchanges
If you are not completely happy with the received product, please send it back to us within 30 days for a full refund. Please also email us at contact@oakywood.shop or use the contact form to inform us.

Please, remember: you cannot return a personalized product.
We'll issue a refund on receipt, or exchange the item for a different size/color if preferred. The cost of returning the item to us is your responsibility.